Anxiety, Stress & Mindfulness: Winter Workshop Series
Begins , 2020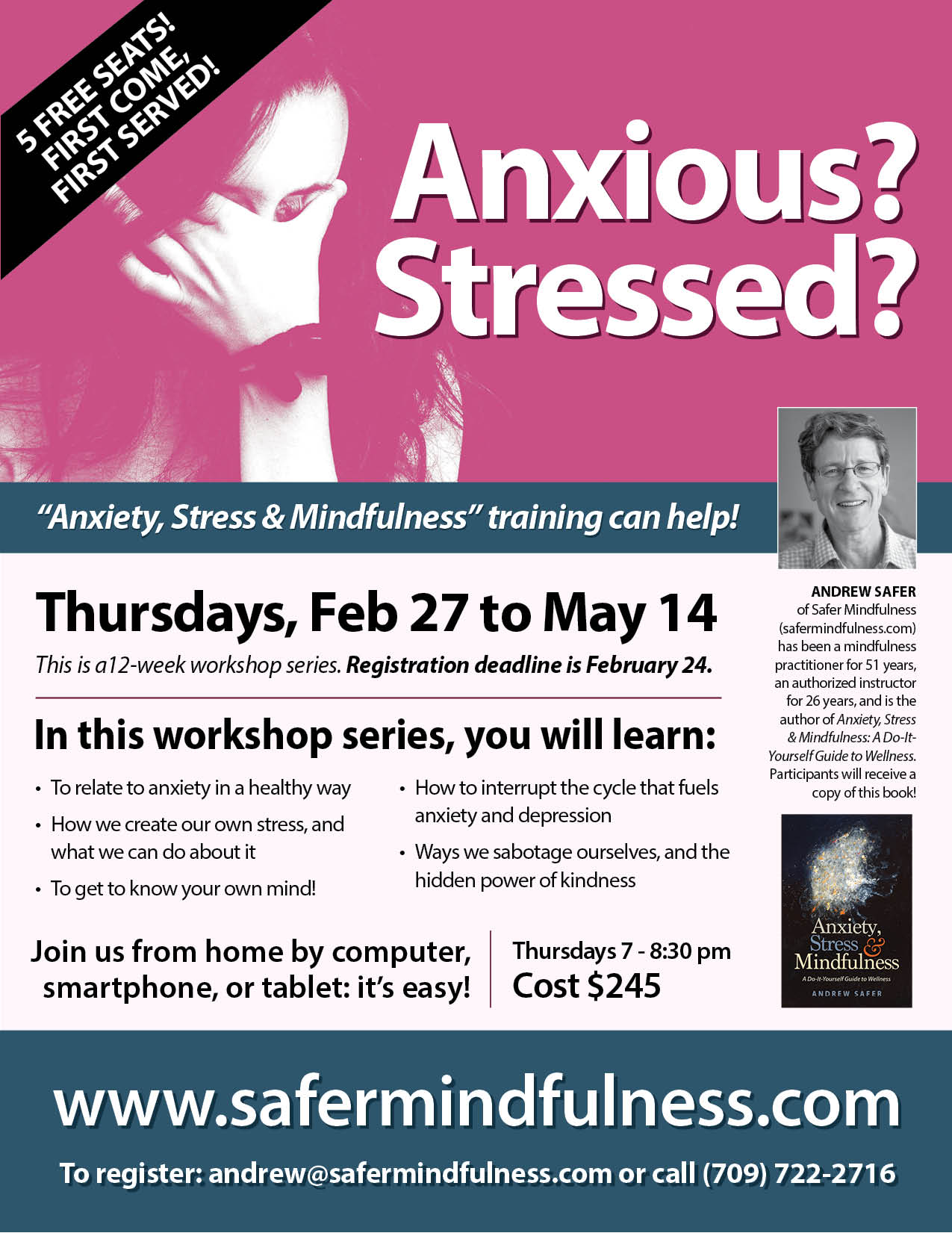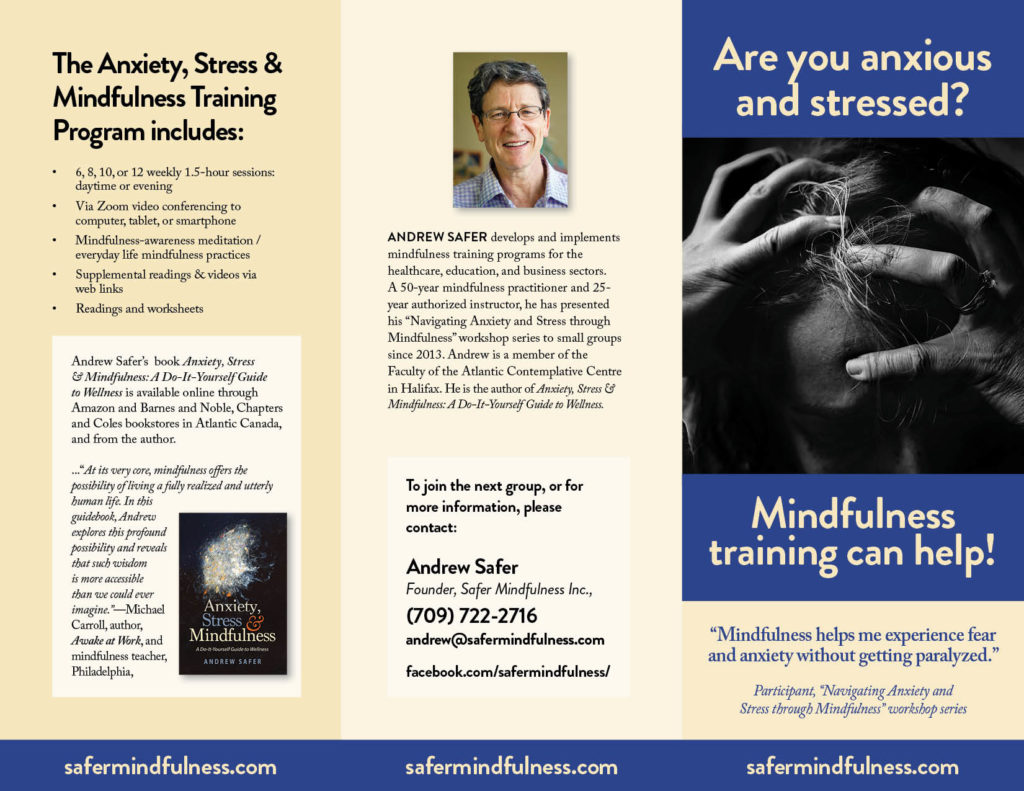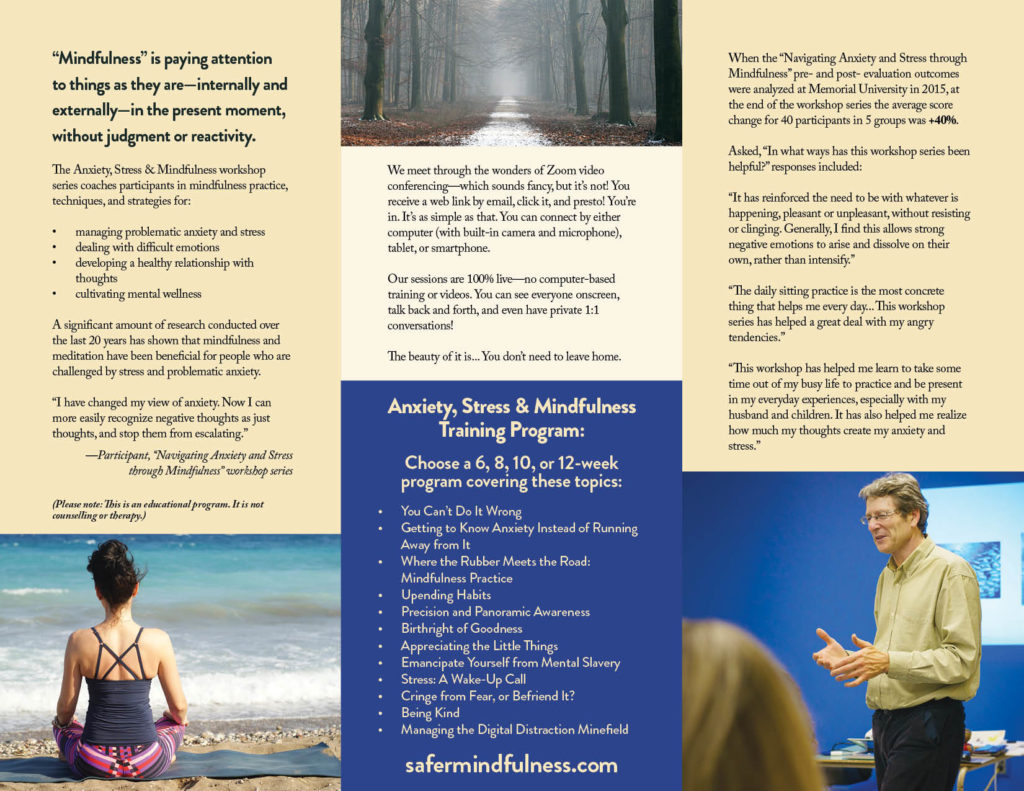 Click each image to enlarge.
WINTER ANXIETY, STRESS & MINDFULNESS
INTERACTIVE WORKSHOP SERIES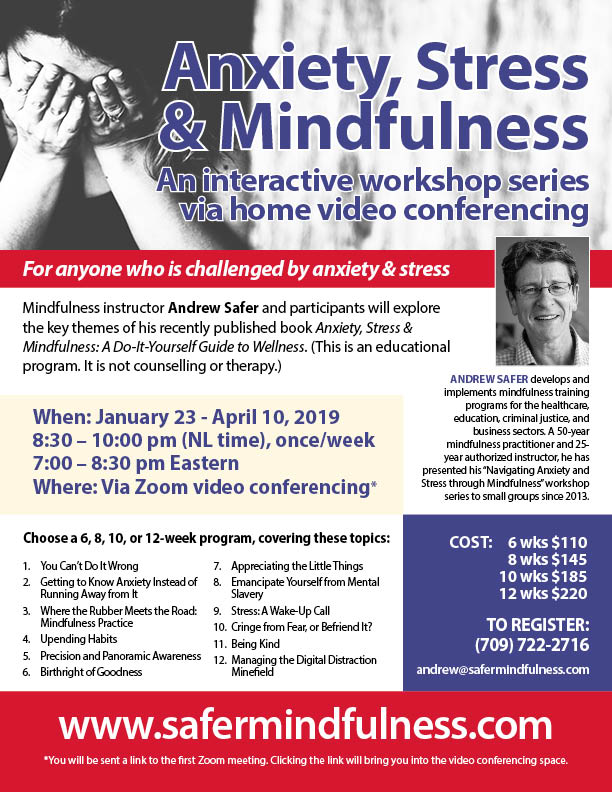 NEW! ANXIETY, STRESS & MINDFULNESS WORKSHOP SERIES
When: Wednesdays, beginning January 23, 2018
Pacific: 4:00 – 5:30 pm
Mountain: 5:00 – 6:30 pm
Central: 6:00 – 7:30 pm
Eastern: 7:00 – 8:30 pm
Atlantic: 8:00 – 9:30 pm
Newfoundland: 8:30 – 10:00 pm
Where: Anywhere! (with Zoom video conferencing)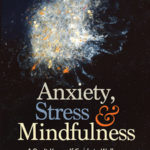 Choose 6, 8, 10, or 12 consecutive sessions:
You Can't Do It Wrong
Getting to Know Anxiety Instead of Running Away from It
Where the Rubber Meets the Road: Mindfulness Practice
Upending Habits
Precision and Panoramic Awareness
Birthright of Goodness
Appreciating the Little Things
Emancipate Yourself from Mental Slavery
Stress: A Wake-Up Call
Cringe from Fear or Befriend It?
Being Kind
Managing the Digital Distraction Minefield
6 weeks: $110; 8 wks.: $145; 10 wks.: $185; 12 wks.: $220
Recommended to purchase:
 Anxiety, Stress & Mindfulness: A Do-It-Yourself Guide to Wellness (2nd Tier Publishing) by Andrew Safer. Paperback and Kindle versions
Note: If you live in St. John's, email Andrew to arrange to pick up a copy.
Who Is it For? Anyone who is challenged by anxiety and/or stress either professionally or personally, and anyone who would like to learn mindfulness-awareness meditation and related practices and teachings, and how it applies to everyday life.
About the Series:
You will learn:
To start working with anxiety, instead of fighting it.
The difference between normal and problematic anxiety.
How to ground yourself in difficult circumstances.
A variety of mindfulness practices.
How to relate to thoughts and emotions in a healthy way.
How to make friends with yourself.
To deal with stress by waking up in the midst of your habitual patterns.
That fear is a steppingstone to fearlessness.
How Internet use impacts you, and what you can do about it.
These interactive workshops are based on Andrew Safer's recently published book. They will include mindfulness instruction and practice, presentation on the evening's topic, group and one-on-one discussion, and Q&A.
This is an educational program. It is not counselling or therapy.
Connecting by Video Conferencing: Zoom is not a passive-type online platform. You can see everyone and interact, so it feels like the session is in person. It works with either desktop, laptop, tablet or smartphone. You will be emailed a link ahead of time; just click the link at the appointed time, and you're in…Zoomland.
Facilitator: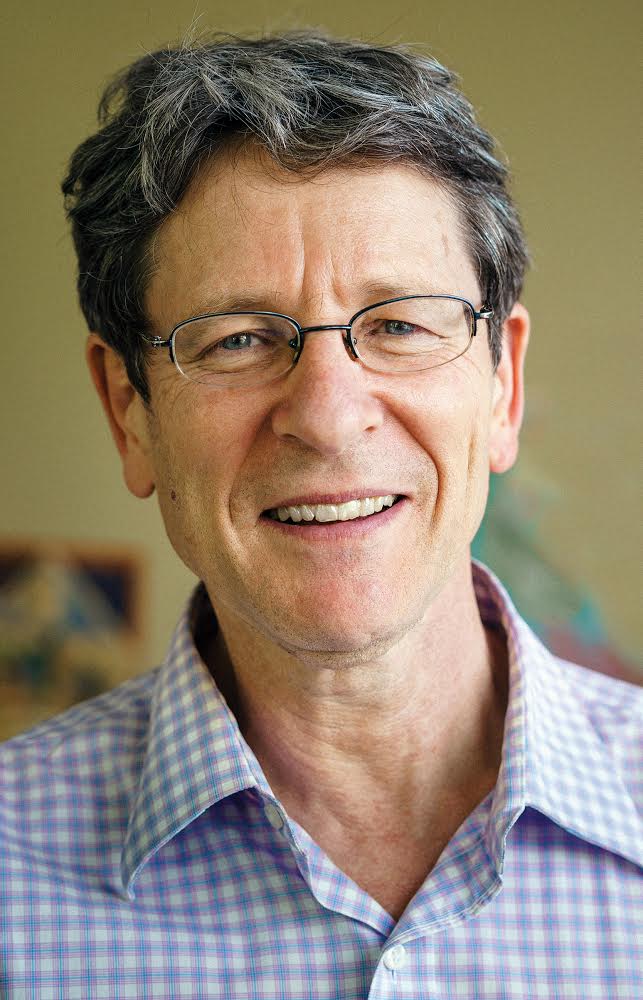 A 50-year mindfulness practitioner and 25-year instructor, workshop facilitator and writer, Andrew Safer develops and implements mindfulness training programs for the healthcare, education, and business sectors. He has delivered his 8- and 10-week series "Navigating Anxiety and Stress through Mindfulness" to more than 100 people in small groups since 2013. www.safermindfulness.com
Questions & to Register:  andrew@safermindfulness.com – 709-722-2716
______________________________________________________________
SERVICES – HEALTH AND WELL-BEING
Navigating Anxiety and Stress Through Mindfulness (A Live Video Conferencing-based Course) A 10-week program: 1.5 hr. sessions every Tuesday evening from May 1st to July 3rd, 8:00 to 9:30 pm Newfoundland time (6:30 to 8:00 pm Eastern)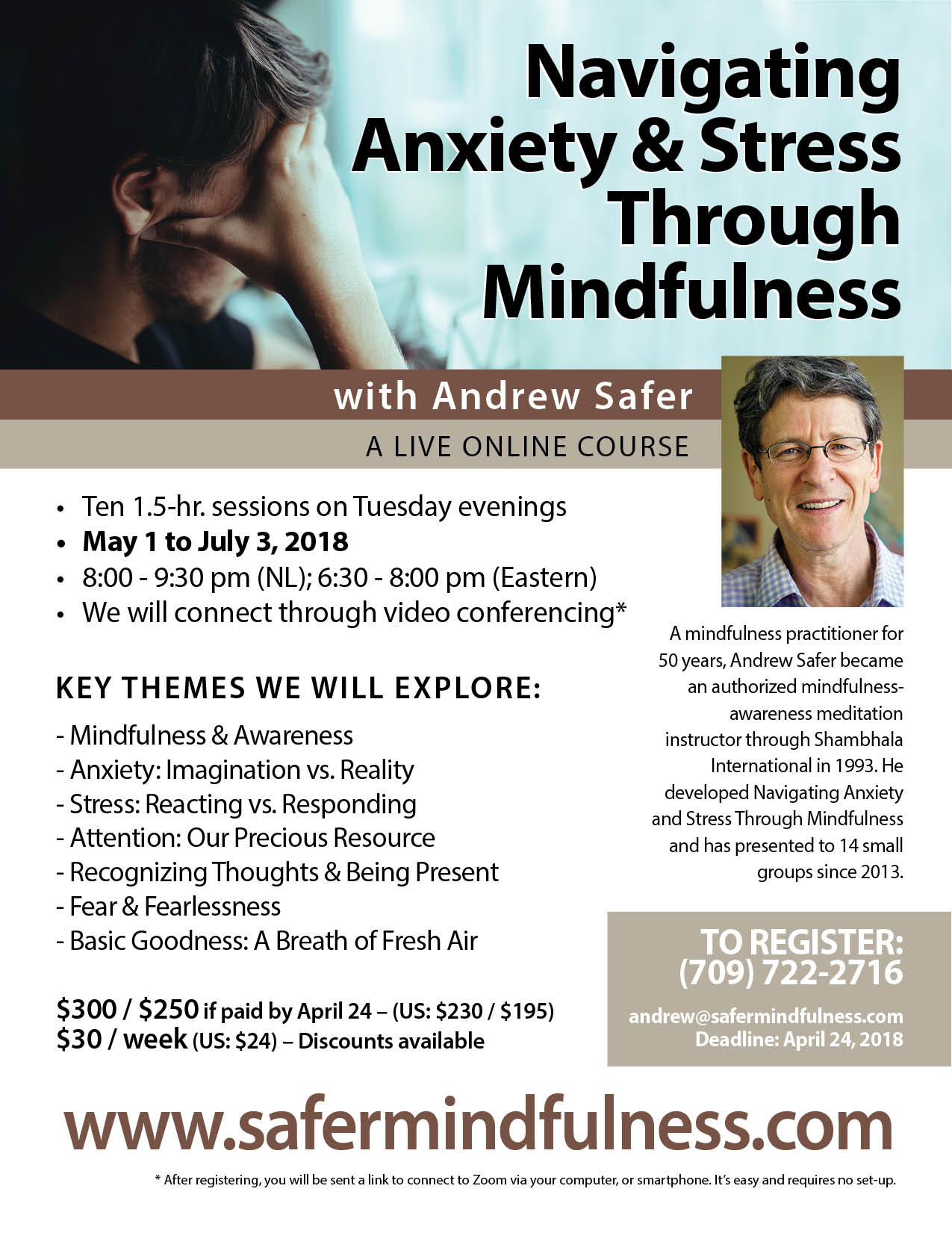 If you are struggling with anxiety and/or stress and would like to see what's available beyond the conventional medical model, consider participating in this mindfulness and meditation-based program which many people have found to be helpful over the long term.
Zoom video conferencing connects the presenter and participants, providing access from any location.
"Mindfulness helps me experience fear and anxiety without getting paralyzed."
"I have changed my view of anxiety. Now I can more easily recognize negative thoughts as just thoughts and stop them from escalating."
–Comments from participants who completed the 8-week Navigating Anxiety and Stress through Mindfulness workshop series in St. John's, Newfoundland, Canada.
After presenting 11 cycles of the 8-week series "Navigating Anxiety and Stress through Mindfulness", Program Developer and Facilitator Andrew Safer presented on this program at the 17th World Summit on Positive Psychology, Psychotherapy, and Cognitive Behavioral Sciences in Toronto on May 1, 2017.
Time Frames by Geographical Area
You can participate if you are not located in St. John's, or even Newfoundland. See times below:
Newfoundland and Labrador: 8:00 – 9:30 pm
Nova Scotia: 7:30 – 9:00 pm
Ontario, Quebec: 6:30 – 8:00 pm
Eastern Seaboard (US): 6:30 – 8:00 pm
Colorado: 4:30 – 6:00 pm
West Coast: 3:30 – 5:00 pm
Background, Program Information, and Evaluation Summaries
This program was initially hosted by Helping Matters Counselling and Assessment Centre and piloted in October-December 2013.
See the Program Evaluation Summary for the third cycle of this workshop series (Fall 2014): Anxiety Report Final May 5 16
Read what participants had to say about the program's relevance to their lives: Anxiety and Stress Participant Comments Anxiety and Stress Participant Comments Jun 16
In May 2015, a follow-up evaluation was conducted for two groups that had completed the Navigating Anxiety and Stress through Mindfulness series in the Winter. To read about this, click here: Anxiety Follow-up Report Jun 4 15
Outcomes for five groups (40 people) were presented at Memorial University's Discipline of Psychiatry's Annual Research and Awards Day in June 2016 (see back half of presentation below)…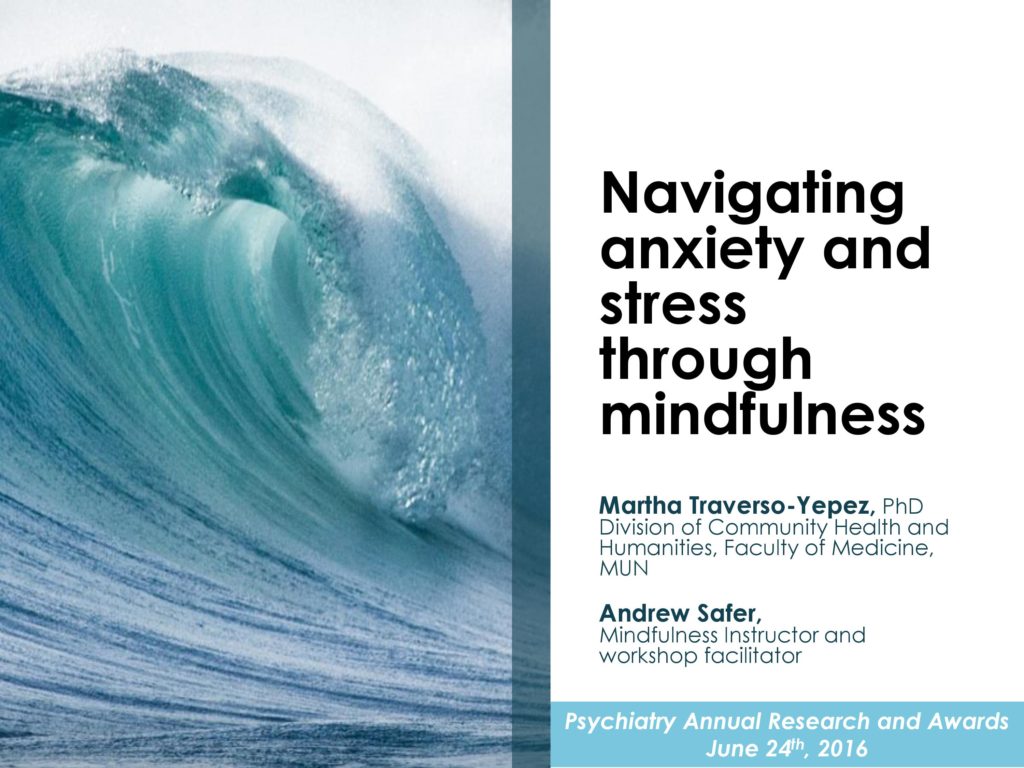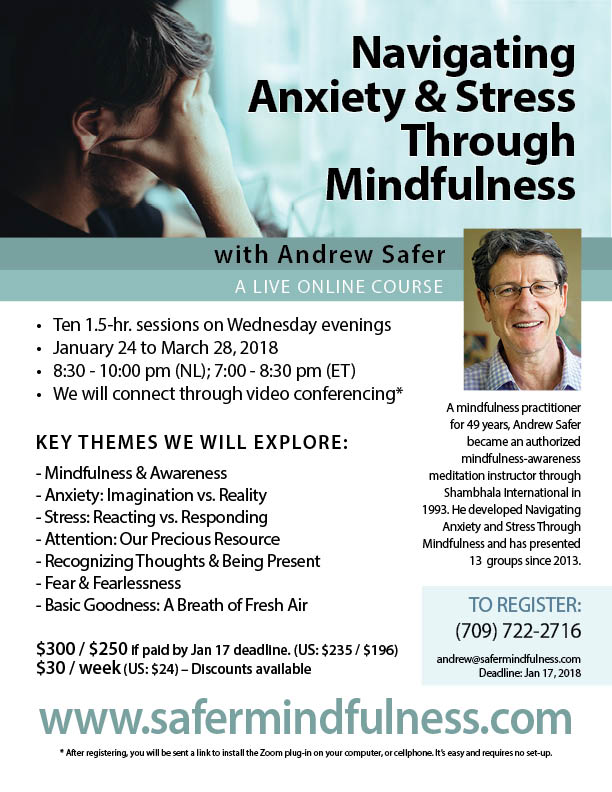 "Navigating Anxiety and Stress through Mindfulness: Cultivating Mindfulness and Awareness in a Community-Based Setting" presented at the 17th World Summit on Positive Psychology, Psychotherapy, and Cognitive Behavioural Sciences (Toronto): Biography and Abstract
Mindfulness for People in Recovery
This workshop series including six weekly sessions and one full day is for people who are in recovery from an addiction (alcohol, drugs, cigarettes, shopping, food, etc.)—both early recovery and long-term recovery. Instruction and coaching in mindfulness-awareness sitting and walking meditation practice is provided, along with instruction in a compassion practice and mindfulness-in-everyday-life practices. This workshop series is for people who are new to mindfulness as well as those who would like to deepen their understanding of mindfulness and how it relates to addiction and recovery.
This program was piloted at the Family Life Bureau–Counselling Centre in May/June 2013.
To inquire about the next workshop series: andrew@safermindfulness.com (709) 722-2716
"Mindfulness in Recovery: Report and Evaluation Summary" (September 2013): Available on request.
Read what participants had to say about the program's impact and relevance, seven months after completing the workshop series: Anxiety and Recovery Participant Comments PDF June 24 15