LIFE SCHOOL 101 TV INTERVIEW
"Anxiety, Stress & Mindfulness" LIFE SCHOOL 101 TV  
An interview with Andrew Safer by CATV co-hosts Mary Adams and Linda Carbino
ANXIETY, STRESS & MINDFULNESS WORKSHOP SERIES STARTS IN JANUARY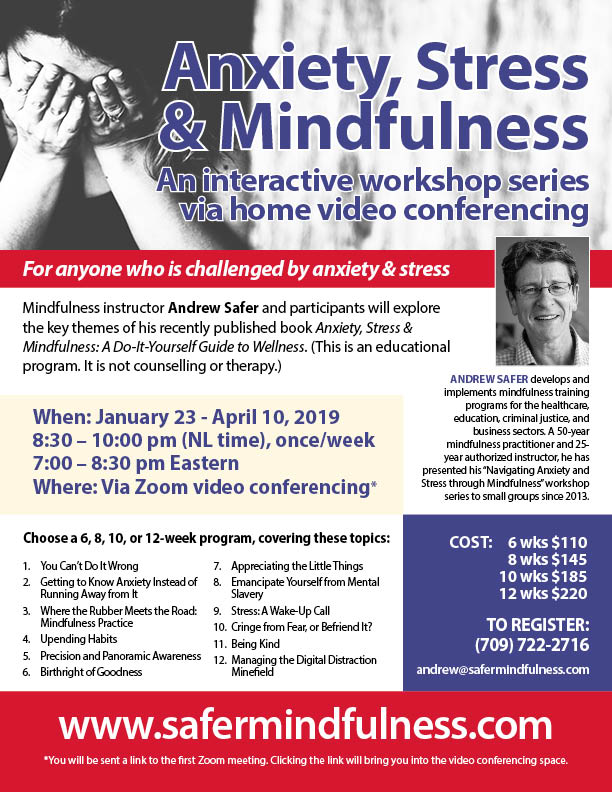 ANXIETY AND STRESS WORKSHOP SERIES AT CHANNAL
This six-session workshop series will meet in person at CHANNAL...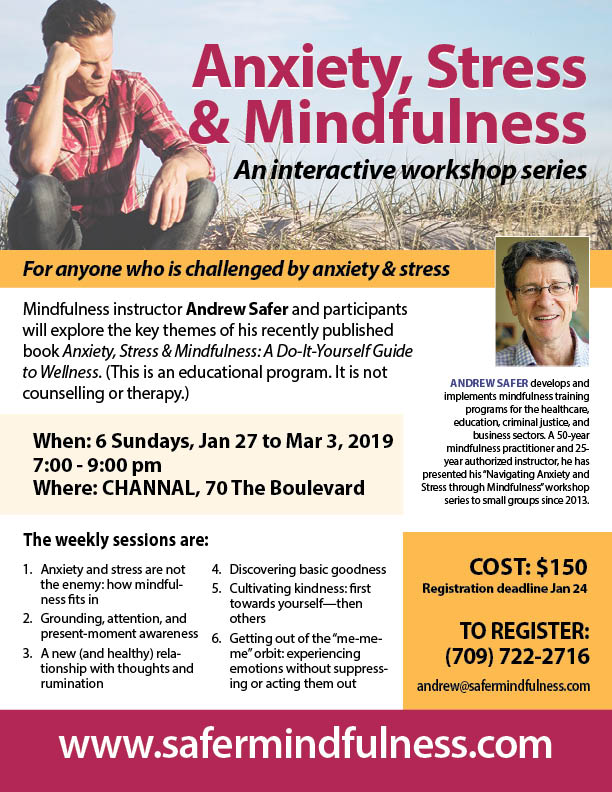 FALL MINDFULNESS-AWARENESS MEDITATION RETREAT
There's nothing like two and a half days of sitting and walking meditation! (of course, with coffee breaks, meals, etc.) There was a lot of heart. The Presentation Sisters Retreat House, in a secluded spot in St. John's, is the perfect venue. The retreat took place November 23rd through 25th.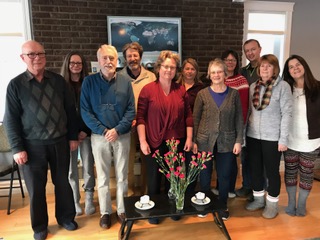 MINDFULNESS TRAINING AT DEPARTMENT OF EDUCATION
On October 31, Andrew Safer conducted a two-hour mindfulness workshop for Child Care Services staff in the Department of Education building on Strawberry Marsh Road in St. John's. The training was focused on "Mindfulness—Personal Practices for Managing Workplace Pressure and Stress". Afterwards, participants purchased copies of Anxiety, Stress & Mindfulness: A Do-It-Yourself Guide to Wellness. Below: Andrew Safer with Kelly Piercey, Social Worker, Child Care Services, Department of Education.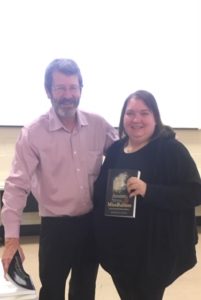 ANXIETY, STRESS & MINDFULNESS WORKSHOP SERIES
STARTING SEPTEMBER 26
(For detailed information, including the session themes, click here.)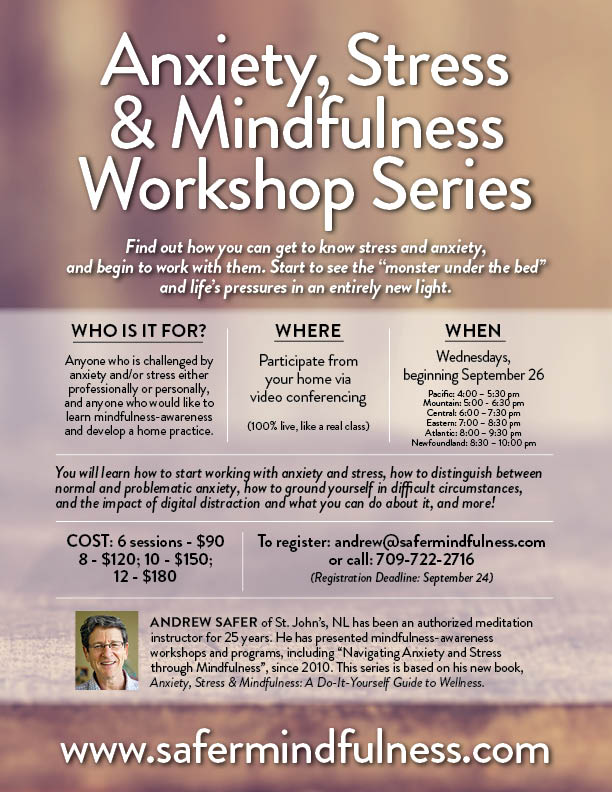 NOVA SCOTIA SOCIAL WORK CONFERENCE: A RED-LETTER DAY!
On September 12th, Andrew Safer presented a workshop on "Mindfulness--Personal Practices for Managing Workplace Pressure and Stress" to two groups of child-welfare social workers at the provincial Reclaiming Social Work conference in Halifax. Each participant received a copy of Anxiety, Stress & Mindfulness: A Do-It-Yourself Guide to Wellness in their conference bag on arrival, compliments of the Department of Community Services.
Photos: Courtesy of (L) Jennifer Georgeff and (R) Stacey Greenough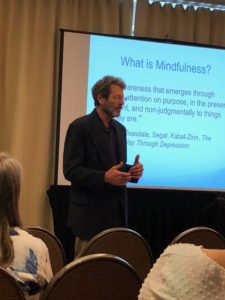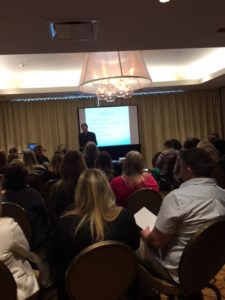 MINDFULNESS FOR OVEREATERS
An intensive weekend workshop Friday, August 24th through Sunday, August 26th with Claudio Corbelli and Andrew Safer.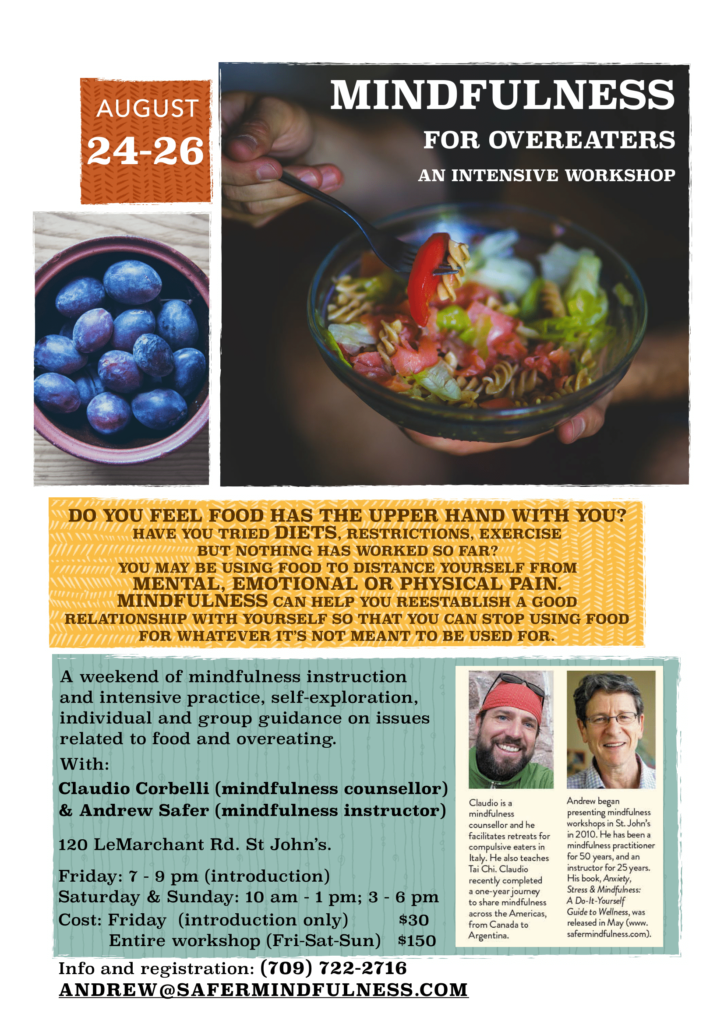 Click here for a Detailed Outline.
"MINDFULNESS IN THE WORKPLACE" PRESENTATION TO POSITIVE THINKERS CLUB
July 28th at The Bella Vista, St. John's
Bottom: R to L: Jesse Stirling presented on Meditation; Dominique Hurley on Affirmations; and Glenda Little provided the introduction and closing remarks.
Photo collage: Courtesy of Alick Tsui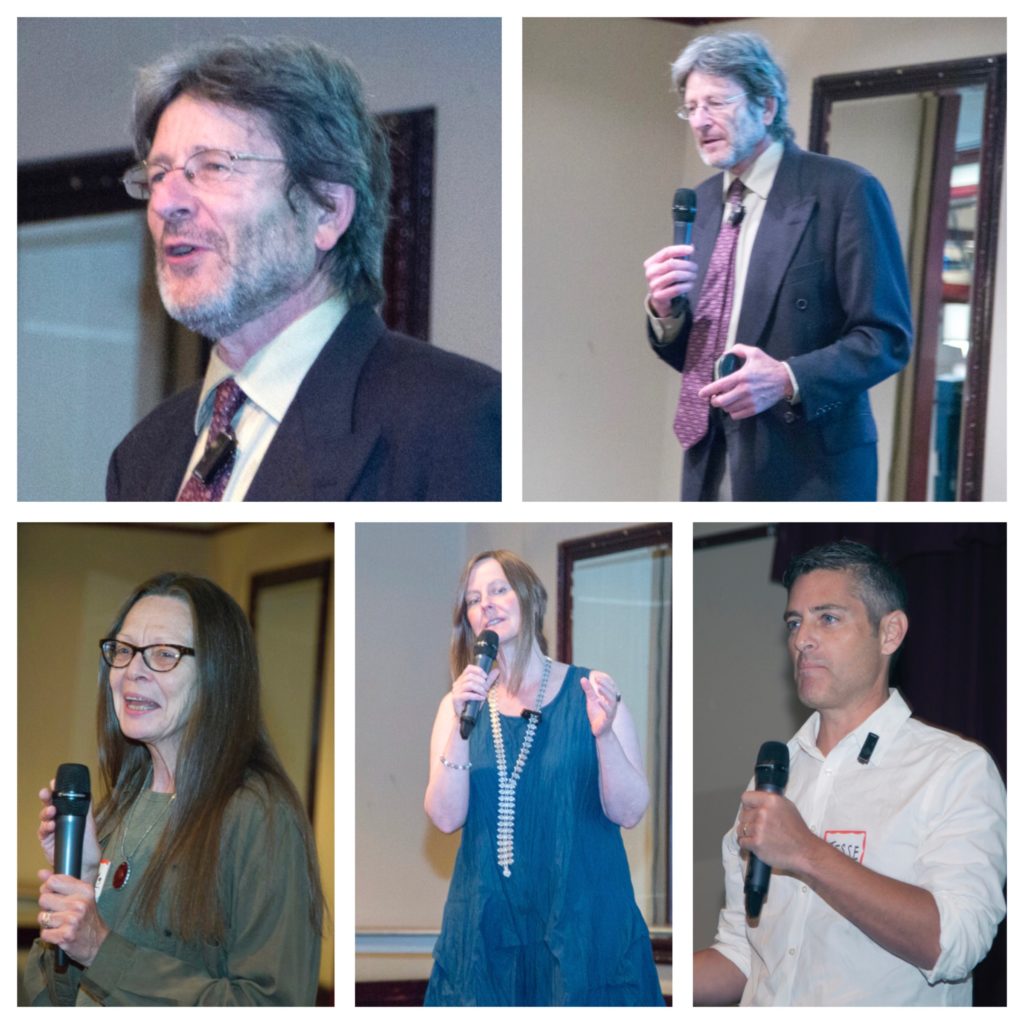 "WALK TOWARD ANXIETY TO HELP BEAT IT", CHRONICLE HERALD (HALIFAX) ARTICLE ABOUT ANXIETY, STRESS & MINDFULNESS: A DO-IT-YOURSELF GUIDE TO WELLNESS,      JULY 27, 2018
http://thechronicleherald.ca/books/1586920-walk-toward-anxiety-to-help-beat-it
SUMMER MINDFULNESS-AWARENESS MEDITATION RETREAT
Our eighth annual meditation retreat took place July 13-20 at the Conception Bay Renewal Centre in Conception Harbour. Below are the intrepid meditators who gathered for a photo on July 19.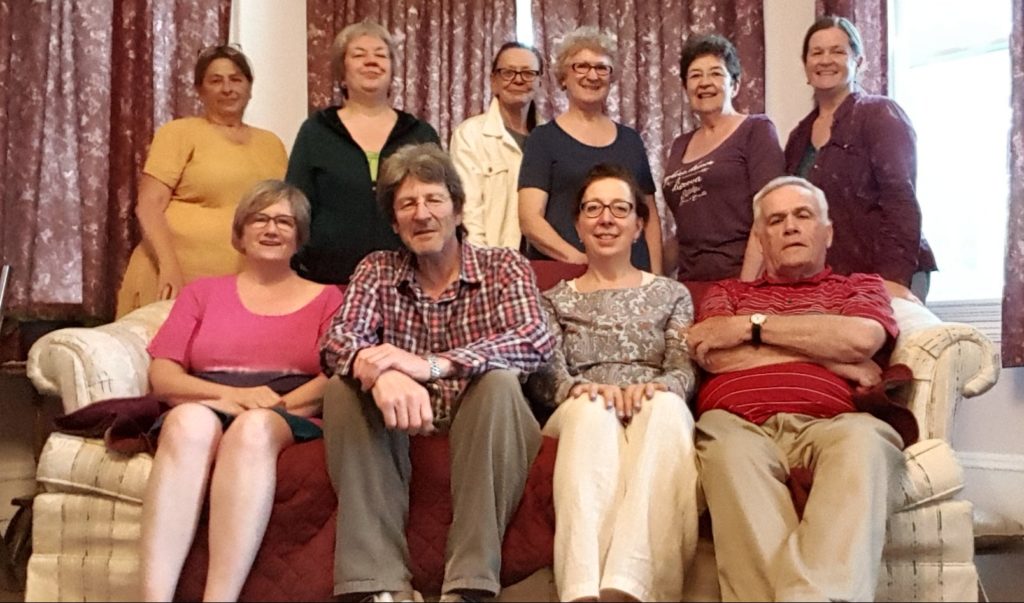 MINDFULNESS AND PTSD ON CROSSTALK
In the second half of this recording, Andrew Safer talks about Mindfulness and PTSD with Cecil Haire on CBC Radio's Crosstalk, June 4th.
http://www.cbc.ca/listen/shows/cross-talk/episode/15548713
MINDFUL EATING WORKSHOP SERIES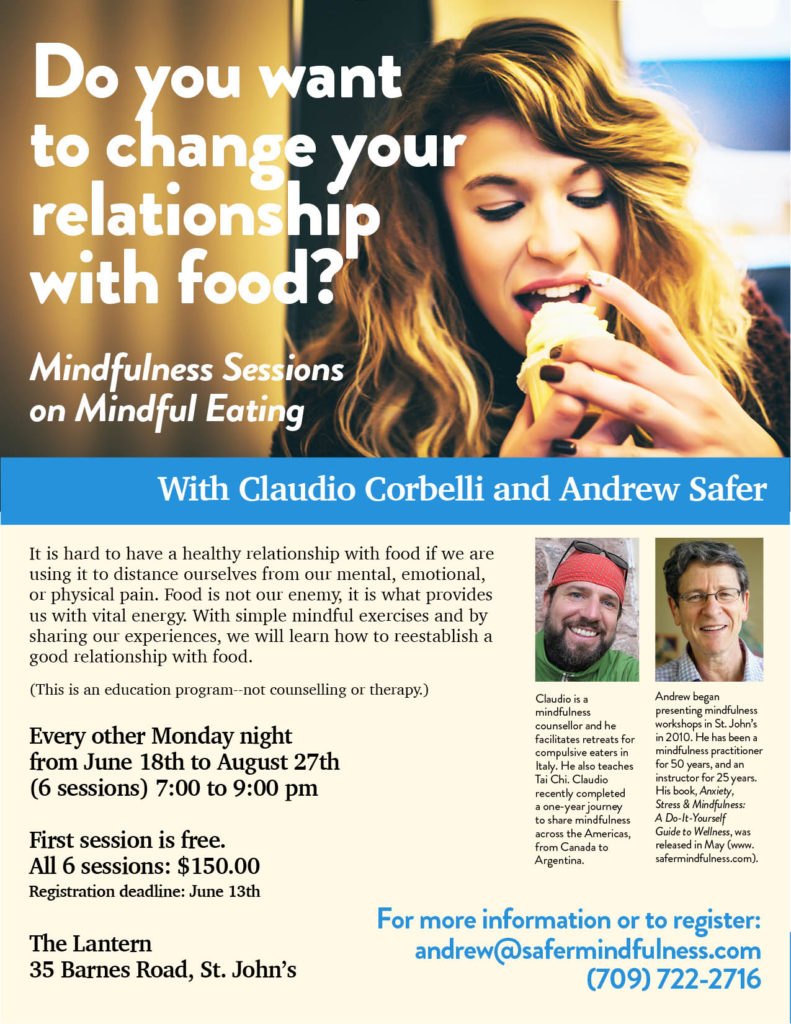 MINDFULNESS TRAINING FOR FIRST RESPONDERS & VETERANS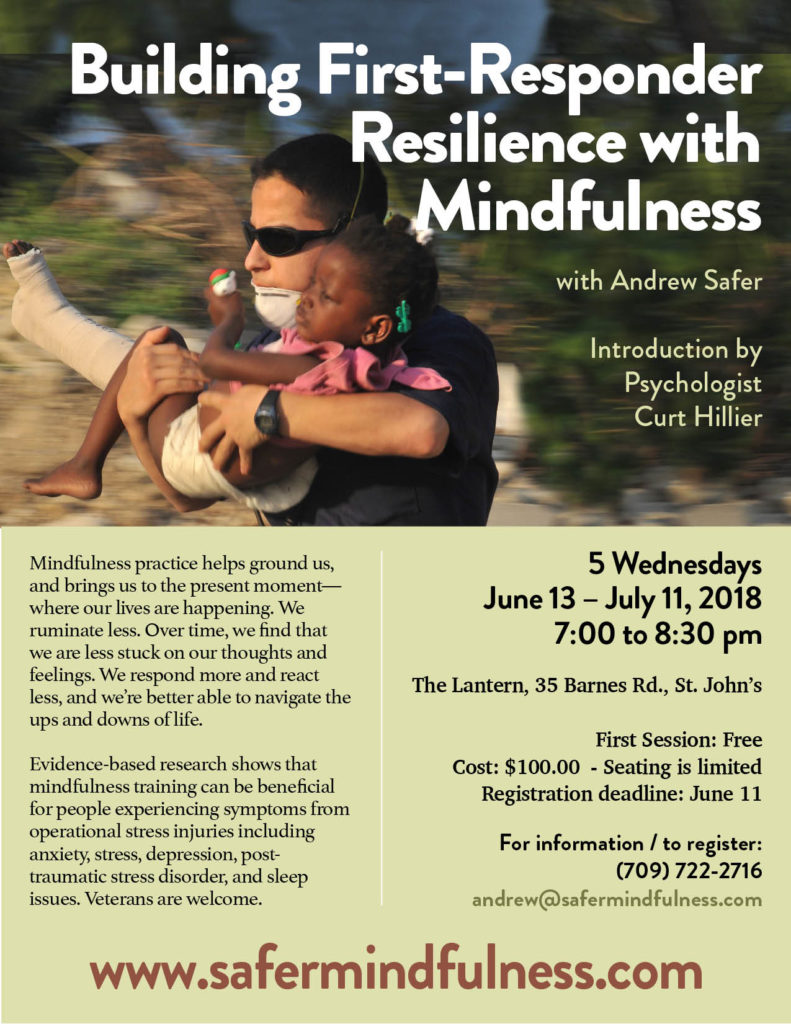 SUMMER MINDFULNESS MEDITATION RETREAT IN JULY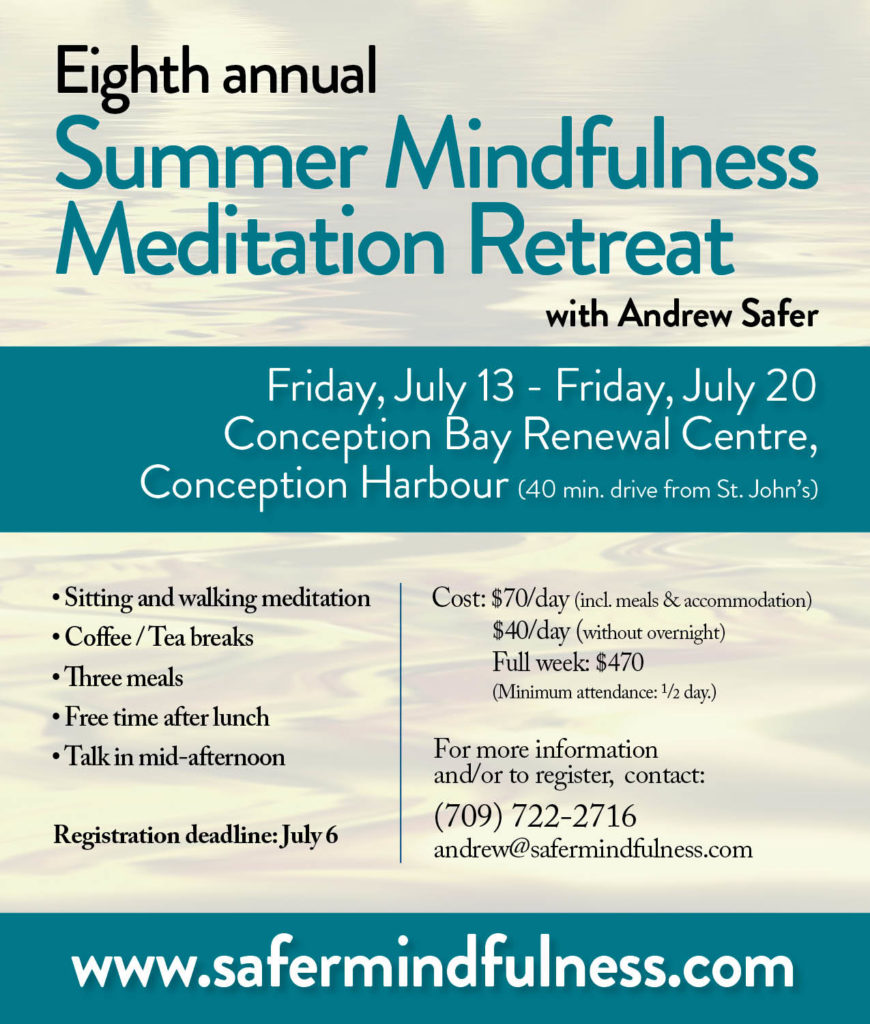 SPRING SERIES: MINDFULNESS AND MEDITATION CLASSES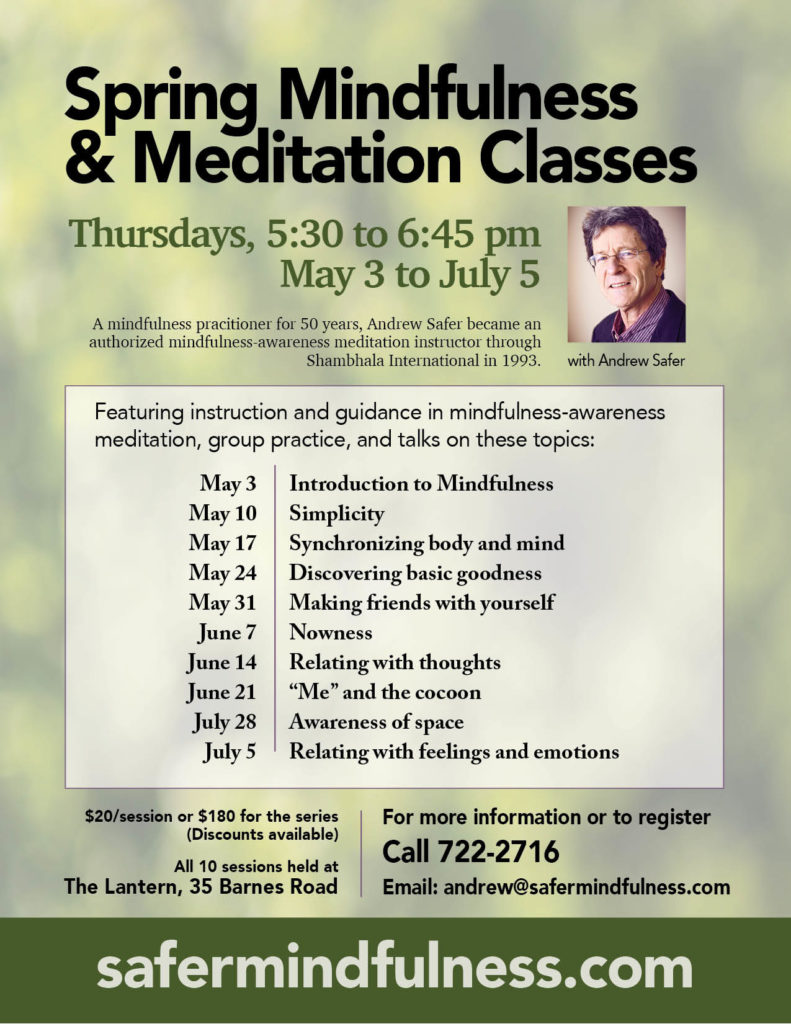 SPRING SERIES: NAVIGATING ANXIETY & STRESS THROUGH MINDFULNESS
This is the sixth year this unique program is being offered. We will meet on Tuesday nights from 8:00 to 9:30 pm, starting May 1st and ending July 3rd (10 1.5-hr. weekly sessions). We meet via video conferencing--you can connect via computer or smartphone--but this is not an online course where you watch videos. Everything is live. There is lots of interaction--even one-on-one private conversations--and you don't have to drive!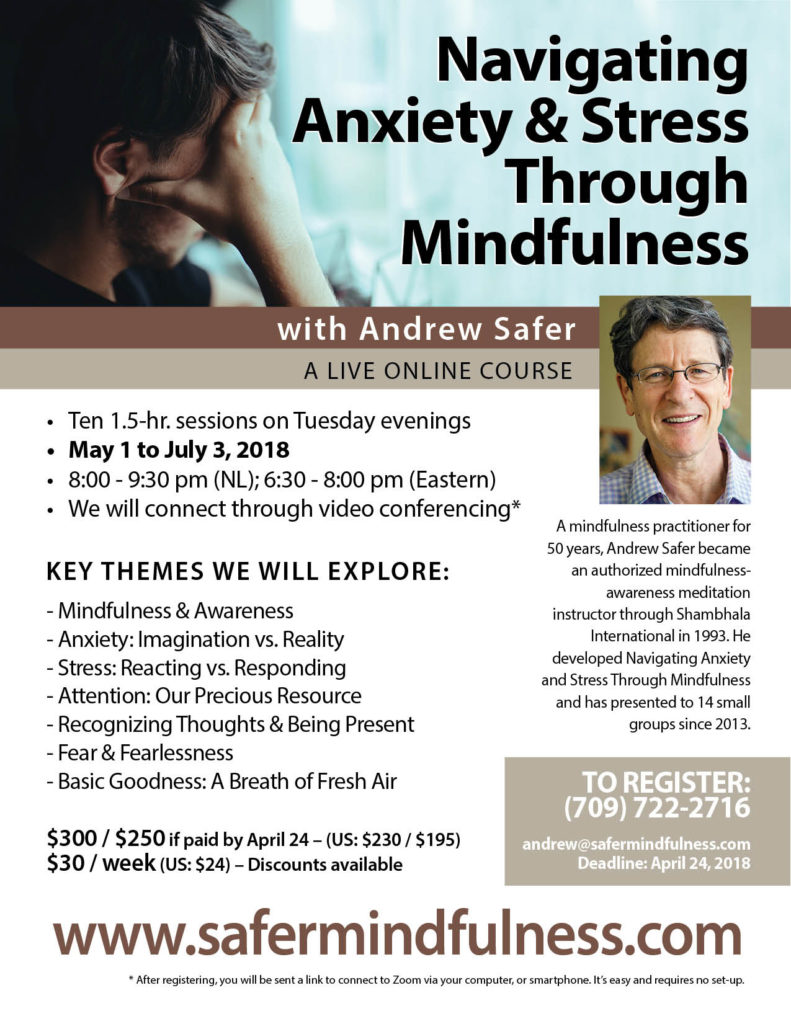 STUDENTS WEIGH IN: WORKPLACE MINDFULNESS AT MEMORIAL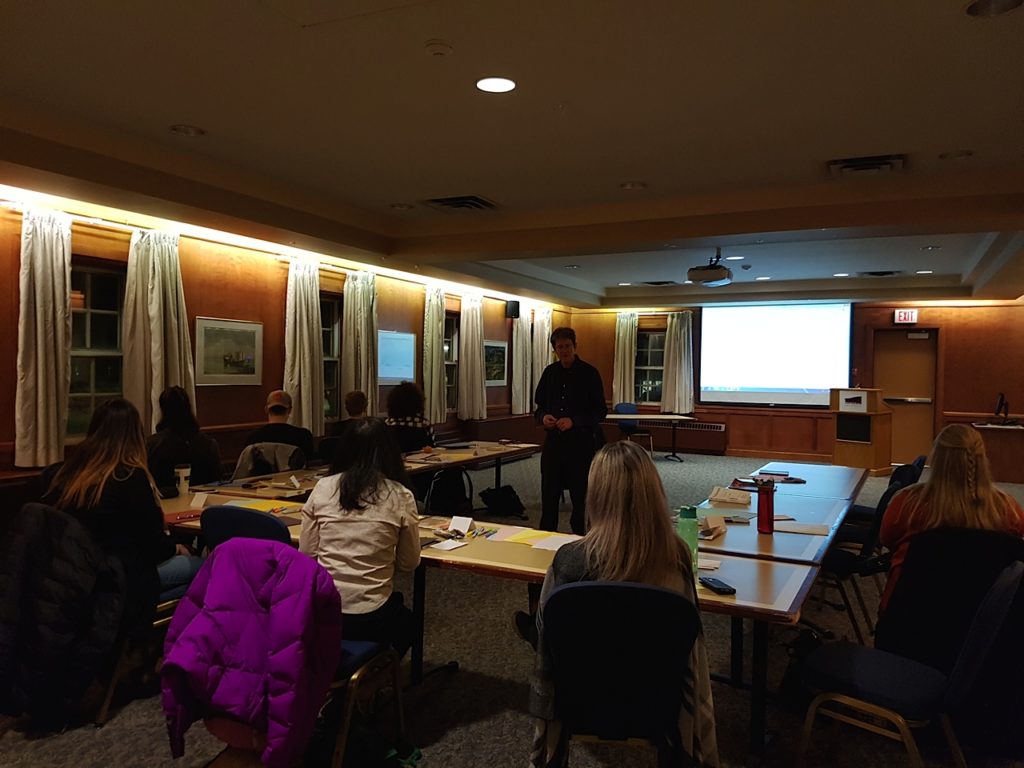 The Winter 2018 Workplace Mindfulness Training Program is currently underway at Memorial University.
Undergraduate and graduate students who were on co-op work terms, internships, and practicums participated in the program in the Fall of 2017.
Andrew Safer, Dr. Janna Rosales, Faculty of Engineering and Applied Science, and Vashti Campbell, MSW, PhD student in Medicine, co-facilitated the 10 weekly sessions.
Student reflections on Workplace Mindfulness (Fall 2017):
-- Workplace mindfulness training has made me a more aware individual. I have learned techniques that have improved my listening skills, how I react to stressful situations, and the kindness I show others. Ultimately the training sessions have improved my relationships with others and myself.
-- This course has at times gone over my head but at others it has helped me to not only clear my mind but also it taught me how to bring my thoughts to what is most important and that is the present. I now have techniques to use to get through difficult situations not only at work but also in my personal life.
-- The workplace mindfulness program has shown me the importance of being present as well as patient. It is challenging at first, but gets easier when you start to see the positive results.
-- To me mindfulness has been about learning how to reflect internally to improve and change different aspects of my life.
-- Mindfulness to me means learning to take control of your thoughts and take a different thought process you wouldn't normally think of. It helps you stay calm and collected all while helping you be more empathic and genuine towards others and even to yourself.
-- Workplace mindfulness has opened my eyes to thinking about things I haven't nor wouldn't have thought about. It has made me be more cautious while listening and reacting in situations and it has made me become more attentive to my work, especially after pausing. I have really enjoyed my time in this class and it has opened my eyes to how I am in a workplace.
WINTER MINDFULNESS MEDITATION RETREAT
This year, our Winter Retreat at the Presentation Sisters Retreat House in St. John's ran from Friday, February 2nd through Sunday, February 4th. Here are some of the folks who practiced together on Saturday.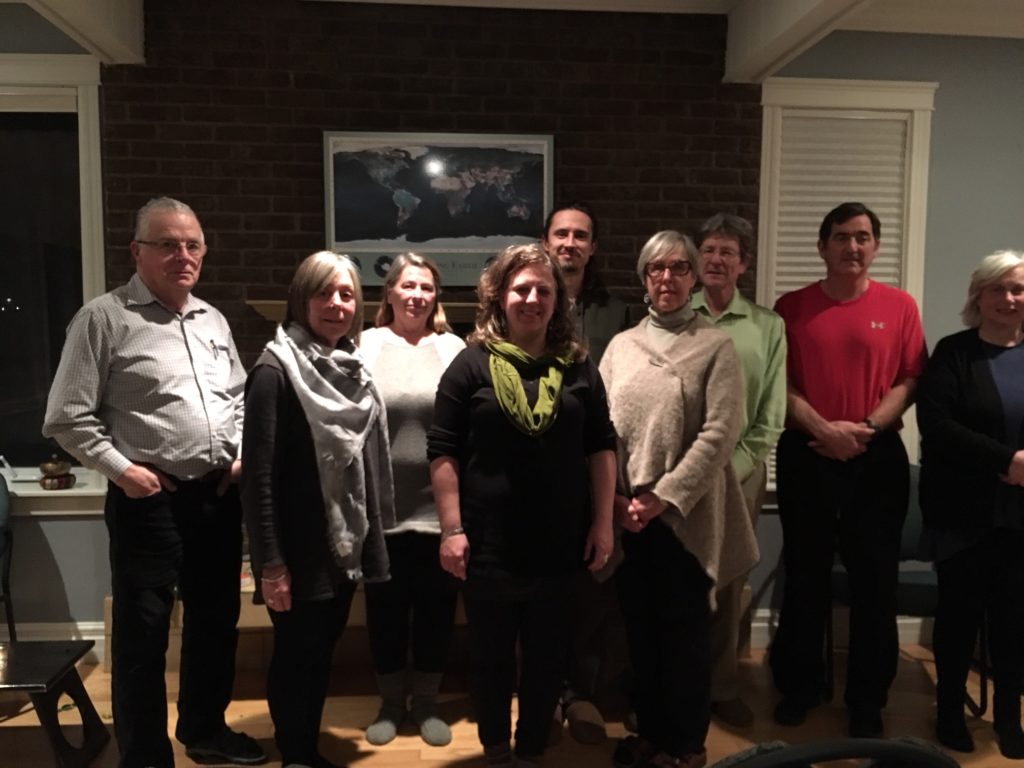 NEW START DATE FOR NAVIGATING ANXIETY AND STRESS THROUGH MINDFULNESS: FEBRUARY 7TH
This live online workshop series will begin on February 7th and run until April 11th (on Wednesdays).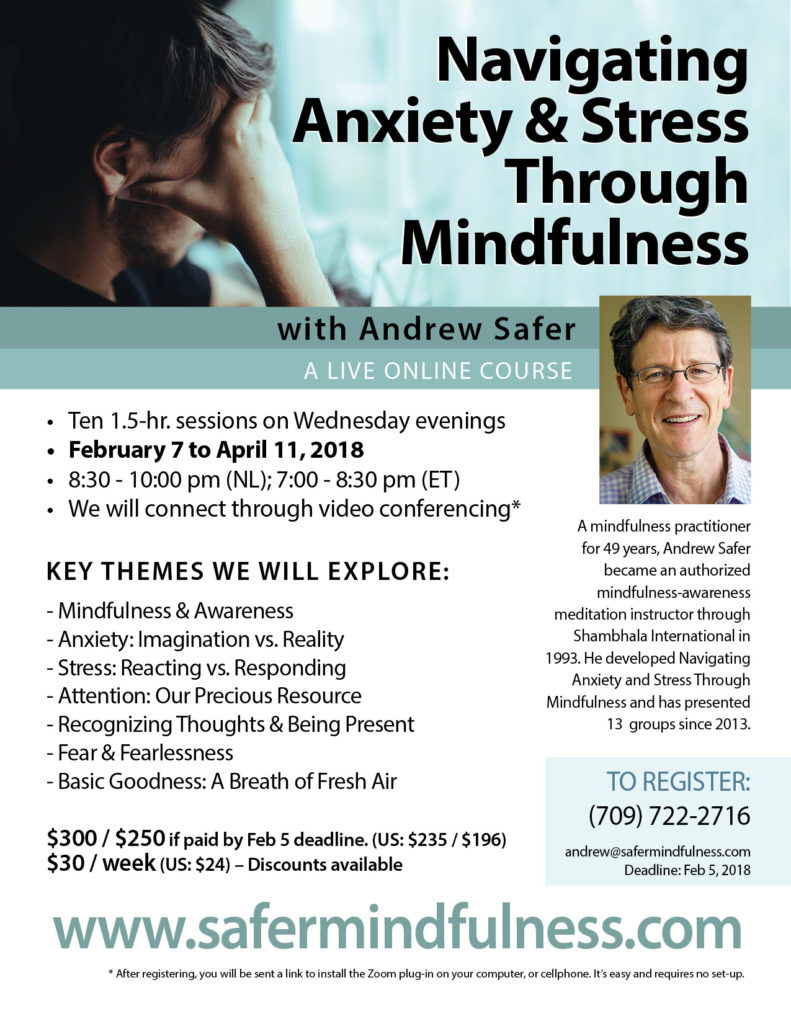 WINTER CLASSES, STARTING JANUARY 25TH
There was strong interest in the Mindfulness and Meditation Classes that ran from September 21 to December 7 at The Lantern.
"This workshop has changed how I think. I was surprised at how the benefits carried over to everyday life without conscious effort on my part."
"Awareness is the key for me to dealing with different emotions and feelings and being able to separate from the self."
"I wish I discovered mindfulness practice 25 years ago."
"Your expertise and passion are obvious. Great to learn new ways to be present, aware, and mindful."
We will explore new topics in the Winter series of Mindfulness and Meditation Classes (details below).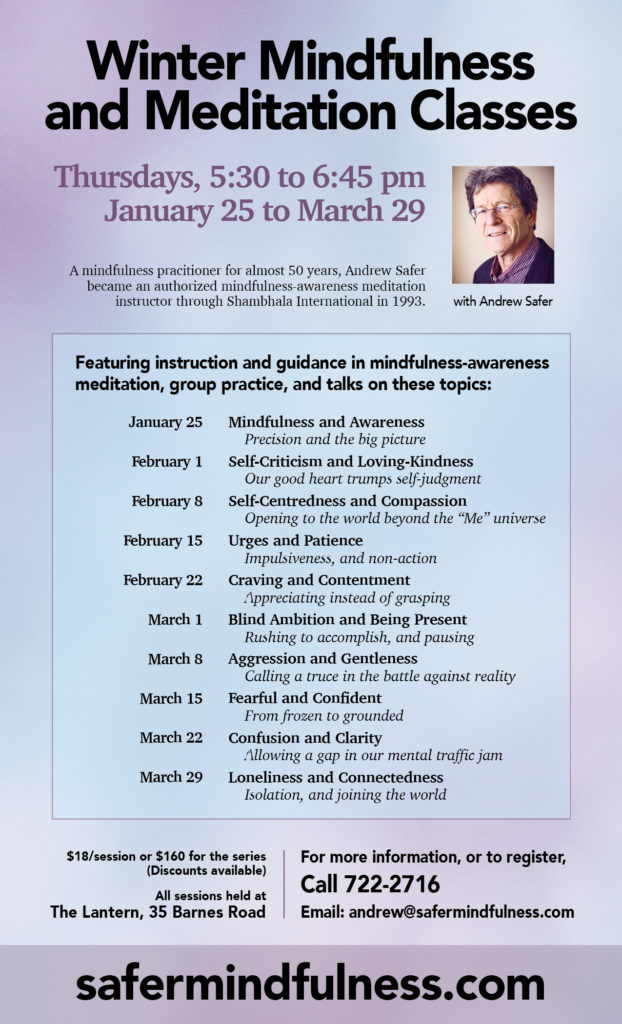 NAVIGATING ANXIETY AND STRESS THROUGH MINDFULNESS
The 14th series of this program since 2013 is scheduled to begin January 24th. For a discount, the registration deadline is January 17.
Participants' insights, program description, evaluation outcomes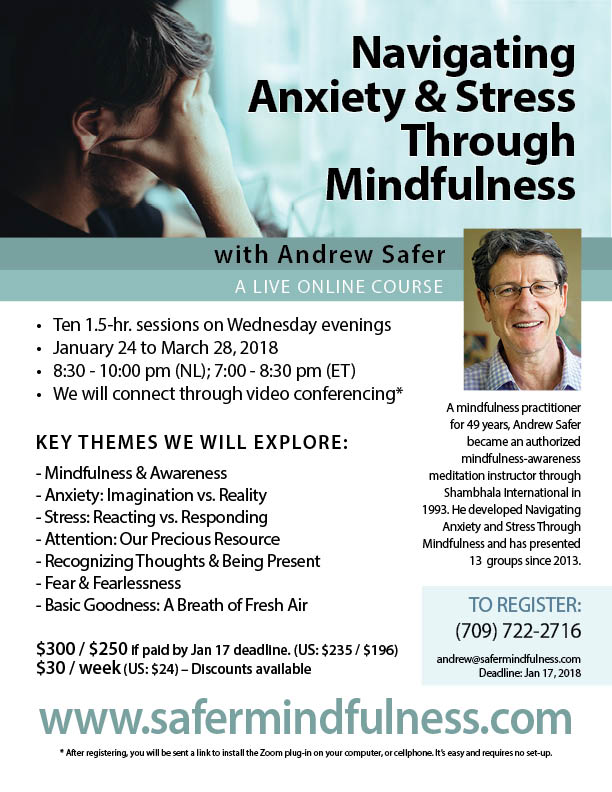 WORKPLACE MINDFULNESS COURSE FOR MEMORIAL UNIVERSITY STUDENTS ON WORK TERMS
This 10-week Workplace Mindfulness program is being offered to Memorial students who are on a work term this Winter (co-op, practicum, field placement). This is the third series being offered through a collaboration between Dr. Janna Rosales, Visiting Professor, Faculty of Engineering and Applied Science, Principal Investigator and Co-Facilitator; Dr. Kara Arnold, Professor, Faculty of Business; and Andrew Safer, Mindfulness Instructor, Trainer and Facilitator. The first two series were well received!
Tuesday nights, January 30th to April 3rd, 6:00 to 7:30 pm. We will meet on campus (TBD). For further details, stay tuned.
WINTER MINDFULNESS MEDITATION RETREAT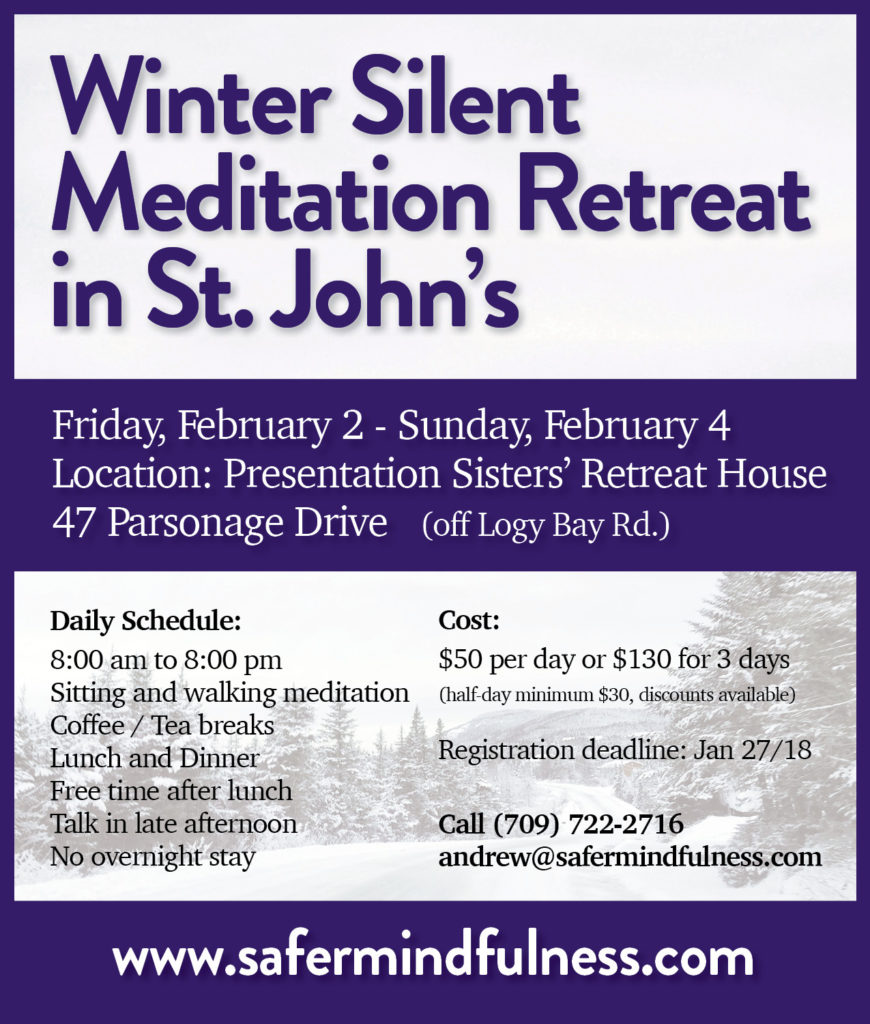 MINDFULNESS AND MEDITATION PROGRAM PILOTED AT
HER MAJESTY'S PENITENTIARY IN ST. JOHN'S FOR THE FIRST TIME
Andrew Safer conducted a Mindfulness training program at Her Majesty's Penitentiary with seven adult male inmates consisting of two 1.5-hour sessions per week for five weeks. Susan Green, Addictions Coordinator at the Penitentiary (below left), organized the sessions and invited the inmates to participate. Aside from two inmates who were released during the program, all of the participants attended the last session, indicative of their high level of engagement and interest. Evaluation outcomes were strong. (More: see below)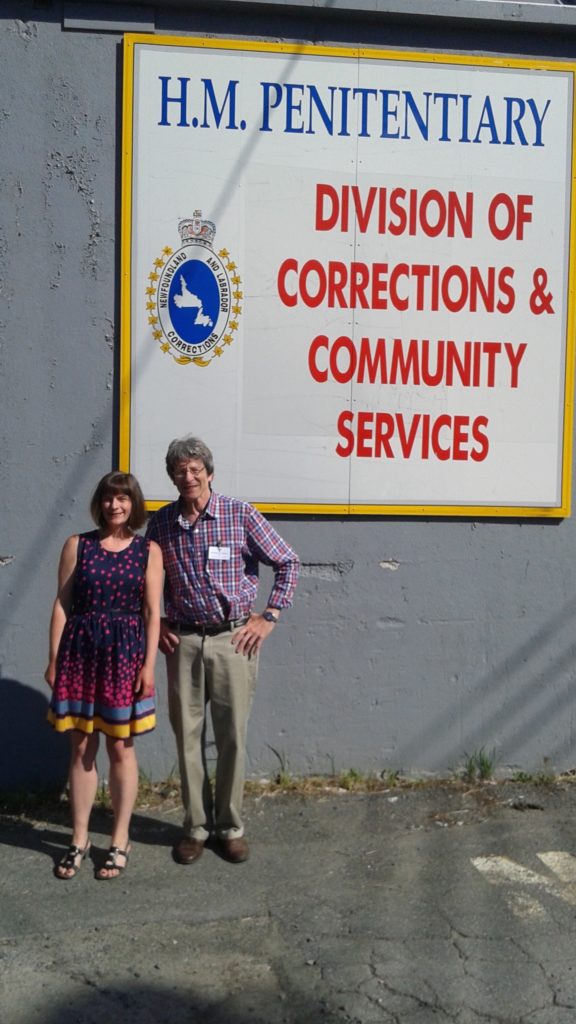 The themes of the sessions were:
- What Is Mindfulness?
- Mindfulness Practice (Sitting and Walking)
- Making Friends with Yourself
- Simplicity: Synchronizing Body and Mind
- Recognizing Thoughts
- Checking Your Impulsiveness: Pausing Practice
- Relating to Emotions
- Stress: Awareness Is Your Friend
- Anxiety: Feel It, Hear the Message, and Move On
- Mindfulness in Everyday Life
Participant quotes about the program (used with permission):
"Extremely helpful…Mindful eating has been a most effective way of practicing mindfulness in general."
"It helped me see that helping is my very nature."
"It has taught me how to put into practice all of the skills I've been trying to learn from books."
"…Possibly I can use the meditations in the future to prevent any emotional outburst like those that led to my incarceration."
When asked if they felt that other inmates could benefit from learning about Mindfulness, all six said "yes" (including one who completed his evaluation on release).
WORKPLACE MINDFULNESS TRAINING PROGRAM AT MEMORIAL UNIVERSITY
Mindfulness-awareness meditation instruction with students at the first session of the 10-session Workplace Mindfulness program (September - November), offered through a partnership between Dr. Janna Rosales, Faculty of Engineering and Applied Science, Dr. Kara Arnold, Faculty of Business, and Andrew Safer, Safer Mindfulness. With support from Memorial University's Teaching and Learning Framework.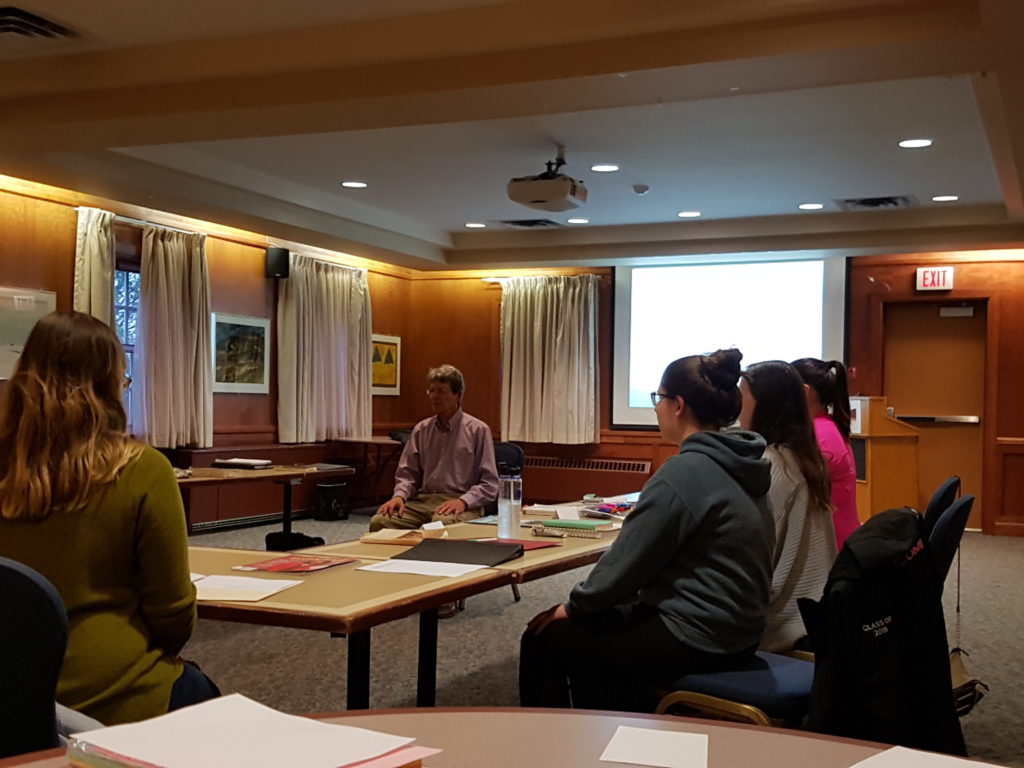 FALL MINDFULNESS AND MEDITATION CLASSES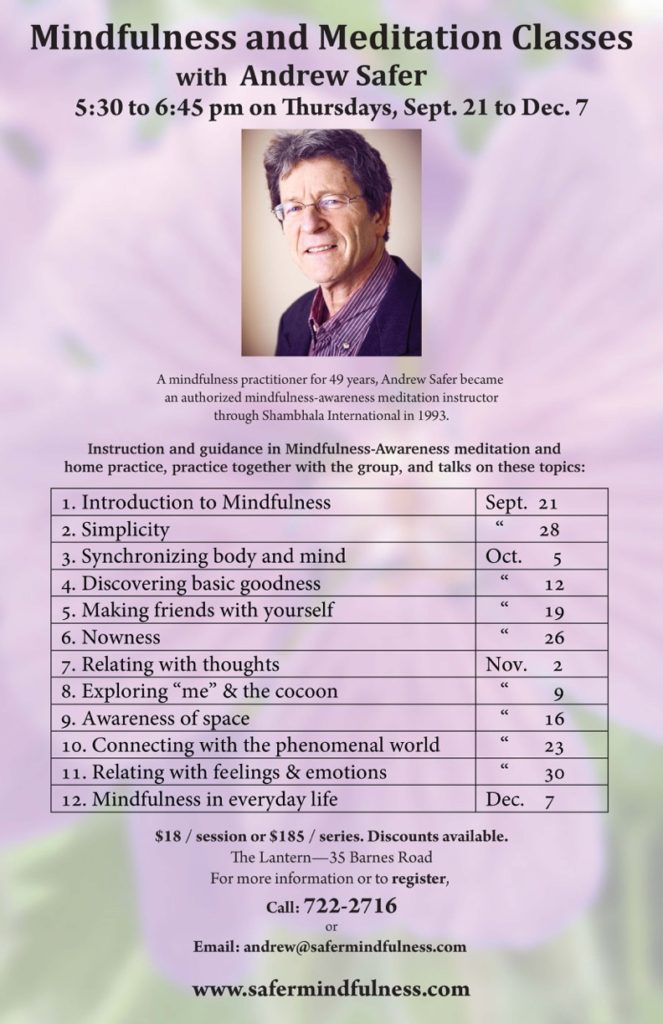 LIVE VIDEO CONFERENCING-BASED COURSE: NAVIGATING ANXIETY AND STRESS THROUGH MINDFULNESS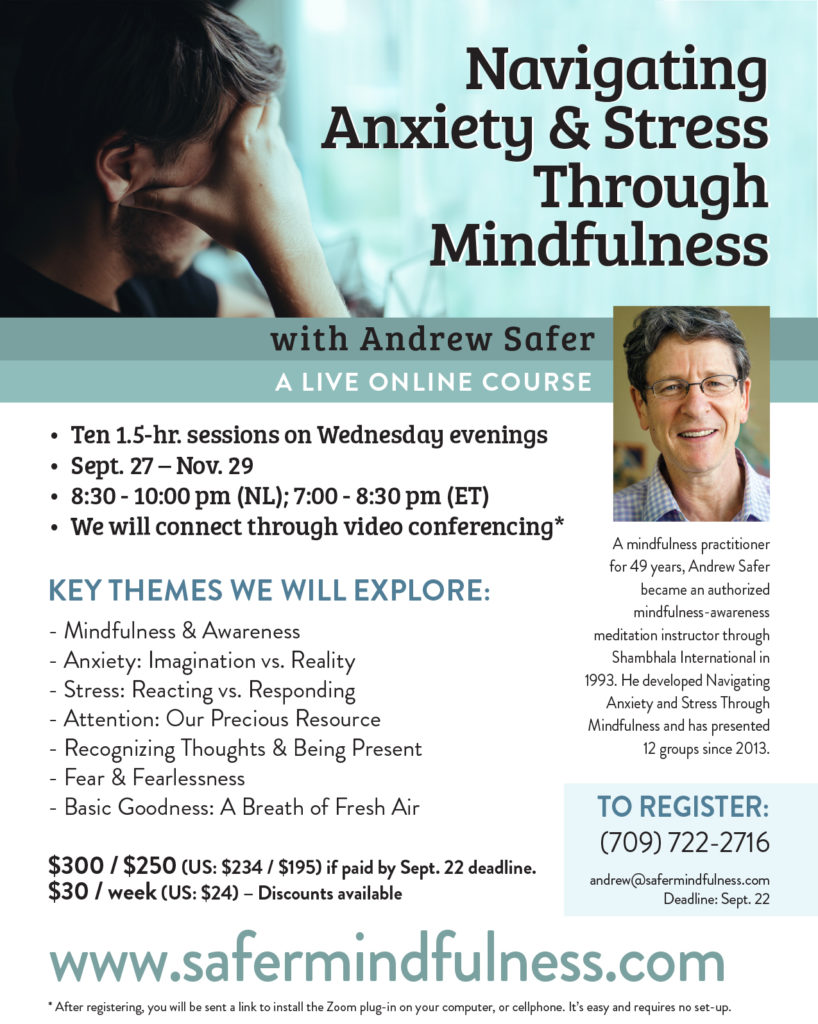 Evaluation Summary and Report for the previous live video conferencing-based workshop series (May-July 2017)

SUMMER MINDFULNESS MEDITATION RETREAT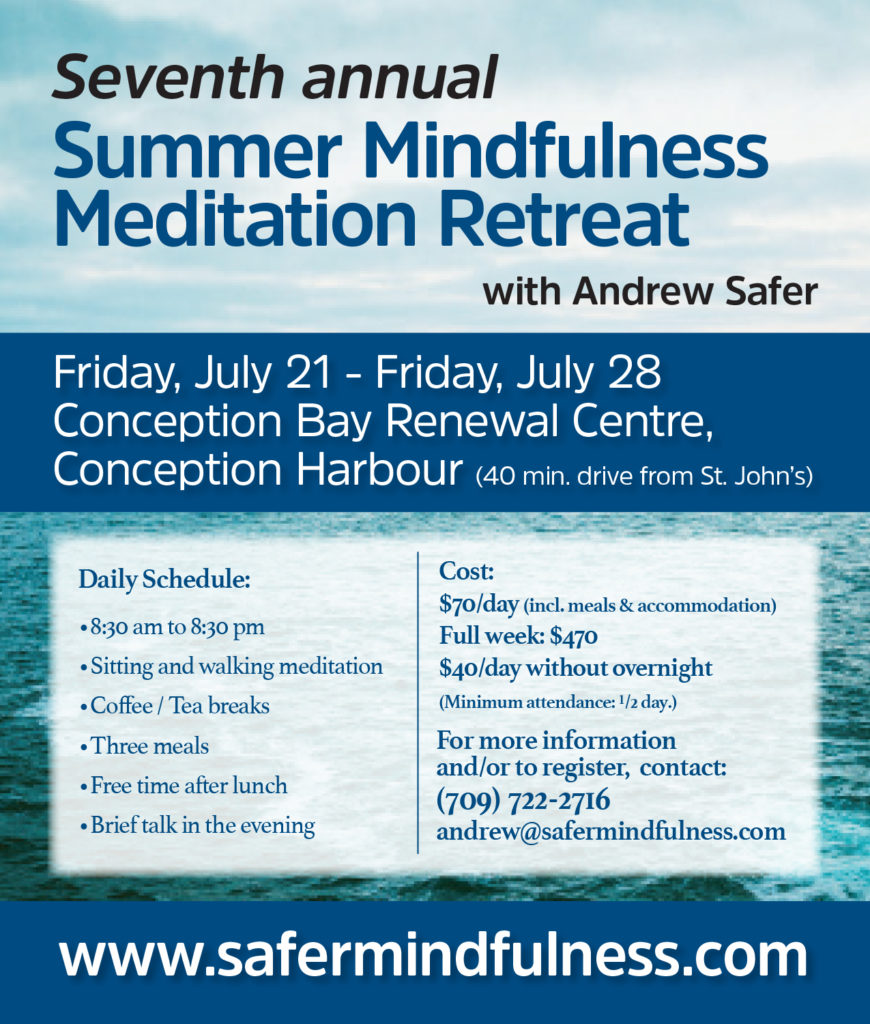 MINDFULNESS IN RECOVERY: 7-MONTH FOLLOW-UP
Four years ago, after the Mindfulness in Recovery program (for people with addictions) was piloted, a 7-month follow-up was conducted. Participants found both the program and the mindfulness practices very helpful, which the evaluations confirmed, with a 59% increase in the scores between the first session and the 7-month follow-up session. Since this data was not shared earlier, it is posted here: Recovery 7-mo Follow-up Summary Oct 5 16
PRESENTATION AT INTERNATIONAL POSITIVE PSYCHOLOGY CONFERENCE
I was honoured to have the opportunity to present at the 17th World Summit on Positive Psychology, Psychotherapy, and Cognitive Behavioral Sciences in Toronto this week. (Theme: Transforming Mental Health care through application of Positive Psychology with Psychotherapy & promoting a Science of Mindfulness for Well-being) My topic was "Navigating Anxiety and Stress through Mindfulness: Cultivating mindfulness and awareness in a community-based setting".
What a wonderful group of people—mostly psychologists and psychotherapists—from all over the world! On Wednesday afternoon, for example, the presenters were from Lebanon, Canada, Netherlands, Brazil, Portugal, Philippines, and India. It's inspiring to see the work they're doing to help people in their countries, ranging from providing integrative grief treatment for adults and children (Italy) to the application of mindfulness training for the self-care of police officers and other first responders (Canada).
Below: Andrew is the tall guy in the back, centre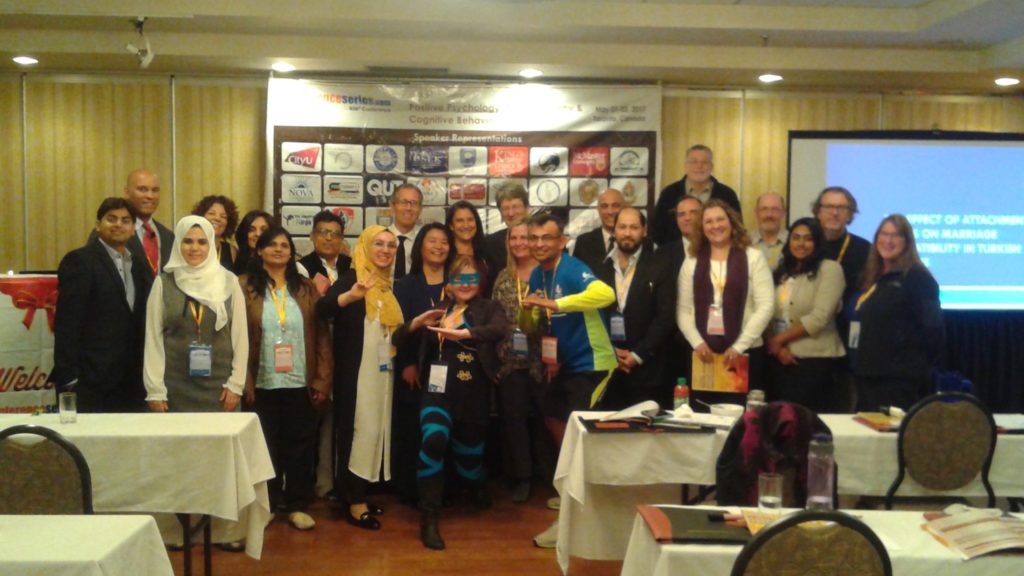 BASIC SANITY: DISCOVERING OUR INHERITANCE WORKSHOP SERIES STARTS MAY 30TH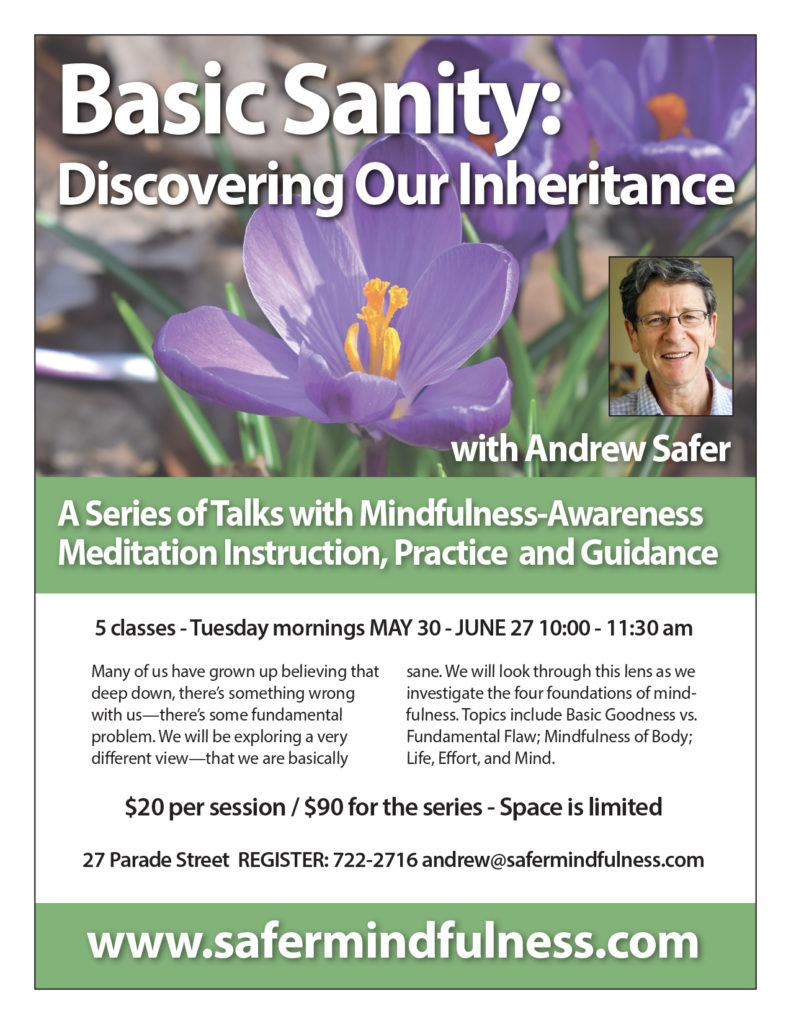 ONLINE COURSE ON ANXIETY, STRESS AND MINDFULNESS TO START MAY 24TH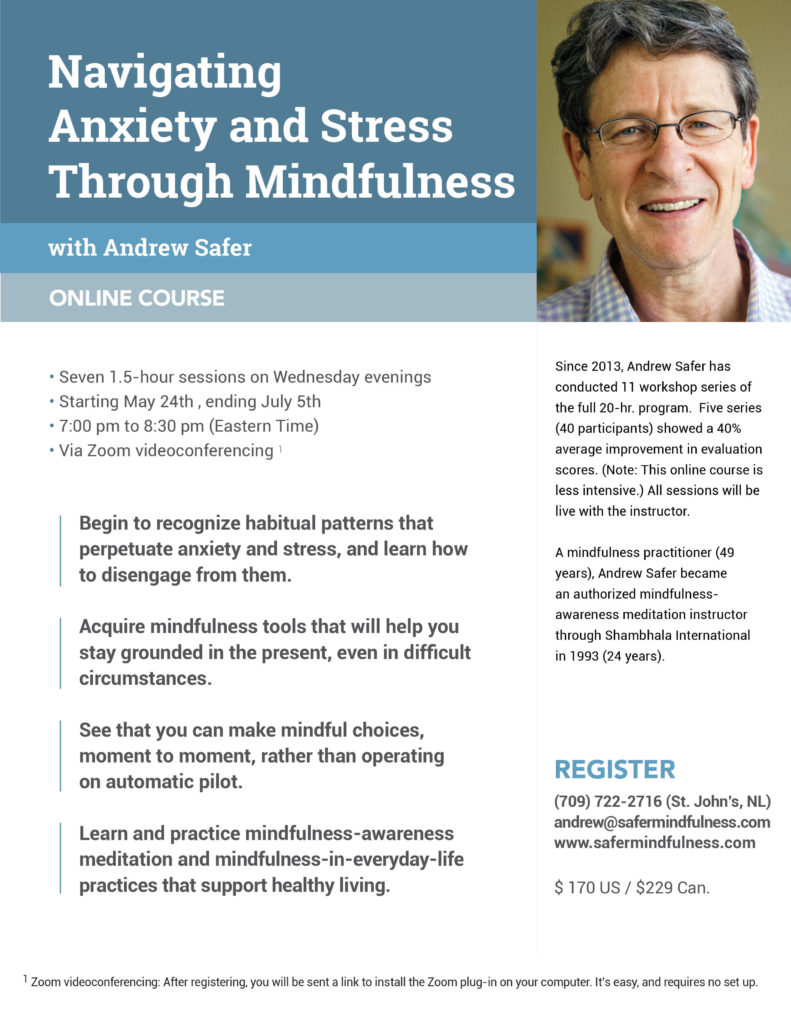 MEMORIAL'S FIRST WORKPLACE MINDFULNESS COURSE FOR STUDENTS
"Be Mindful", Gazette, Memorial University, April 20, 2017
CHANNAL PRESENTS HOPE AWARD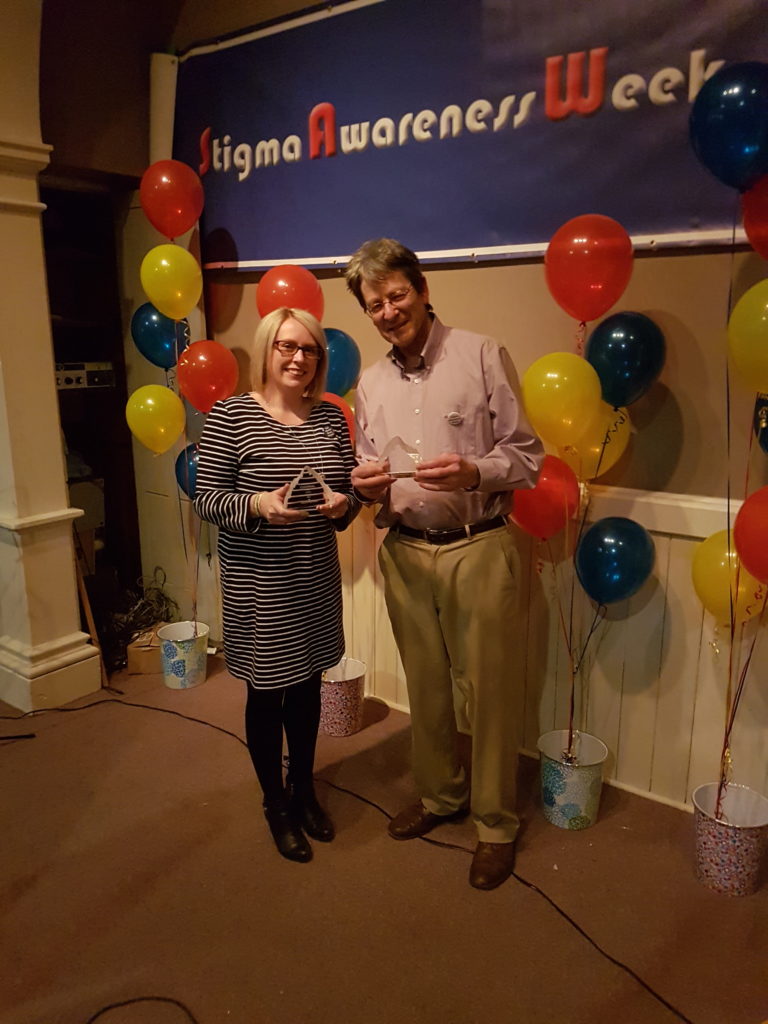 CHANNAL (Consumer Health Awareness Network Newfoundland and Labrador) presented their inaugural Hope award to Cara Pike and Andrew Safer at the third annual Stigma Awareness Week Variety Show on March 9, 2017. Cara and Andrew were nominated and chosen by members of CHANNAL, the only consumer-led peer-support mental health organization in the province.
Photo: Courtesy of Mike Herrell, CHANNAL.
A MINDFUL WAY THROUGH FEAR AND UNCERTAINTY
Join us for this weekend workshop in early April...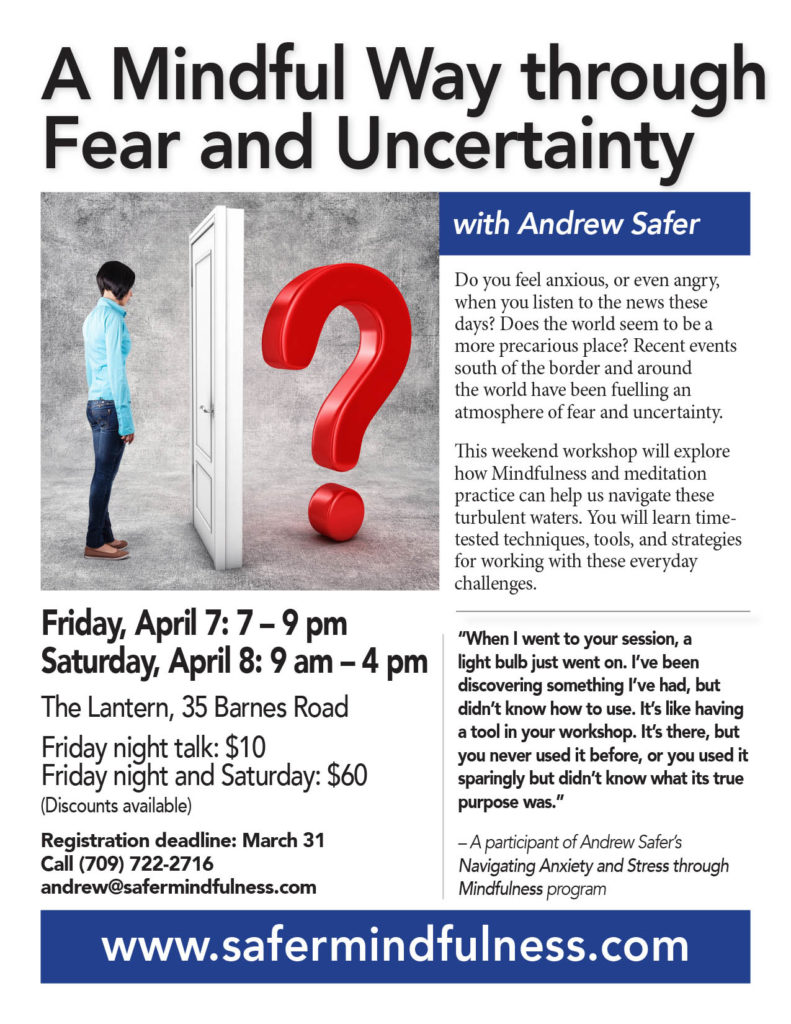 WINTER RETREAT--FINAL DAY
Retreatants on February 5th, the last day of our Winter Retreat at the Presentation Sisters' Retreat House in St. John's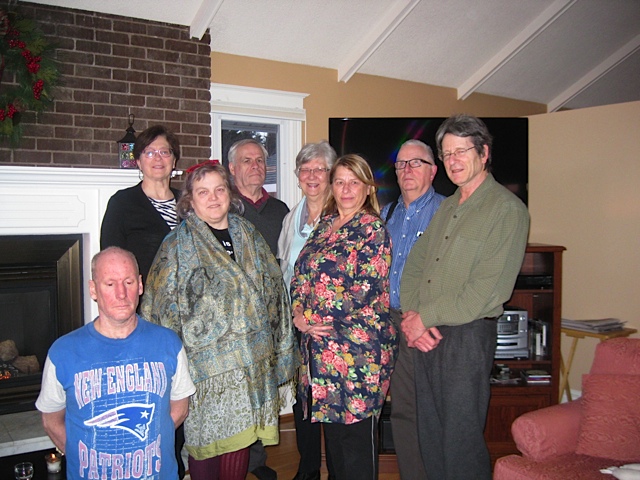 NEXT ANXIETY AND STRESS / MINDFULNESS WORKSHOP SERIES STARTS FEB. 15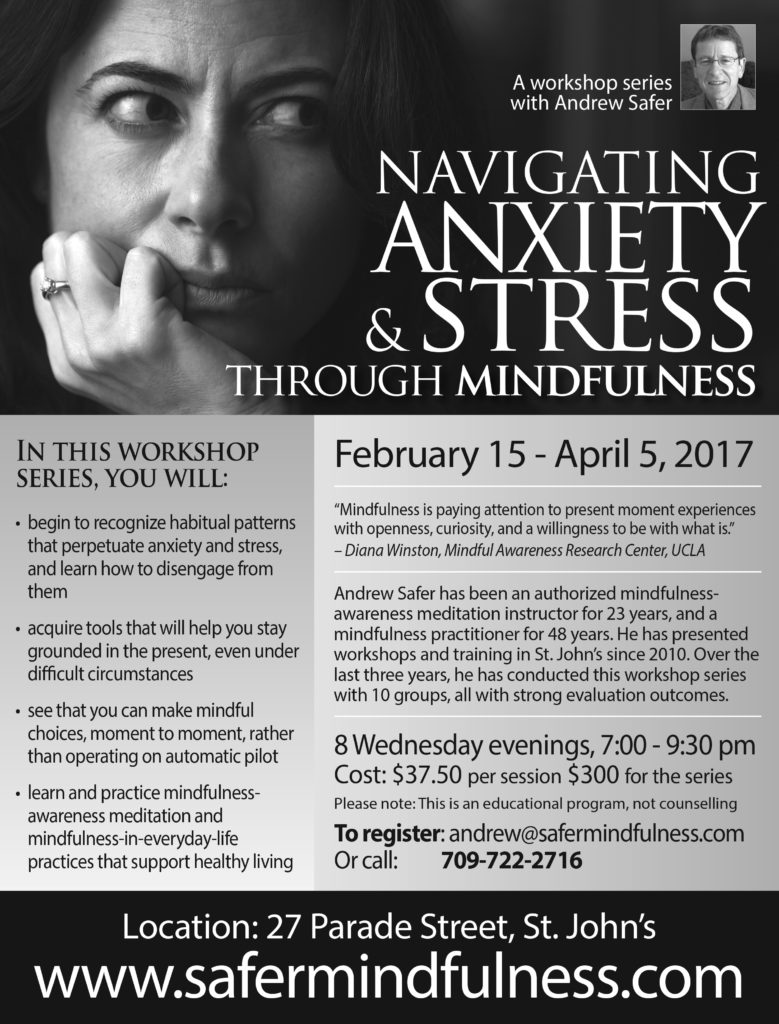 WINTER SILENT MEDITATION RETREAT: FEB. 3-5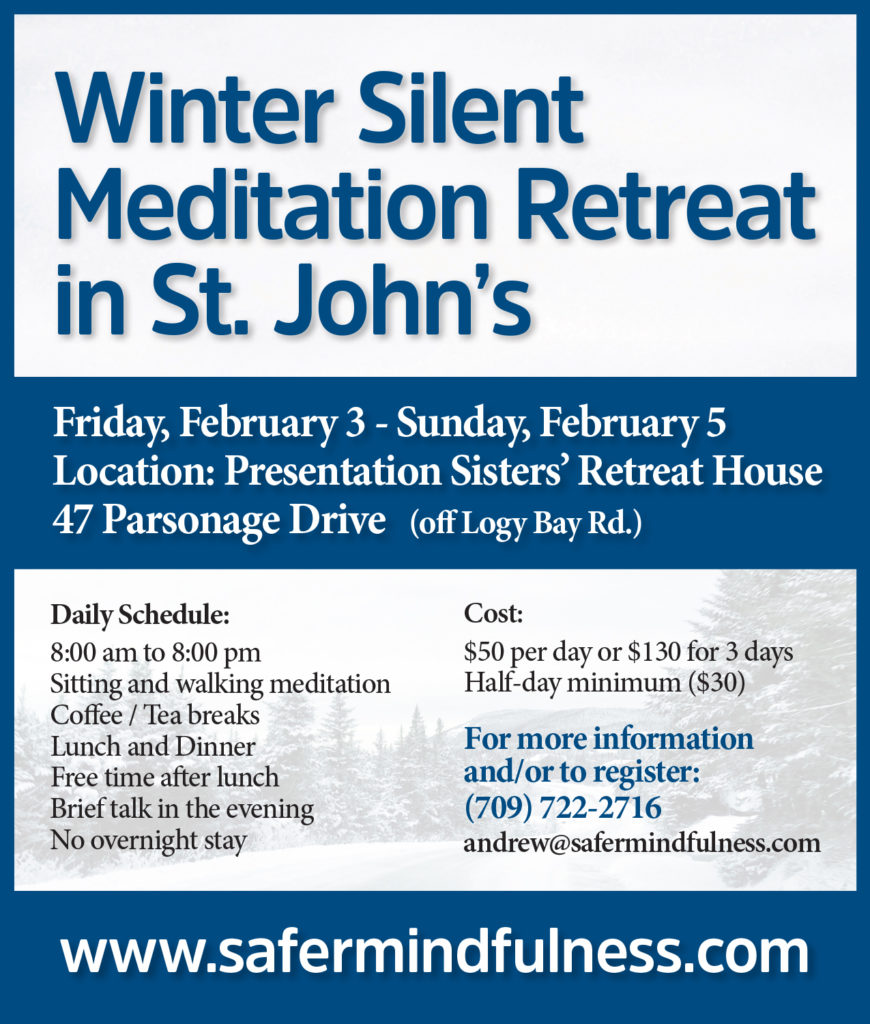 FEAR AND FEARLESSNESS WORKSHOP SERIES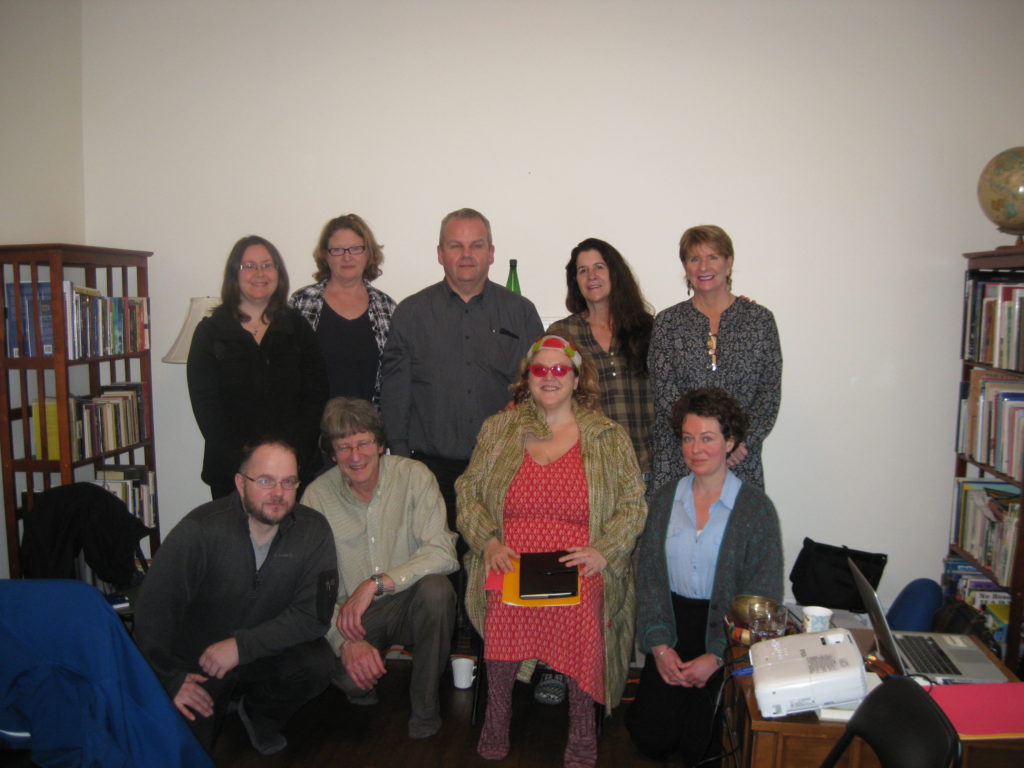 This 3-session weekly workshop series ran from November 15th to December 6th.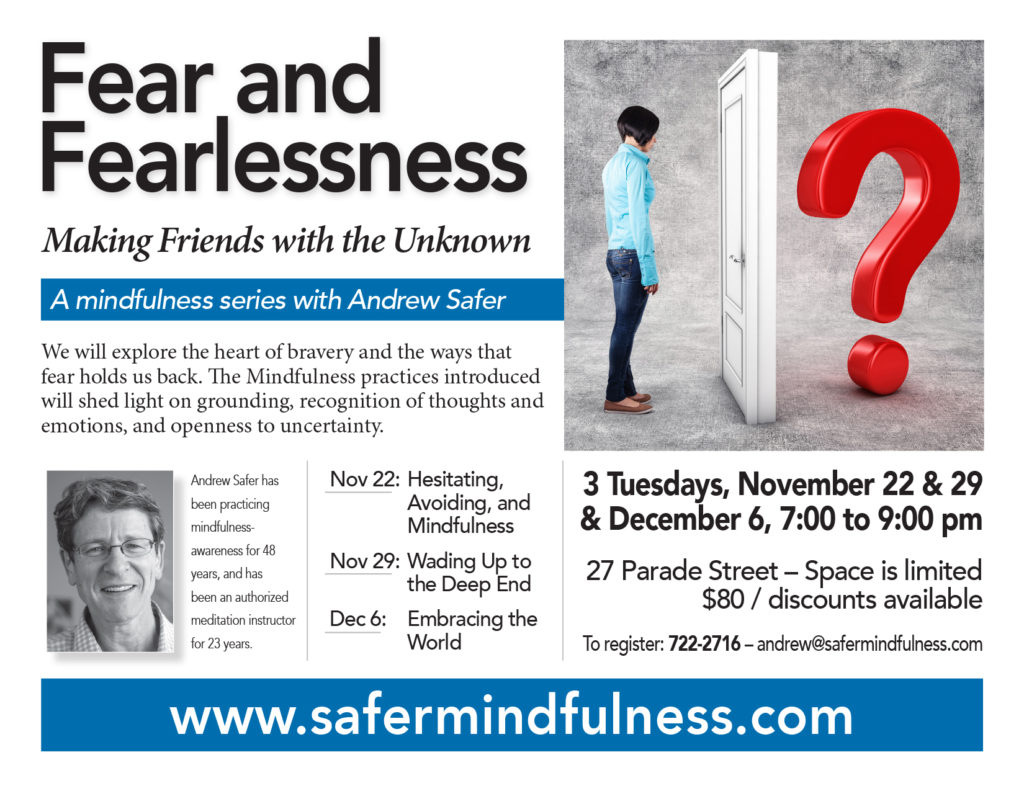 MENTAL HEALTH AND MINDFULNESS SERIES
Andrew will be presenting a 4-session weekly workshop series on Mental Health and Mindfulness starting Wednesday morning, November 16th. To register, please e-mail or phone (details below). Seating is limited.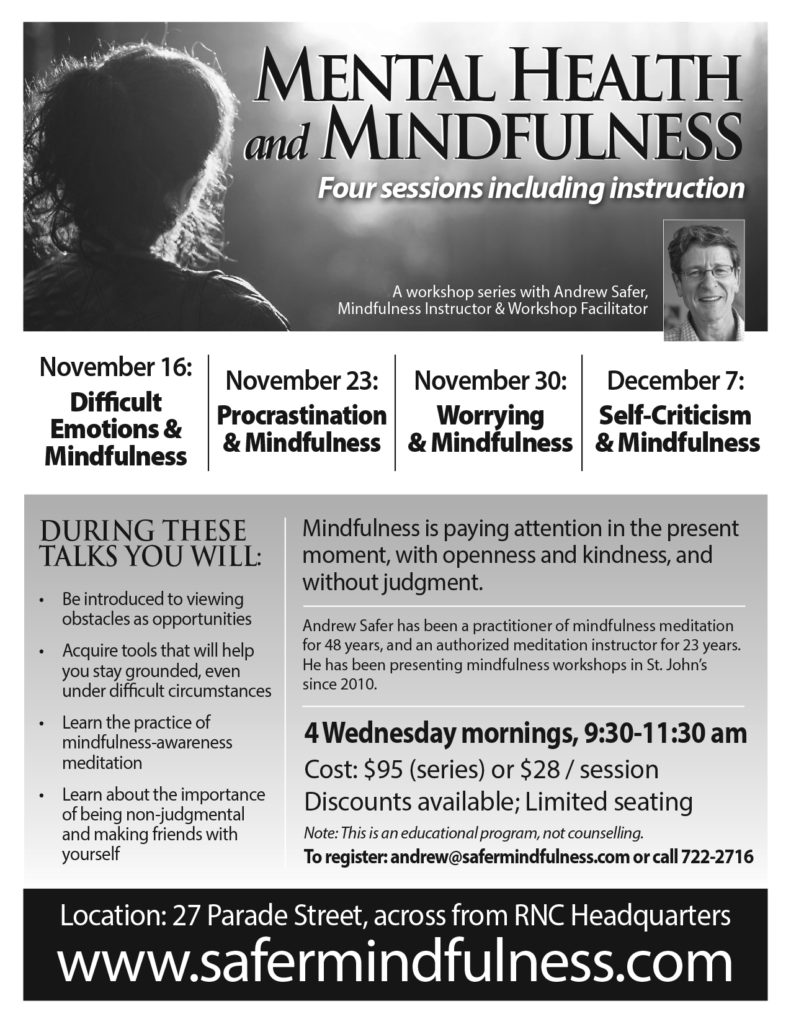 MINDFULNESS EXHIBIT AT THE CITY OF MOUNT PEARL'S HEALTH AND WELLNESS FAIR
The City of Mount Pearl's Health and Wellness Fair took place at the Mount Pearl Glacier on October 13th. It was wonderful to take part with such a diverse and professional group of exhibitors.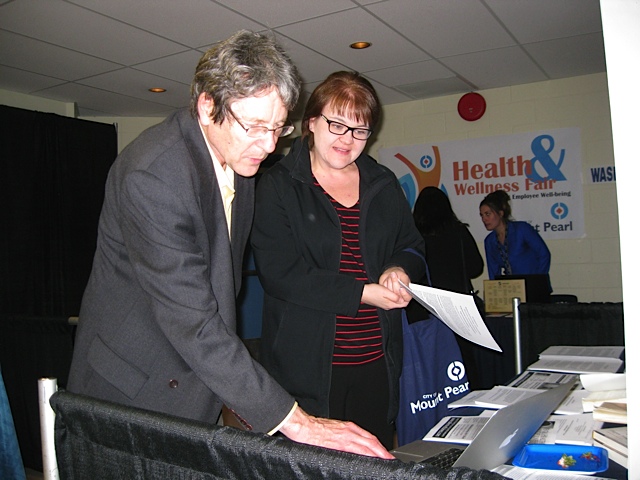 "BE MIND FULL"--CMHA
The Canadian Mental Health Association has adopted "Be Mind Full" as a slogan in its public information materials. For example, it's at the top of their Mental Health Fact Sheet and their Coping With Stress--5-Minute Stress Test Sheet.
This photo was taken at their booth at the City of Mount Pearl's Health and Wellness Fair.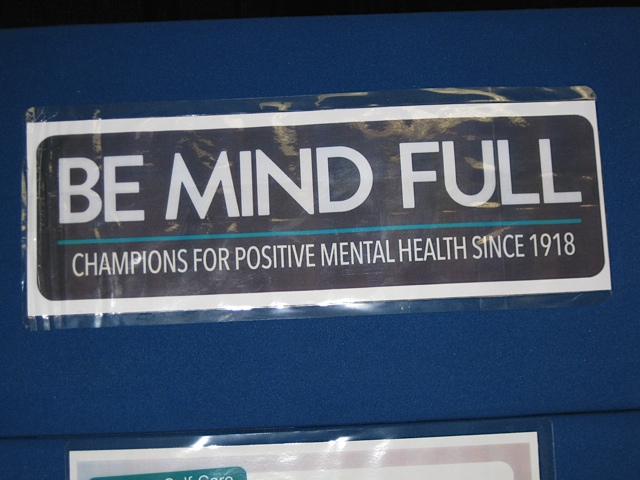 OUR NEW SPACE
Our Monday night meditation and study group began meeting at 27 Parade Street the first of August. Our new space is homey, warm, and inviting.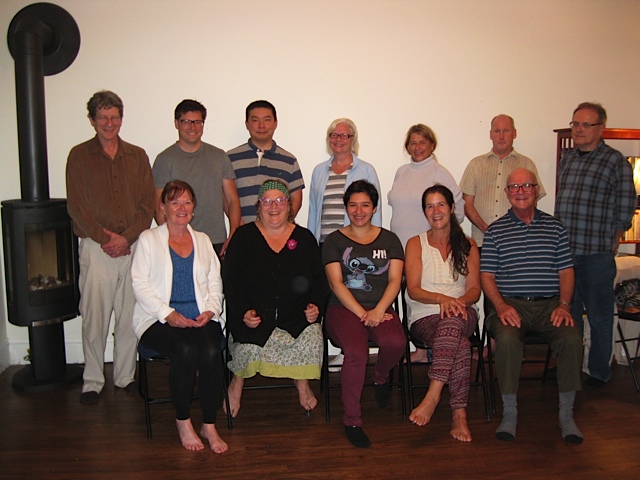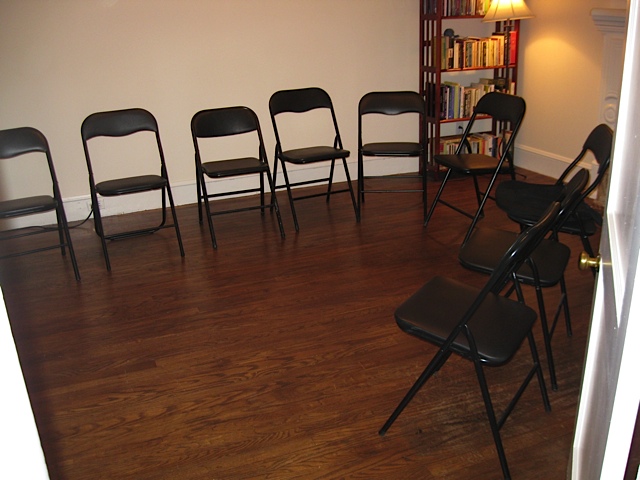 NAVIGATING ANXIETY AND STRESS THROUGH MINDFULNESS WORKSHOP SERIES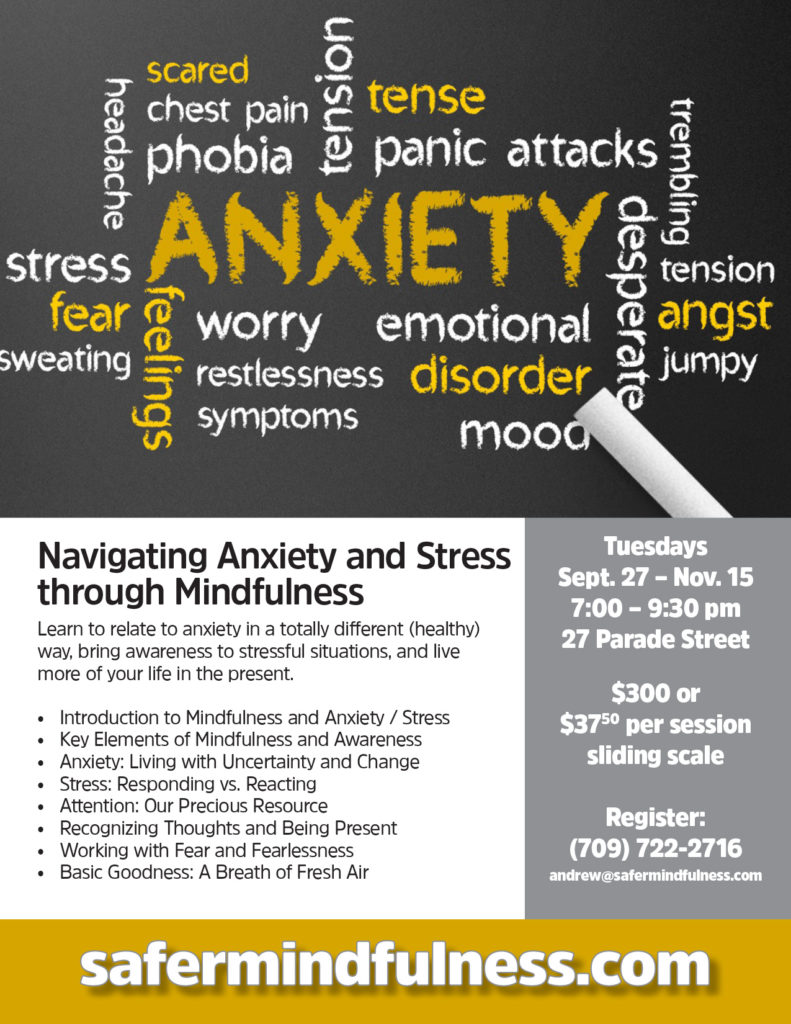 CULTIVATING PRESENT-MOMENT AWARENESS WORKSHOP SERIES--DAYTIME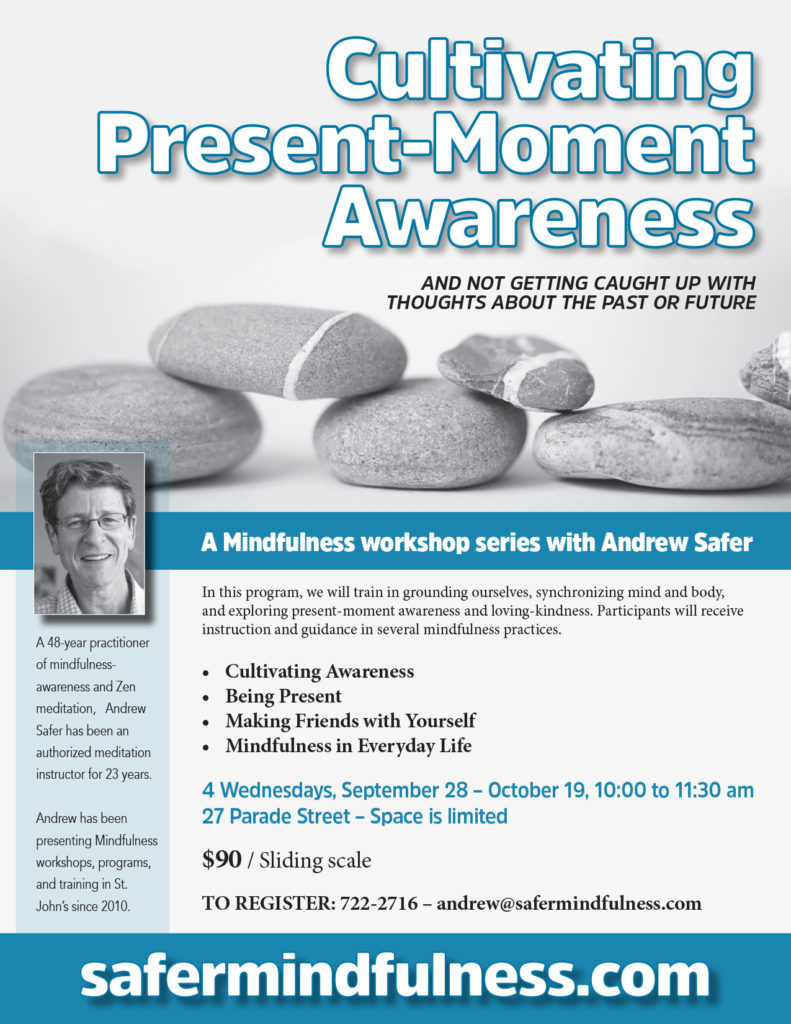 SUMMER MEDITATION RETREAT
This picture was taken at the end of the first day of our annual Mindfulness-Awareness Summer Retreat at the Conception Bay Renewal Centre in Conception Harbour. Twenty-six people attended the one-week retreat from July 16 to 23, coming and going at various times. Photo: Andrew Safer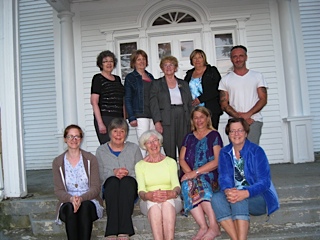 KATHY PORTER BECOMES MINDFULNESS-AWARENESS MEDITATION INSTRUCTOR
Kathy Porter of St. John's, who has attended all of our winter and summer retreats since 2011 and has fulfilled Meditation Instructor I training practice and study requirements, is now a Mindfulness-Awareness meditation instructor (I). (Thank you to Ken Friedman of Halifax who assisted in this process.) Photo: Courtesy of Moyra Buchan.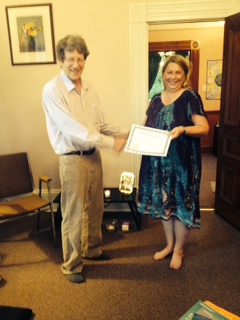 ANXIETY AND STRESS/MINDFULNESS PROGRAM PRESENTED AT PSYCHIATRY RESEARCH DAY
The Discipline of Psychiatry at Memorial University held their Annual Research and Awards Day in the Faculty of Medicine's Medical Education Centre on June 24th. Dr. Martha Traverso-Yepez and Andrew Safer co-presented on "Navigating Anxiety and Stress through Mindfulness: A Program Evaluation". (Click below for presentation.)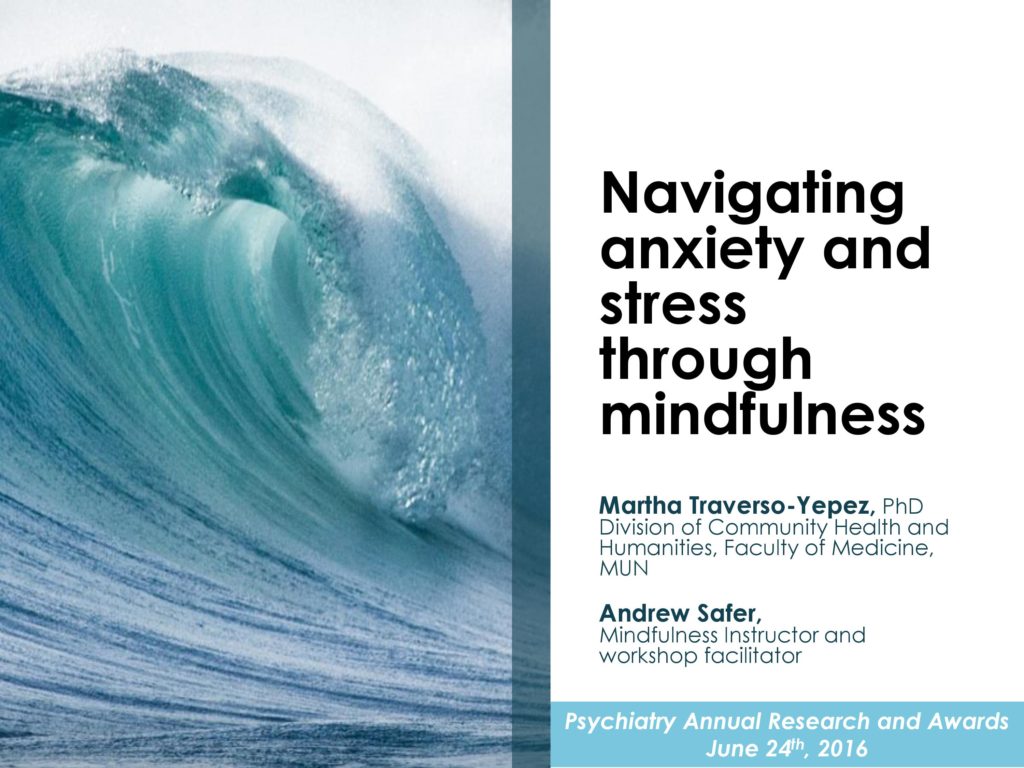 5TH ANNUAL SUMMER RETREAT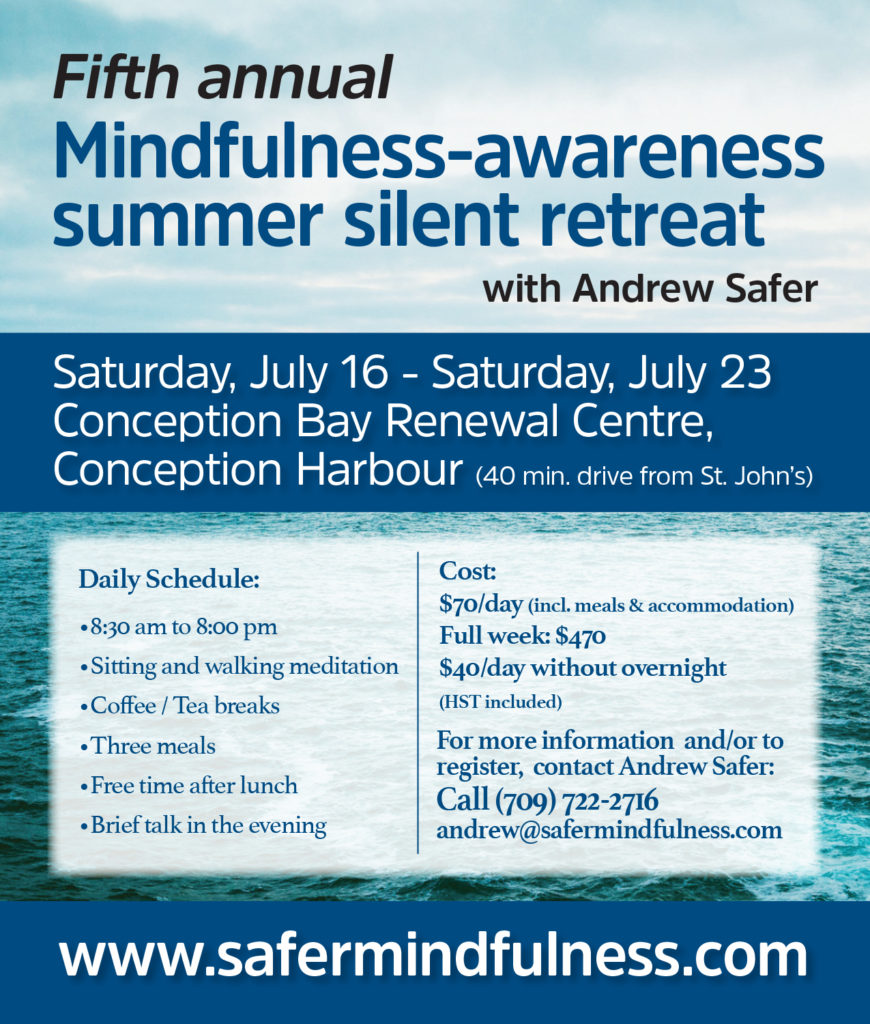 4TH ANNUAL MENTAL HEALTH @ WORK FAIR
On June 1st, Andrew presented on "Workplace Mindfulness" at the Mental Health @ Work Fair at St. John's City Hall. Among the other presentations were "Lived Experience: Recovery @ Work & Peer Support", "The Recovery Approach", "Are You Traumatized by Your Work?", and "Fitness and Recovery". Photo: courtesy of Dave Banko.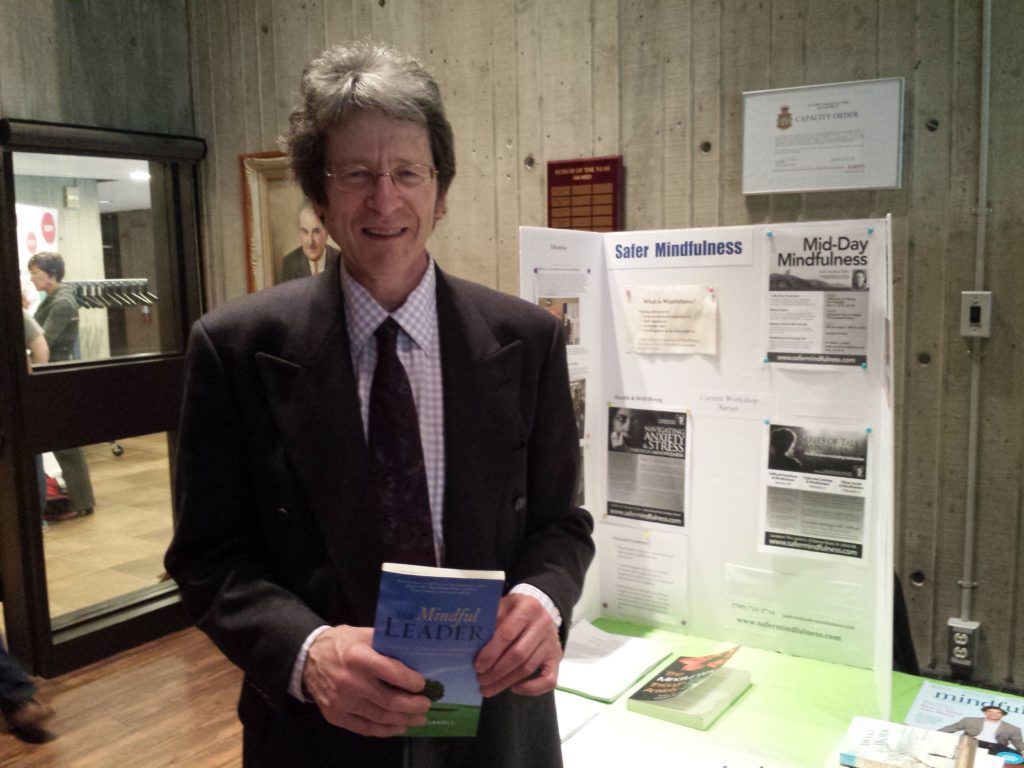 MID-DAY MINDFULNESS
This is the first workshop series we are offering downtown. It's tailor-made for people who work downtown and would like to learn about and receive training in Mindfulness: a set of practices that help us develop present-moment awareness, openness, and kindness toward ourselves, free from judgment and preoccupation.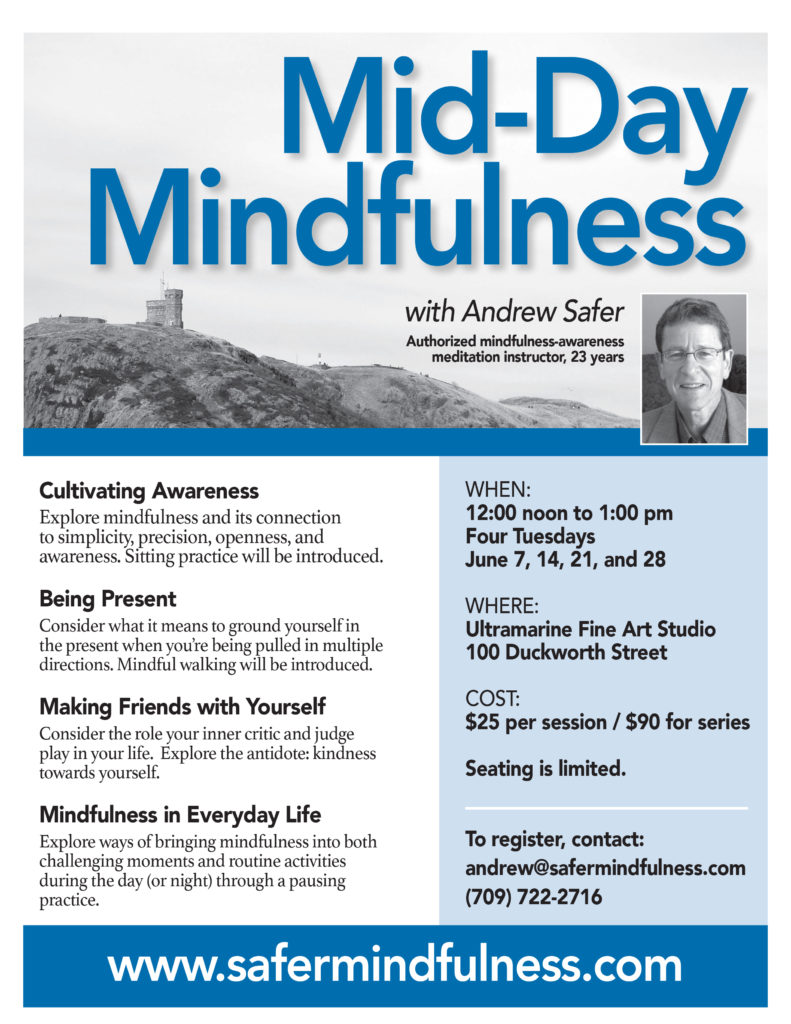 FIFTH ANNIVERSARY CELEBRATION

We celebrated five years of Monday night meditation on May 16th. We started practicing together as a group in April 2011 at the Family Life Bureau / Basilica, and have been at Canon Wood Hall, St. Thomas' Church since the Summer of 2014. After the first sitting period, Sherry Ryan treated us to three of her wonderful songs, there was some reminiscing and revelry, a 5th anniversary cake, non-alcoholic toasts--including one "to the next five years", many delectables, and much chatting. Photos: Courtesy of Deborah Jackman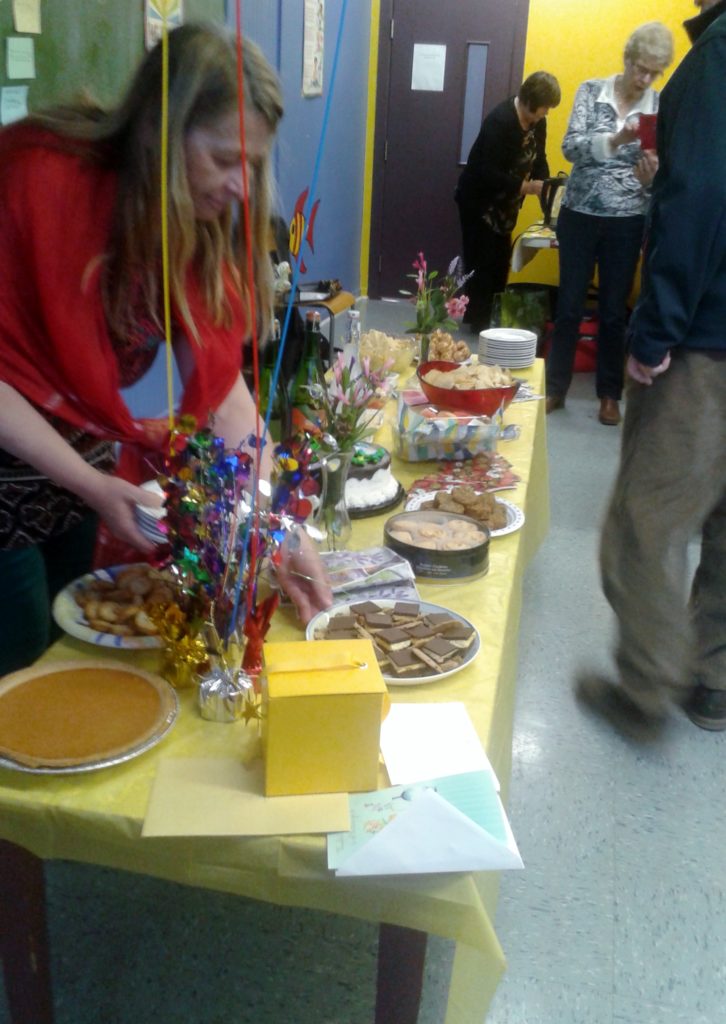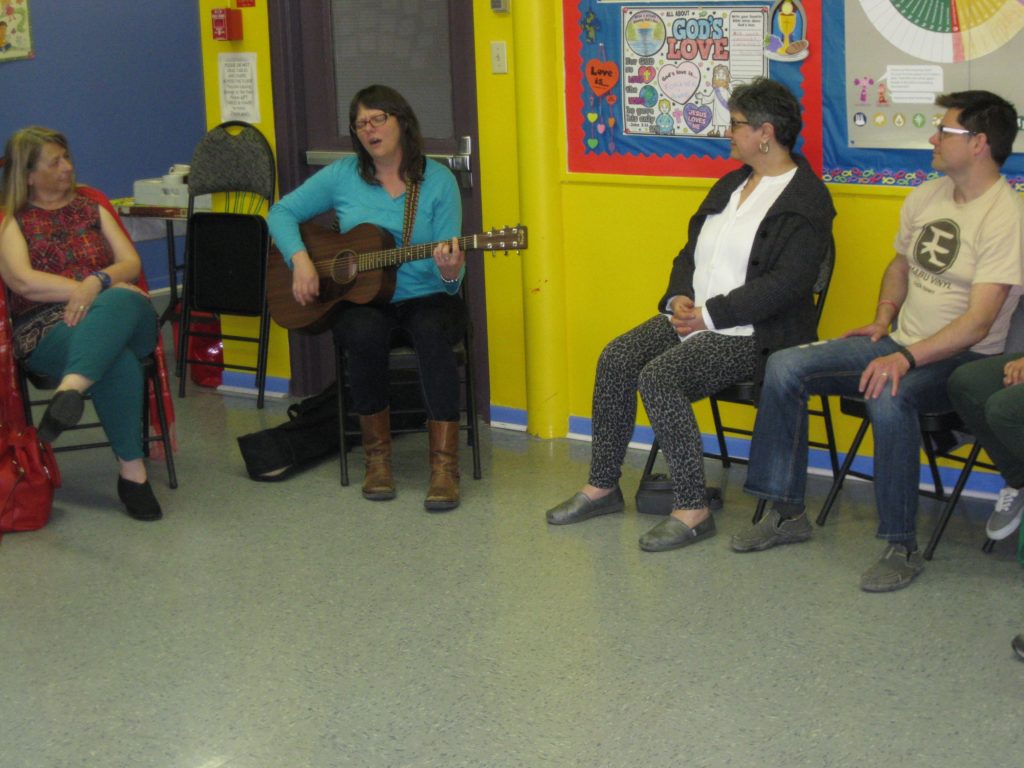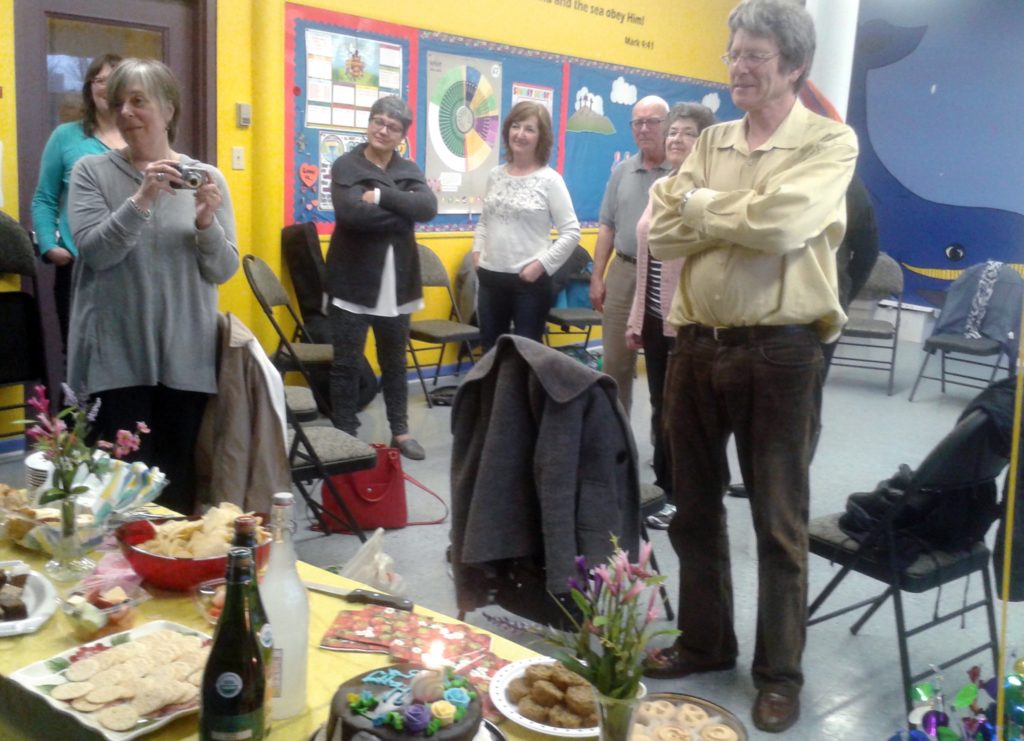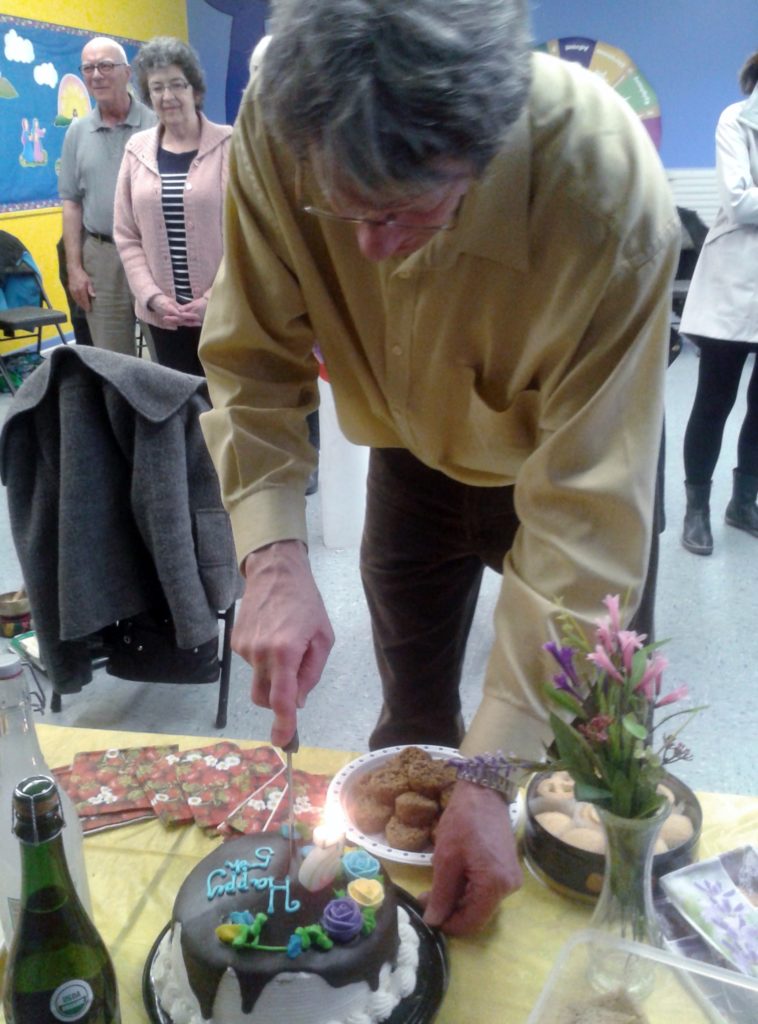 NAVIGATING ANXIETY AND STRESS THROUGH MINDFULNESS WORKSHOP SERIES
The next workshop series starts Wednesday, May 11th.
To read an evaluation summary and participant comments about this series, click on the links embedded in this page. To register for this series, contact Andrew: (709) 722-2716 andrew@safermindfulness.com. For a Paypal payment option, please click here.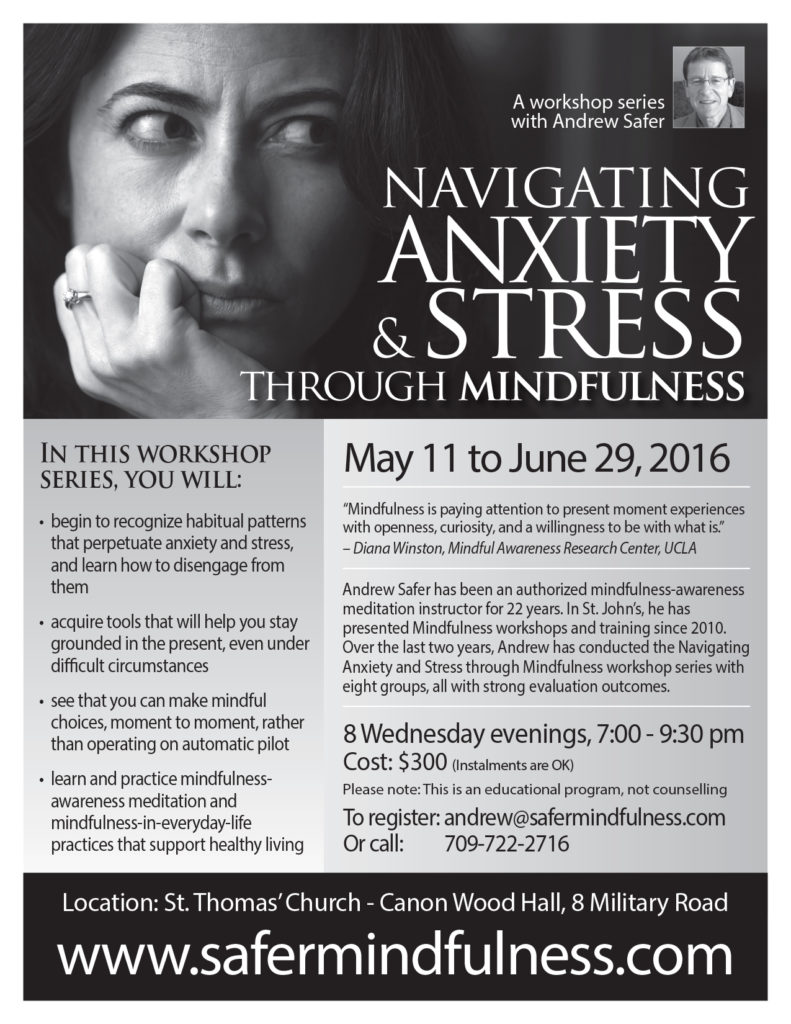 FIFTH ANNUAL SUMMER MEDITATION RETREAT
Our fifth annual summer mindfulness-awareness meditation retreat will take place at the Conception Bay Renewal Centre in Conception Harbour, once again--about 45 minutes from town. It will begin the morning of Saturday, July 16th and continue until Saturday morning, July 23rd (one full week). Minimum attendance is 1/2 day. The retreat consists of sitting and walking meditation, mid-morning and mid-afternoon coffee/tea breaks, lunch and dinner, pitching in with meal preparation and clean-up, personal time after lunch, and a brief talk in the evening. There will be one-on-one meetings with a meditation instructor, and silence during the days. The cost is $70 per day or $470 for the entire retreat, including accommodations and meals; $40 per day without accommodations. Discounts are available. Further details will be posted in the coming months.
DEPRESSION, ANXIETY, AND DIGITAL DISTRACTION AND MINDFULNESS WORKSHOPS
The Spring Series of Talks will be taking place at Canon Wood Hall, St. Thomas' Church. To register, please e-mail andrew@safermindfulness.com or call 722-2716.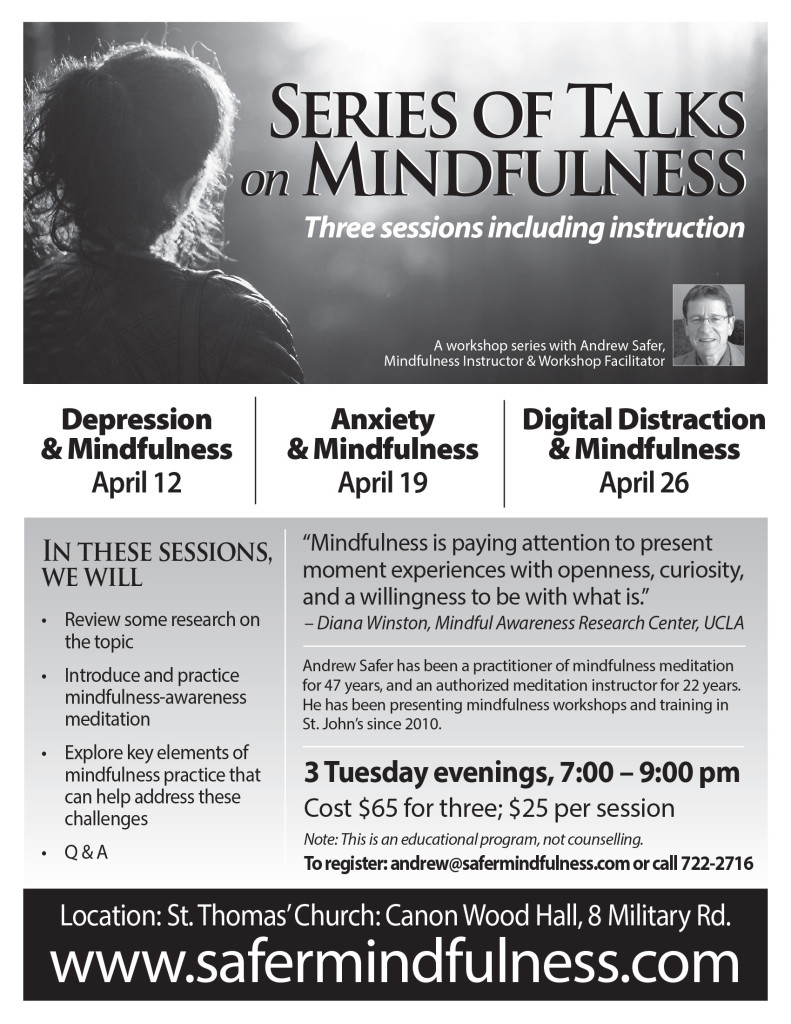 MONDAY NIGHT MEDITATION GROUP
Our weekly mindfulness-awareness meditation group has been meeting every Monday night for nearly five years--first at the Family Life Bureau (Basilica) and more recently at Canon Wood Hall, St. Thomas' Church. The only nights we have not met have been major holidays (Christmas, New Year's Eve, etc.) and nights when major storms made driving unsafe. Anyone is most welcome to join us (see home page for details). Photo: Courtesy of Elena Yehia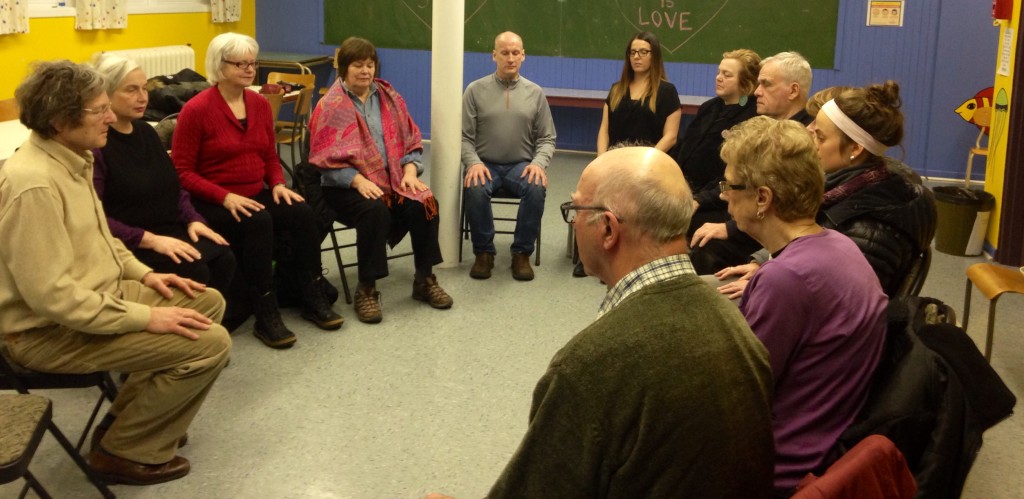 WINTER RETREAT FEBRUARY 19 TO 21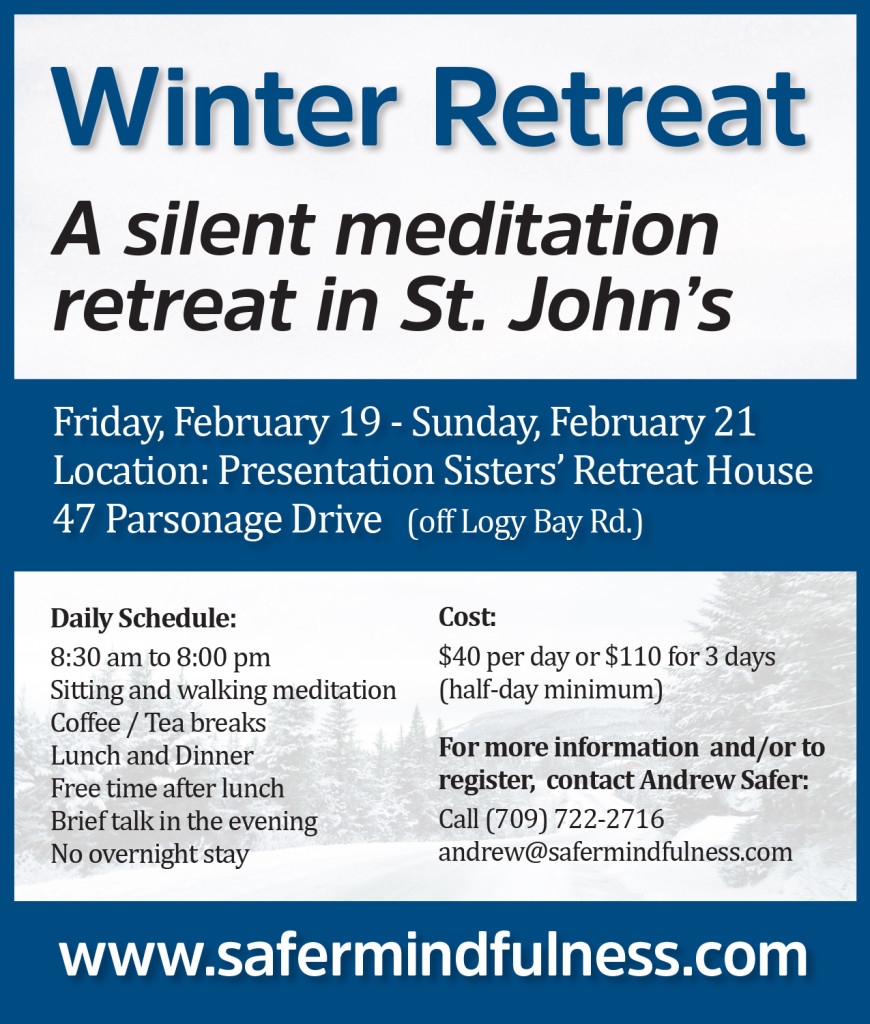 "WORKPLACE MINDFULNESS" PROGRAM COMPLETED AT MEMORIAL UNIVERSITY
The Human Resources department at Memorial University completed their pilot of Safer Mindfulness' Workplace Mindfulness program in early December. Fourteen staff and faculty met for one-hour weekly sessions in the Education Building from September 24th to December 3rd.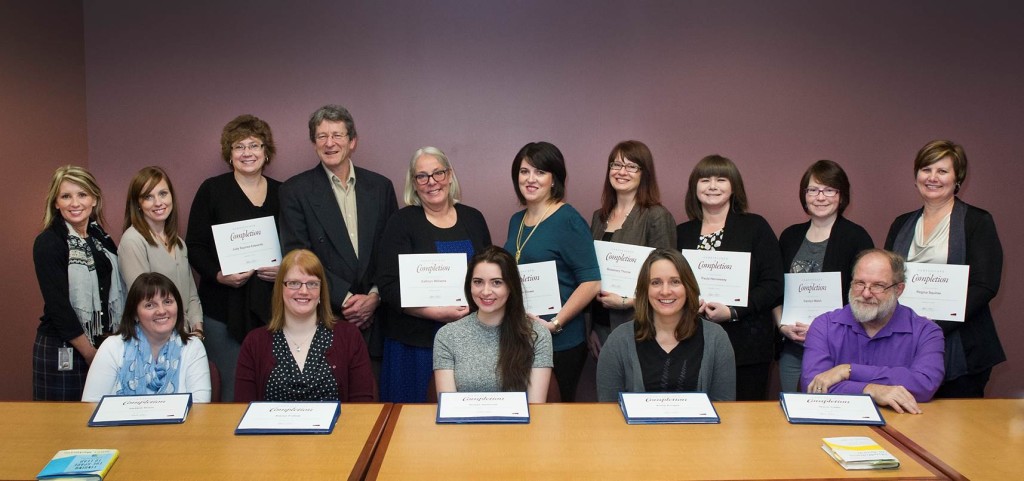 (Back left) Memorial University's Kathleen Wall, Employee Wellness Consultant and Krystal Donahue, Training and Development Consultant, and Andrew Safer with participants and their Certificates of Completion at the last session
Photo: Courtesy of Memorial University of Newfoundland
Several mindfulness practices were introduced, practiced, and discussed.
Presentations relating mindfulness to everyday workplace realities focused on:
Session 1 - The Business Case for Mindfulness
Session 2 - Core Practices for Developing Mindful Awareness in the Workplace
Session 3 - Attention in the Age of Digital Distraction
Session 4 - Seeing the Big Picture, Beyond the Details
Session 5 - The Power of Pausing
Session 6 - Responding Instead of Reacting
Session 7 – Building Respectful Relationships
Session 8 - Navigating Stress and Uncertainty
Session 9 - Joining Vision and Practicality
Session 10 - Capstone Session: Tying It All Together
Please see the article "Workplace Mindfulness" on Memorial University's web site.
NAVIGATING ANXIETY AND STRESS THROUGH MINDFULNESS WORKSHOP SERIES

This is the eighth cycle of this workshop series, which was piloted in the summer of 2013. All of these groups have had strong evaluation outcomes. For more information, go to this page and click on the embedded links.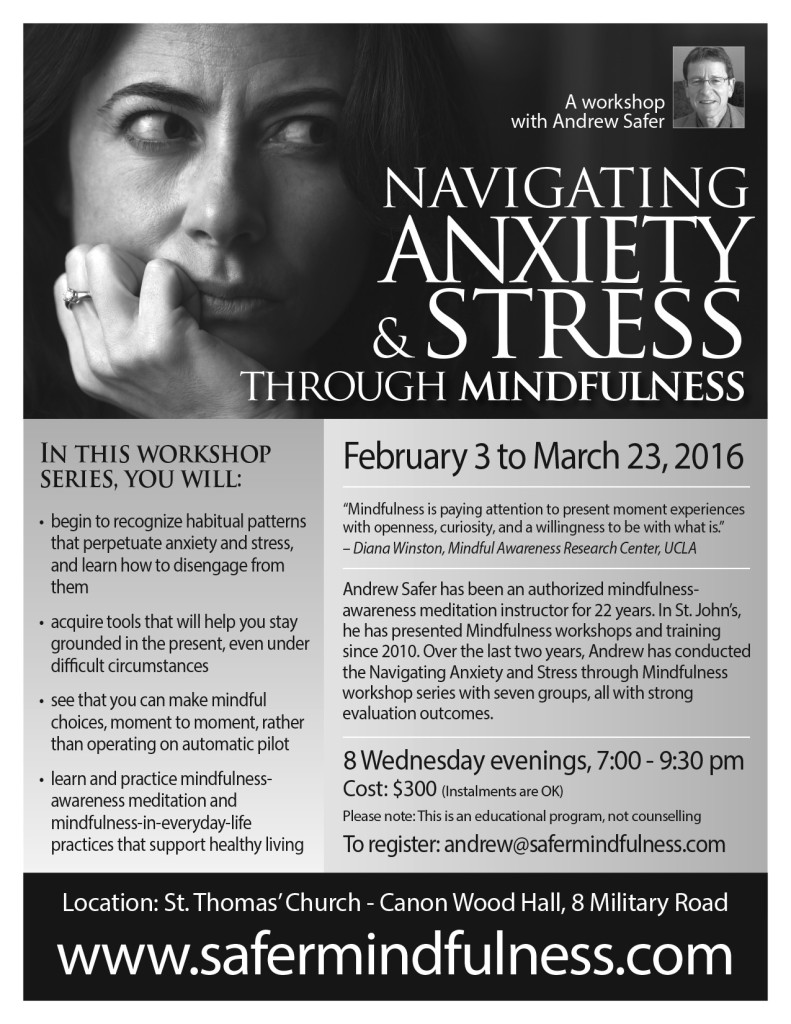 SECOND SERIES OF TALKS ON MINDFULNESS
This second series of talks will take place at The Lantern, 35 Barnes Road, St. John's.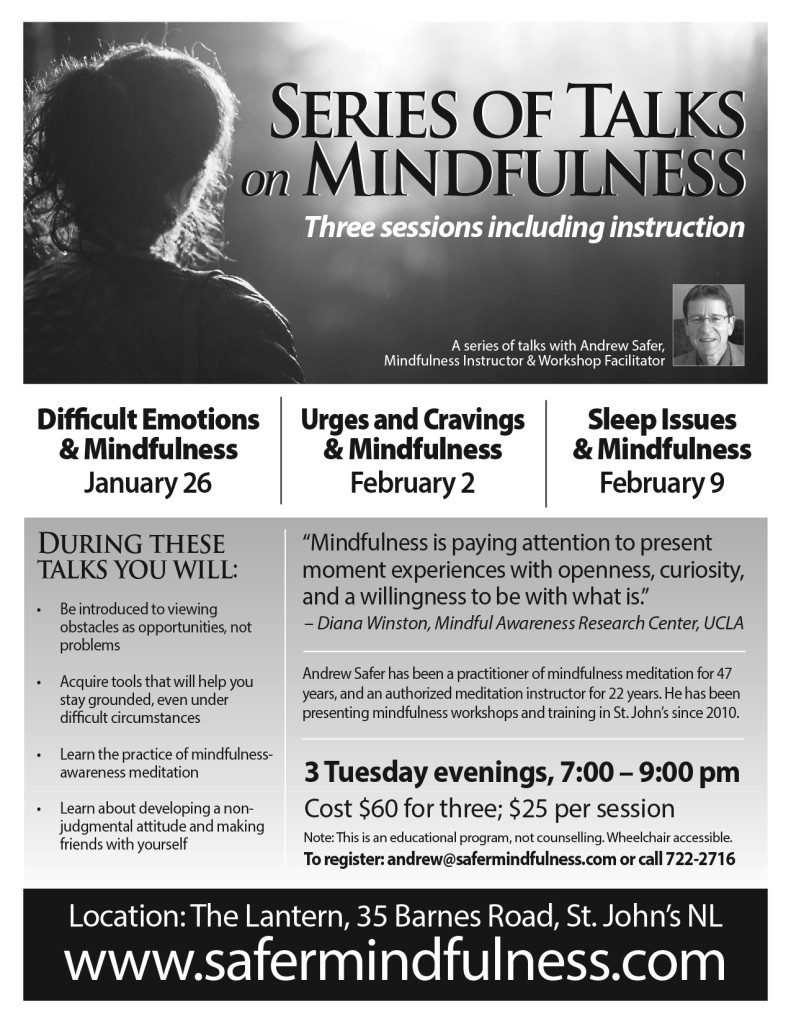 SERIES OF TALKS ON MINDFULNESS PRESENTED

Three sessions were presented on November 17th and 24th, and December 1st on (1) Procrastination, (2) Obsessive Worrying, and (3) Self-Criticism and Mindfulness at the Newfoundland and Labrador Housing and Homelessness Network's Learning Centre. Photo: Courtesy of Carl Hansen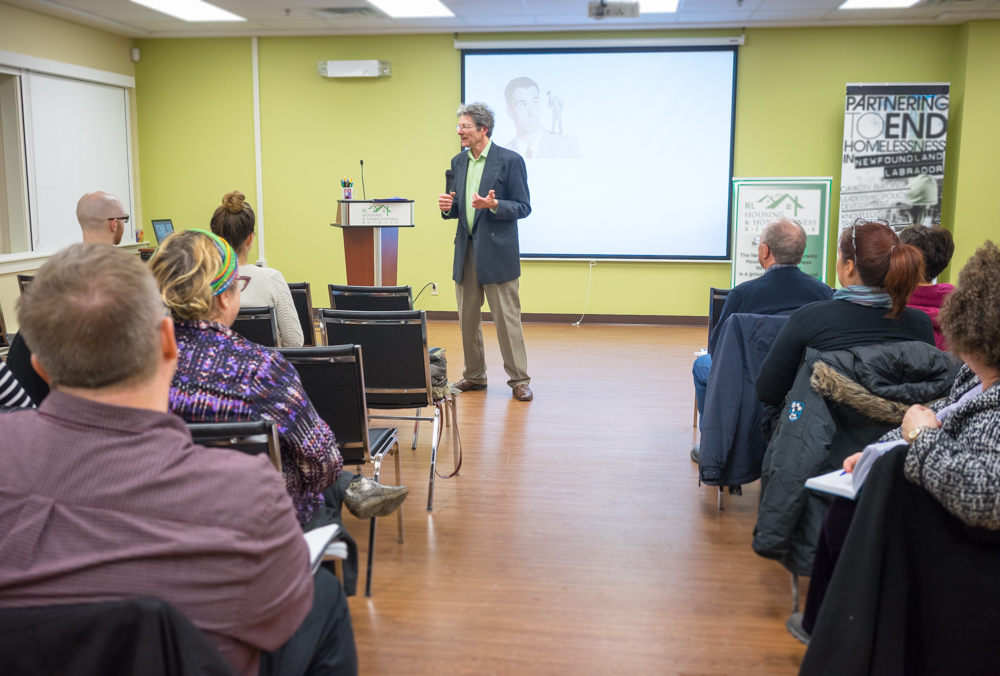 SECOND WORKSHOP PRESENTED AT NEWFOUNDLAND AND LABRADOR HOUSING CORPORATION
A second lunch and learn workshop on Mindfulness, Difficulties and the Workplace was presented to staff at NL Housing Corporation on November 19th. Below: Andrew with Bob Thorne (Left), Staff Development Officer, NLHC.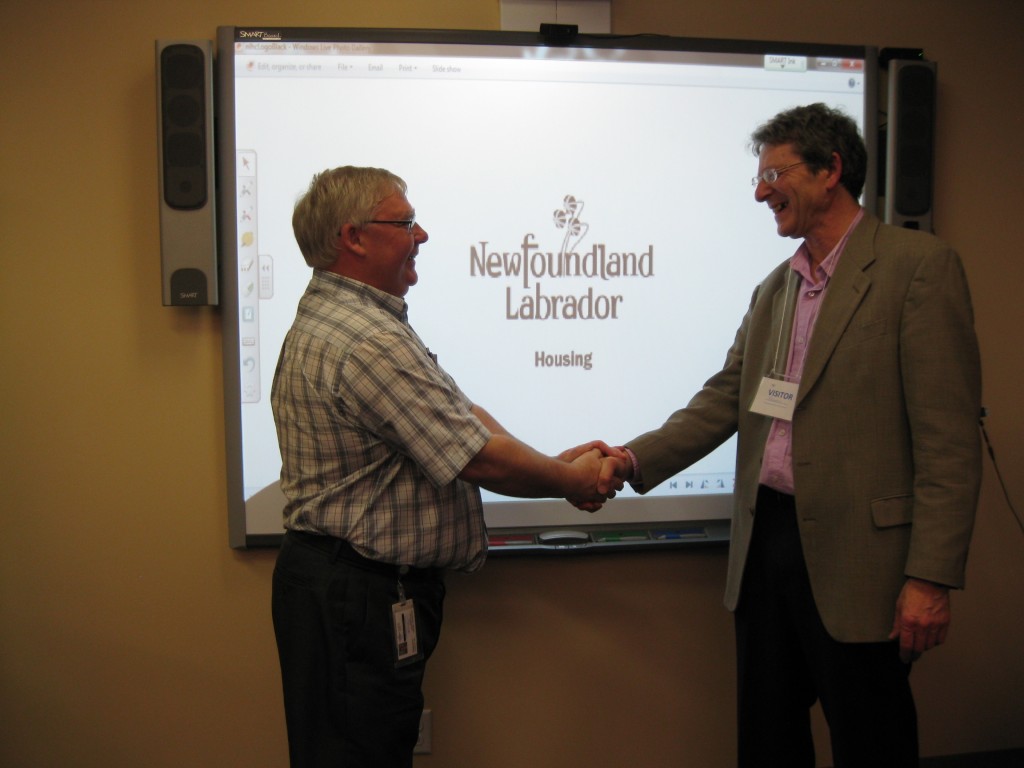 EASTERN HEALTH WEBINAR ON MINDFULNESS
Andrew presented a webinar on Mindfulness and Anxiety, Stress and Well-Being to Eastern Health's Pastoral Care and Ethics Waterford Hospital staff on November 17th. In the picture below is Susan Cummings, Manager, Pastoral Care and Ethics, Eastern Health.The webinar was part of a new staff wellness program: Self-Care in Health Care.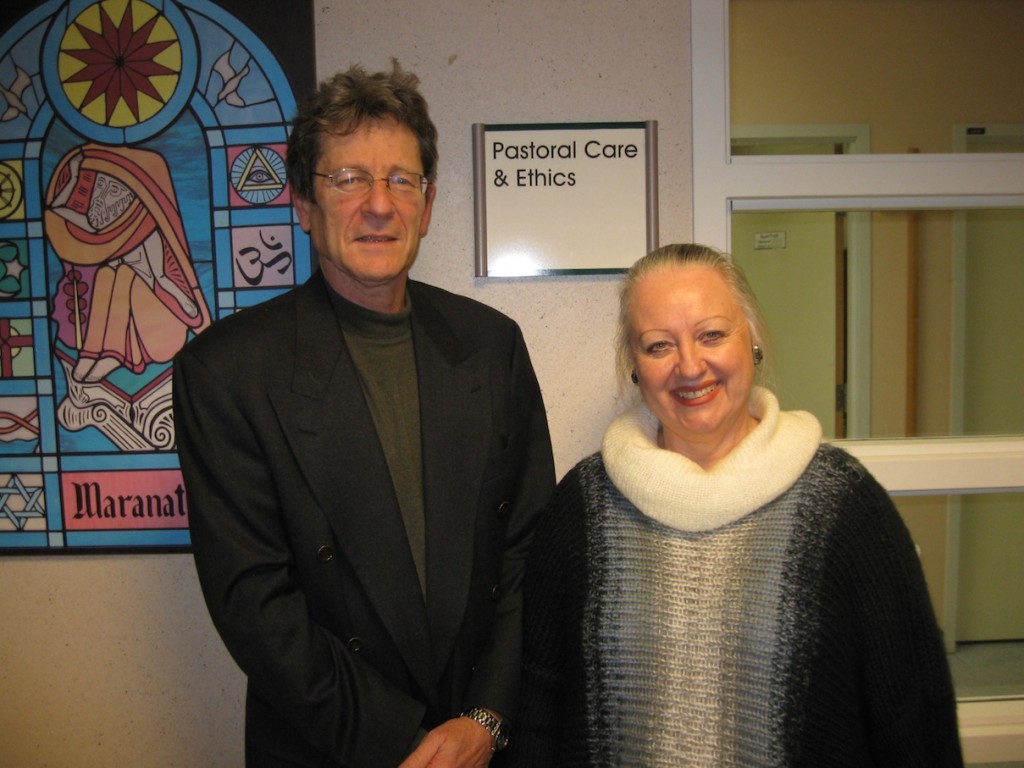 PROCRASTINATION AND MINDFULNESS
The first talk in the current Series of Talks on Mindfulness took place on November 17th in the Newfoundland and Labrador Housing and Homelessness Network's Learning Centre.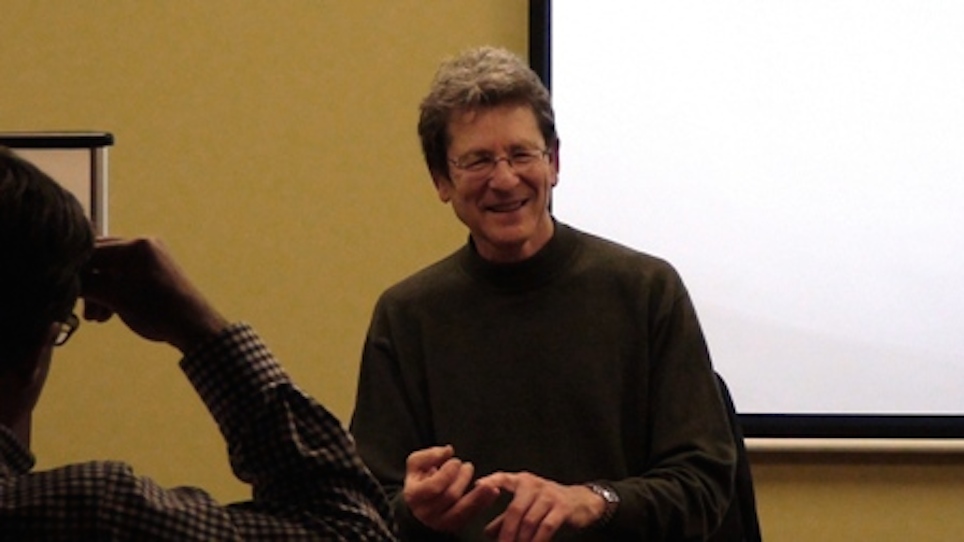 TALKS ON PROCRASTINATION, OBSESSIVE WORRYING, AND SELF-CRITICISM AND MINDFULNESS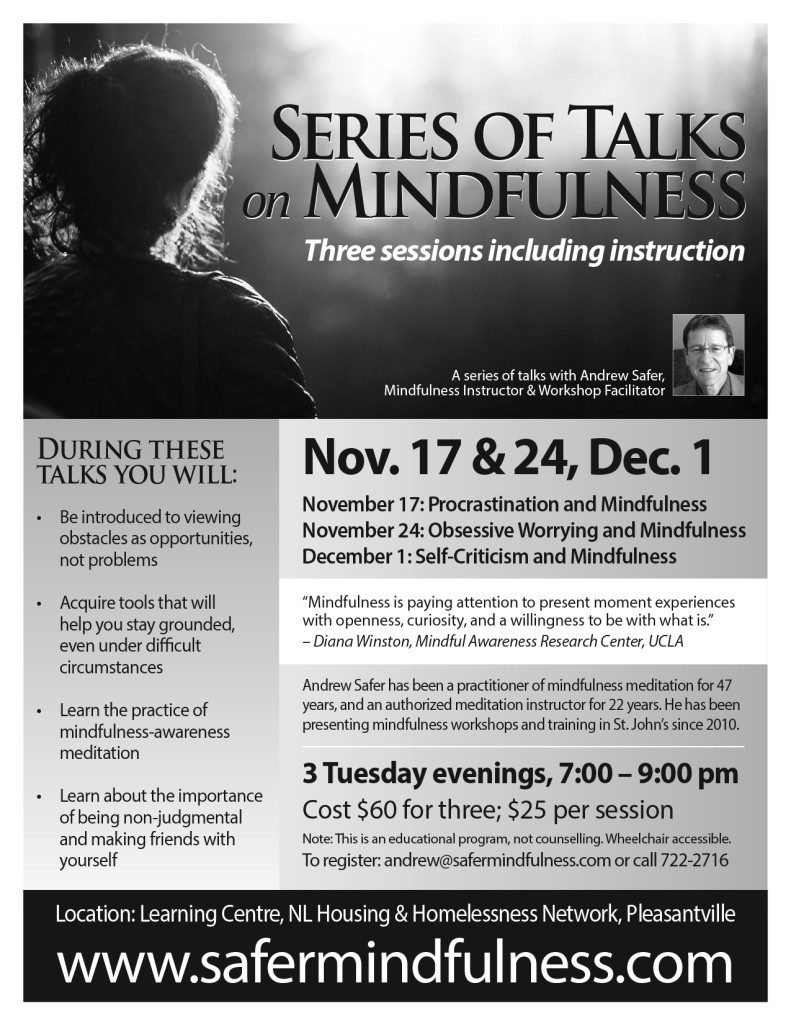 Location: From the Boulevard, go left on Legion Rd. (by Service Canada Centre), right on Churchill Ave., left on East Drive Address: 1-2 East. It's the NL Housing and Homelessness Network's (NLHHN) newly renovated building.
There is a coffee shop in that building, but come to the NL Housing and Homelessness Network's main entrance on East Drive (near the large round window).
There's parking directly across East Drive. in NLHHN's lot.
NATIONWIDE MINDFULNESS INITIATIVE PROPOSED TO UK GOVERNMENT

An All-Party Parliamentary Group has recommended mindfulness implementations in Health, Education, Workplace, and Criminal Justice System. To read synopsis: Mindful Nation UK synopsis Nov 6 15
MINDFULNESS WORKSHOP PRESENTED TO STAFF AT NEWFOUNDLAND AND LABRADOR HOUSING CORPORATION
On October 7th, Andrew presented a lunchtime workshop on Mindfulness, Difficulties, and the Workplace to NL Housing Corporation staff.
NAVIGATING ANXIETY AND STRESS THROUGH MINDFULNESS

This is the seventh cycle of this 8-week workshop series.The start date is WEDNESDAY, OCTOBER 14TH and the end date is WEDNESDAY, DECEMBER 2ND with 6 Wednesdays in between. For more information about the program and outcomes go here, scroll down, and click on the links embedded in the text on that page. Note: The current program is now closed. There is a waiting list for the next workshop series, which will be offered in January 2016.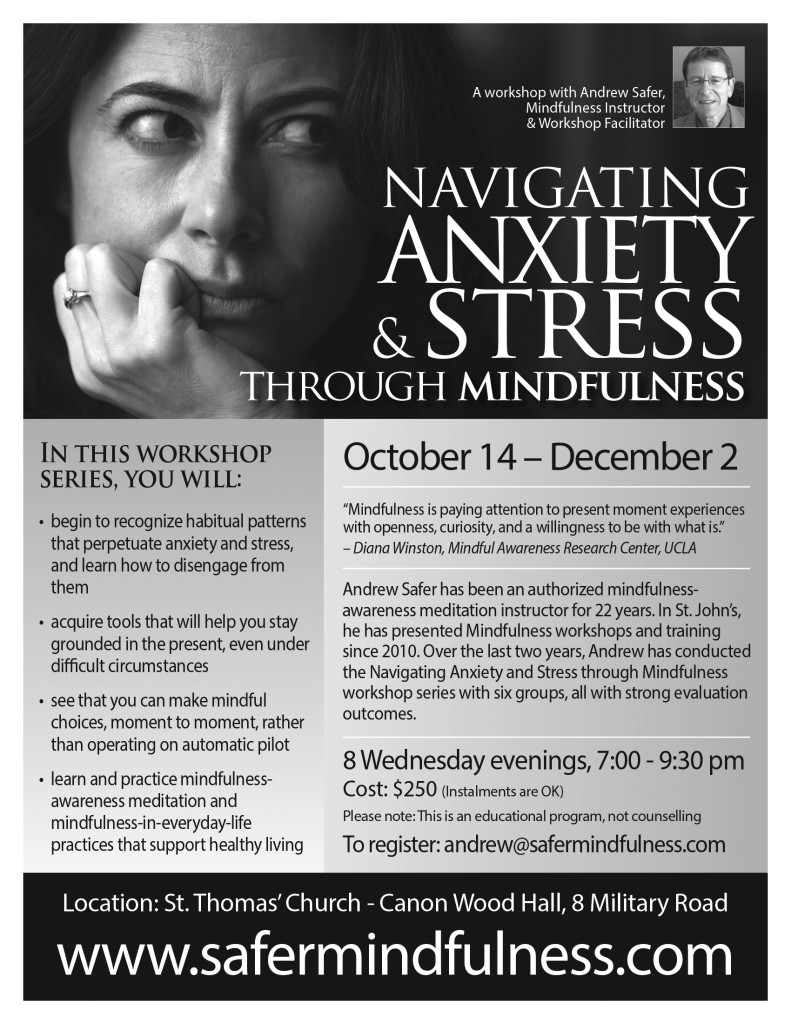 FIFTH ANNUAL MINDFULNESS MEDITATION RETREAT
Our one-week mindfulness-awareness meditation retreat at the Conception Bay Renewal Centre in Conception Harbour concluded on August 27th. This picture was taken mid-way through.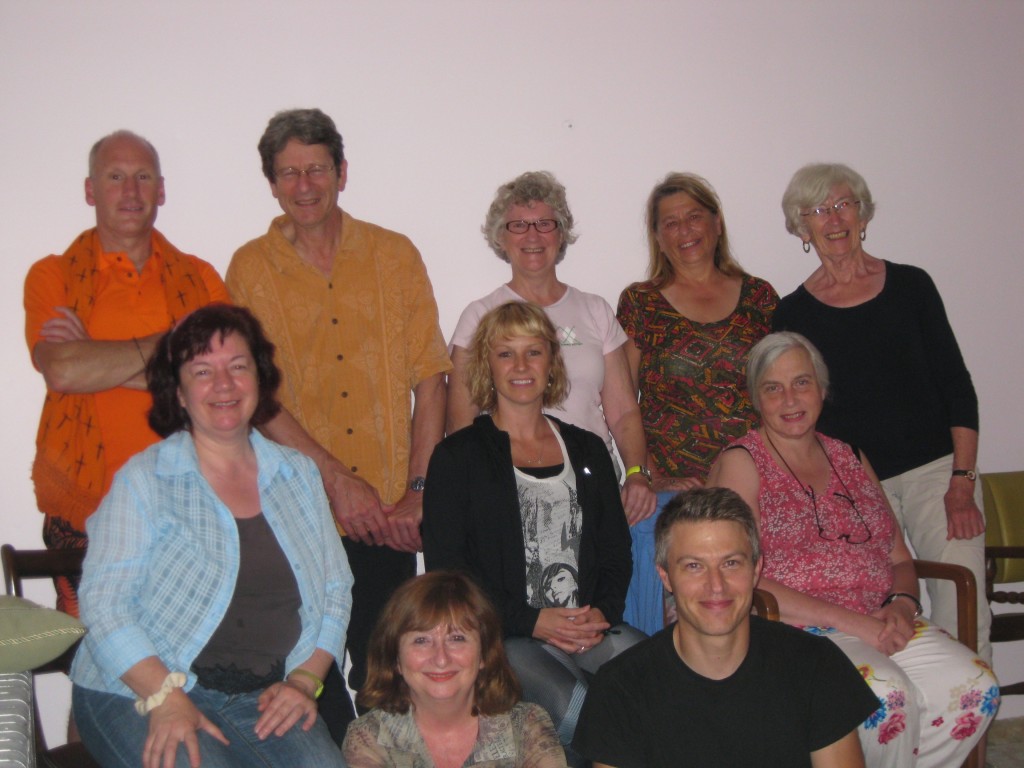 ---
Older News
Older news may be accessed by using this link.