Description
Andrew Safer talks about the book:
Reviews
Connecting Voices, Newfoundland and Labrador Association of Social Workers–Rob Wadman-Scanlan, MSW, RSW, July 2019
"Bookmark This", Mindful (Magazine), April 2019
Articles
"Mindfulness Instructor Releases Book on Tackling Stress & Anxiety", Halifax Global, May 31, 2018
"New Book a Do-It-Yourself Guide to Connect to Awareness", The Telegram, June 6, 2018
"Walk Toward Anxiety to Help Beat It," Chronicle-Herald (Halifax), July 27, 2018
Excerpt from Anxiety, Stress & Mindfulness: A Do-It-Yourself Guide to Wellness
If we're constantly pushing anxiety away and holding it at bay, how can we ever get to know it? As long as we maintain this "safe distance," anxiety will keep haunting us. It's the adult version of being spooked by monsters under the bed.
Read an excerpt.
Reader Comments
"Mainstream mindfulness offers much to those who dare to practice the meditation. Yet, at its very core, mindfulness offers the possibility of living a fully realized and utterly human life. In this guidebook, Andrew explores this profound possibility and reveals that such wisdom is more accessible than we could ever imagine."
–Michael Carroll, author, Awake at Work, and mindfulness teacher, Philadelphia, Pennsylvania
"Enlightening, credible and relevant. Andrew highlights why mindfulness is needed right now in our busy, always-be-doing-something society and shows how we can integrate it into our lives using practical examples and instructions. This is a book you can continue to learn from each time you read it."
–Cynthia Slade MD, FRCPC, psychiatrist, Avalon Specialty Clinic, St. John's, Newfoundland
"Anxiety, Stress & Mindfulness offers clarity, depth which can guide the reader through the practice, and implementation of effective mindfulness.  It is compact yet comprehensive as an introduction. I think that it will be most helpful to persons who are diagnosed with depression, PTSD, chronic stress, and ADHD."
—Helen Martinez, PBVM, Psy. D, psychologist, St. John's, Newfoundland
Book Launch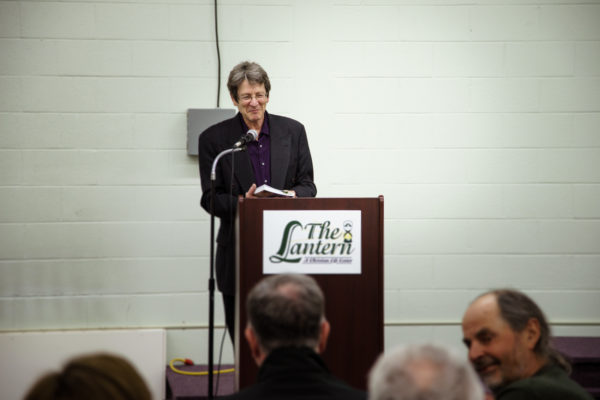 On June 5th, approximately 80 people celebrated the unveiling of Anxiety, Stress & Mindfulness: A Do-It-Yourself Guide to Wellness at The Lantern.
Andrew Safer
Andrew Safer is a longtime practitioner and instructor of mindfulness-awareness meditation. The program he has been facilitating for several years, "Navigating Anxiety and Stress through Mindfulness," formed the basis for this book. Read more about Andrew here.