Mindfulness Training: An Inside Job!
Delivering multi-week applied mindfulness programs for the workplace, and mental health and addictions, based on 50+ years of mindfulness practice and 25+ years as a mindfulness instructor.
For a list of our 4 ongoing mindfulness practice sessions throughout the week, free and open to the public, scroll down to the bottom of this page.
Evidence Base
June 2--A sampling of evidence-based research showing the effectiveness of Mindfulness practice for a range of mental health and addictions issues:
Presentation to College Students in India
Andrew Safer presented to Own Your Growth, an organization representing students from 20+ colleges across India whose focus is on wholistsic health. The presentation on "Anxiety, Stress & Mindfulness" went live on June 22nd.
Workshop Series Starting July 20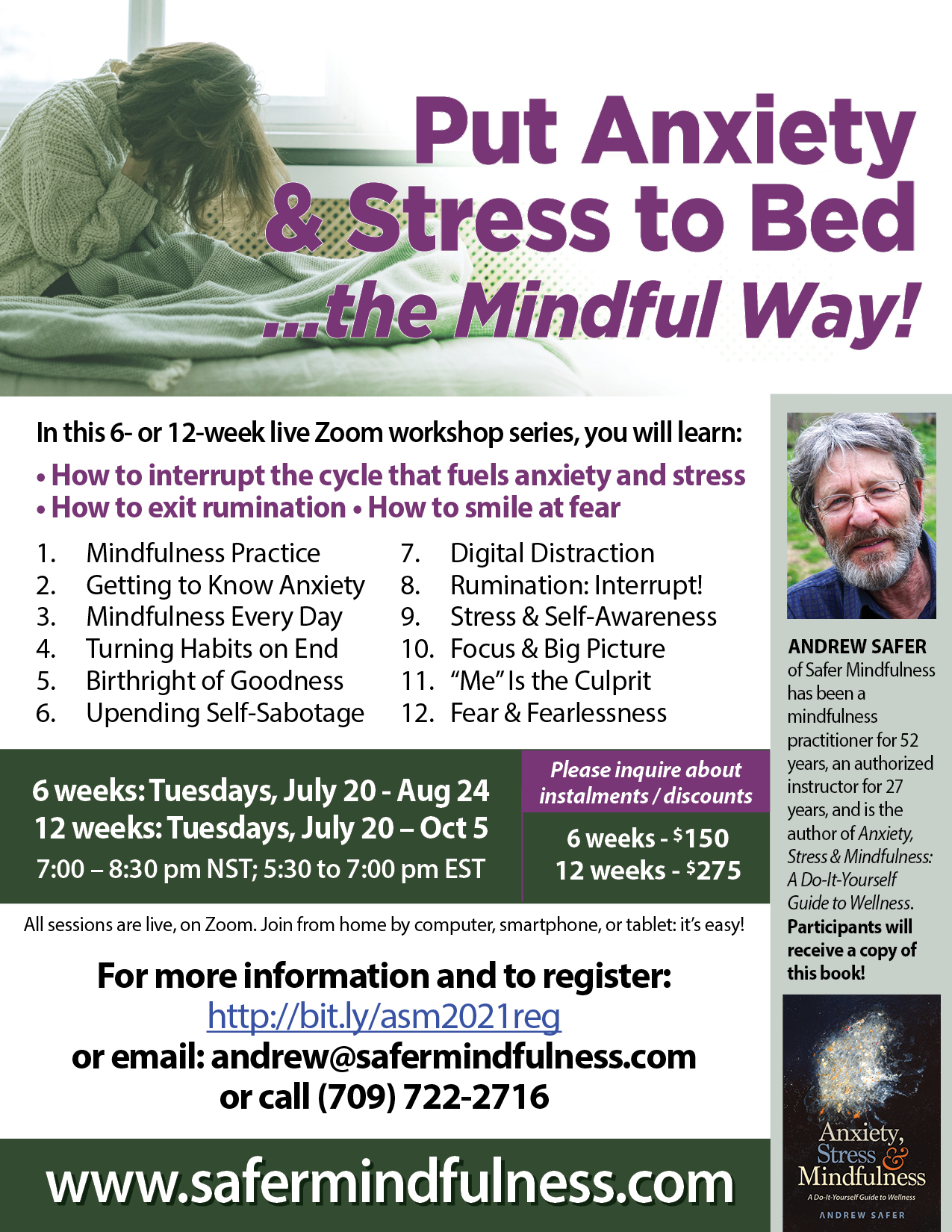 After completing the three-month "Anxiety, Stress & Mindfulness" program in Fall 2019, through a partnership with Canadian Mental Health Association—NL, participants explained what difference Mindfulness is making in their lives …………………………….............
"Practicing mindfulness is a good way of pulling me out of the past or future, which triggers anxiety, and back to the present moment, which I can cope with better."
"The practice significantly helped me to interrupt the stories and my mind from spiralling out of control."
"I find I am less reactive to everyday irritants and my perspective has expanded."
22 participants indicated an average 33% improvement (from the first session to the last) in confidence in their ability to deal with thoughts that bring on anxiety. Feeling that they have control over their thoughts, moods, and feelings increased by 32%. The belief that they can make a difference in their own lives rose by 32%.
In-Person Summer Meditation Retreat in July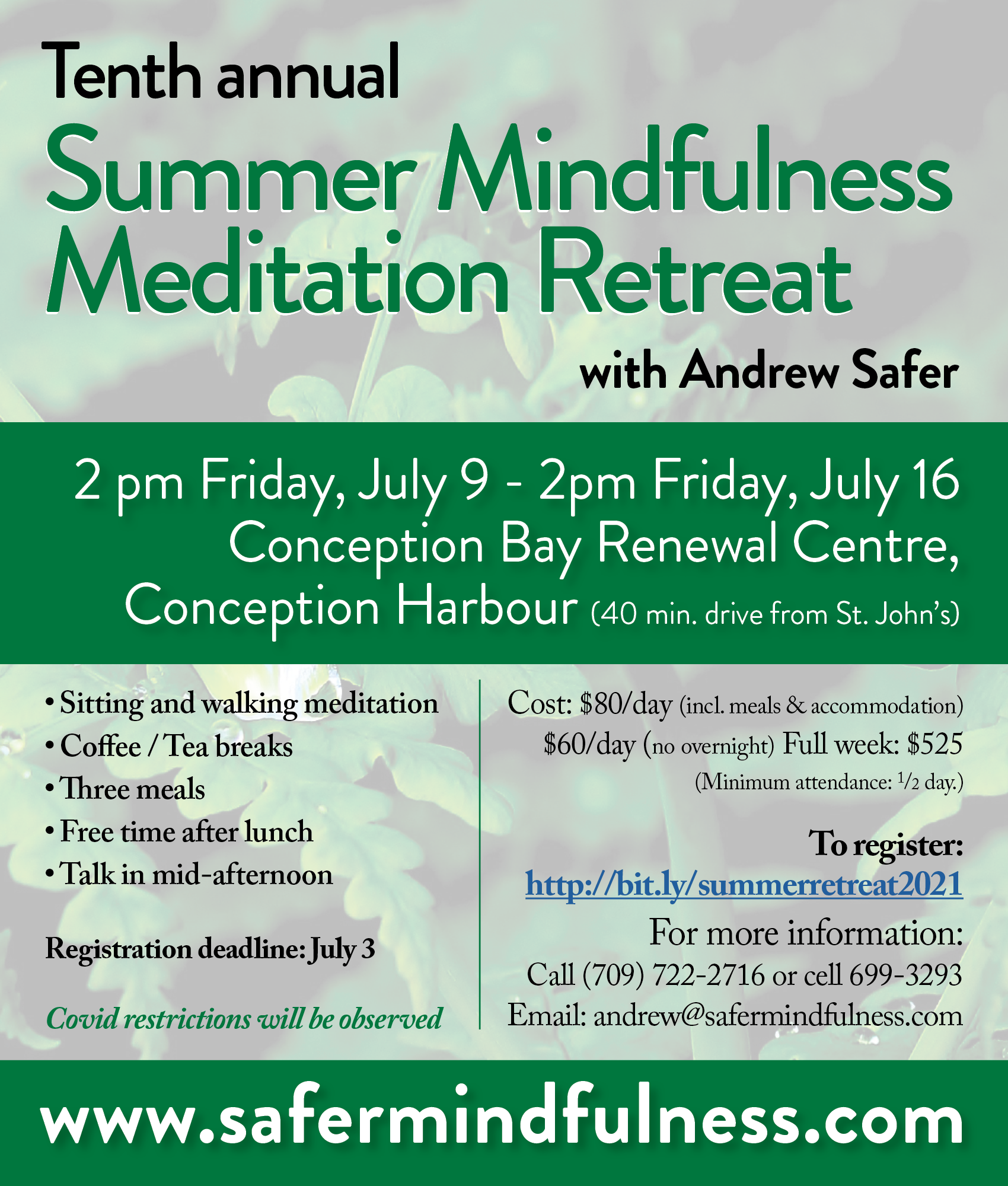 Note: (June 3) Overnight accommodations are no longer available. Daytime participation is still open.
Mindfulness Training for Suicide Prevention
May 12 - June 30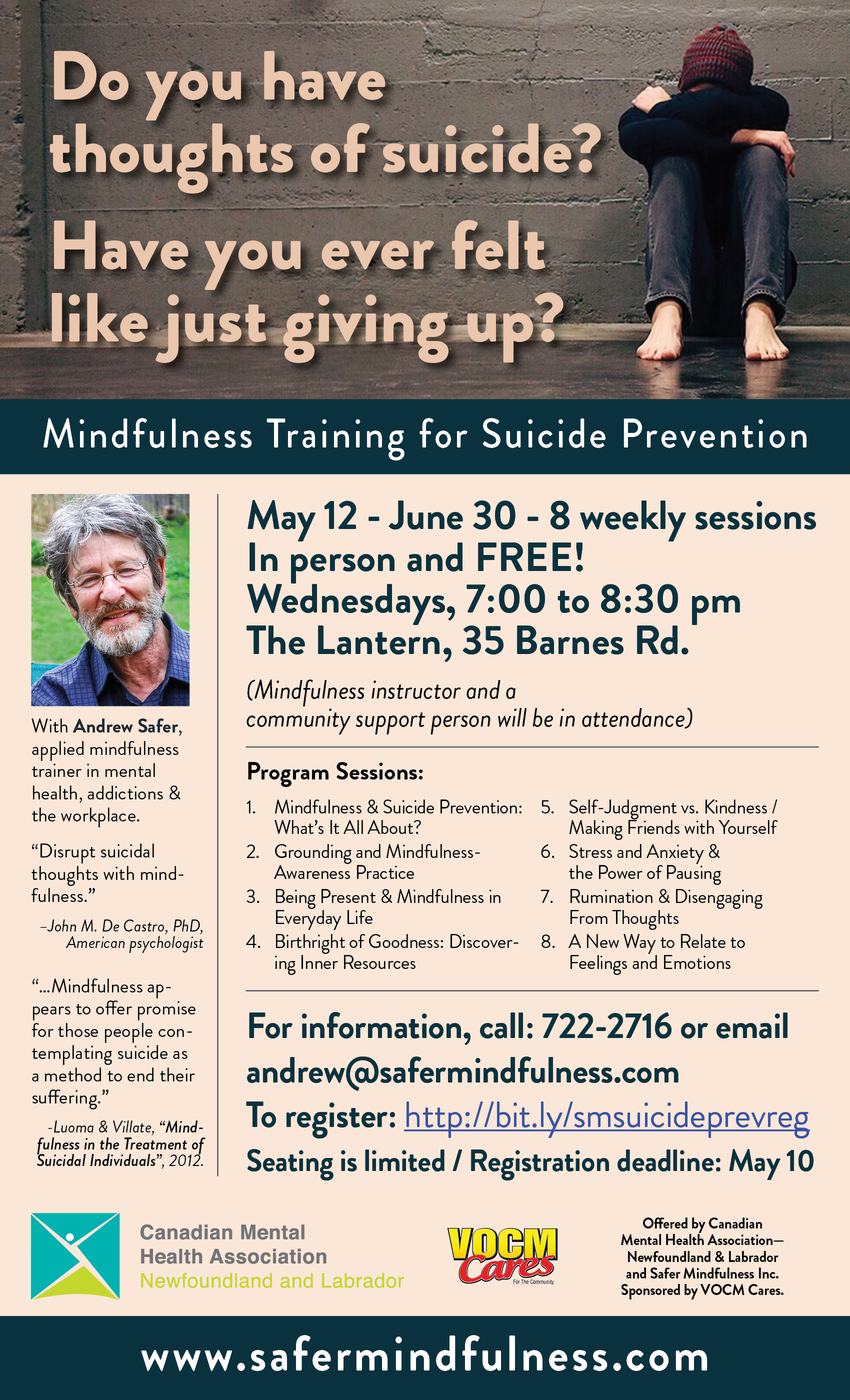 10th Anniversary Celebration!!
We have been meeting for Monday Night Meditation since April 2011, so it only seemed right to mark 10 years at this! On April 12th, 12 of us met at The Lantern and 10 more joined us on Zoom.
The evening included mindfulness practice, strawberry shortcake, toasts, a reading on"The Stairway to Enlightenment", and of course, discussion!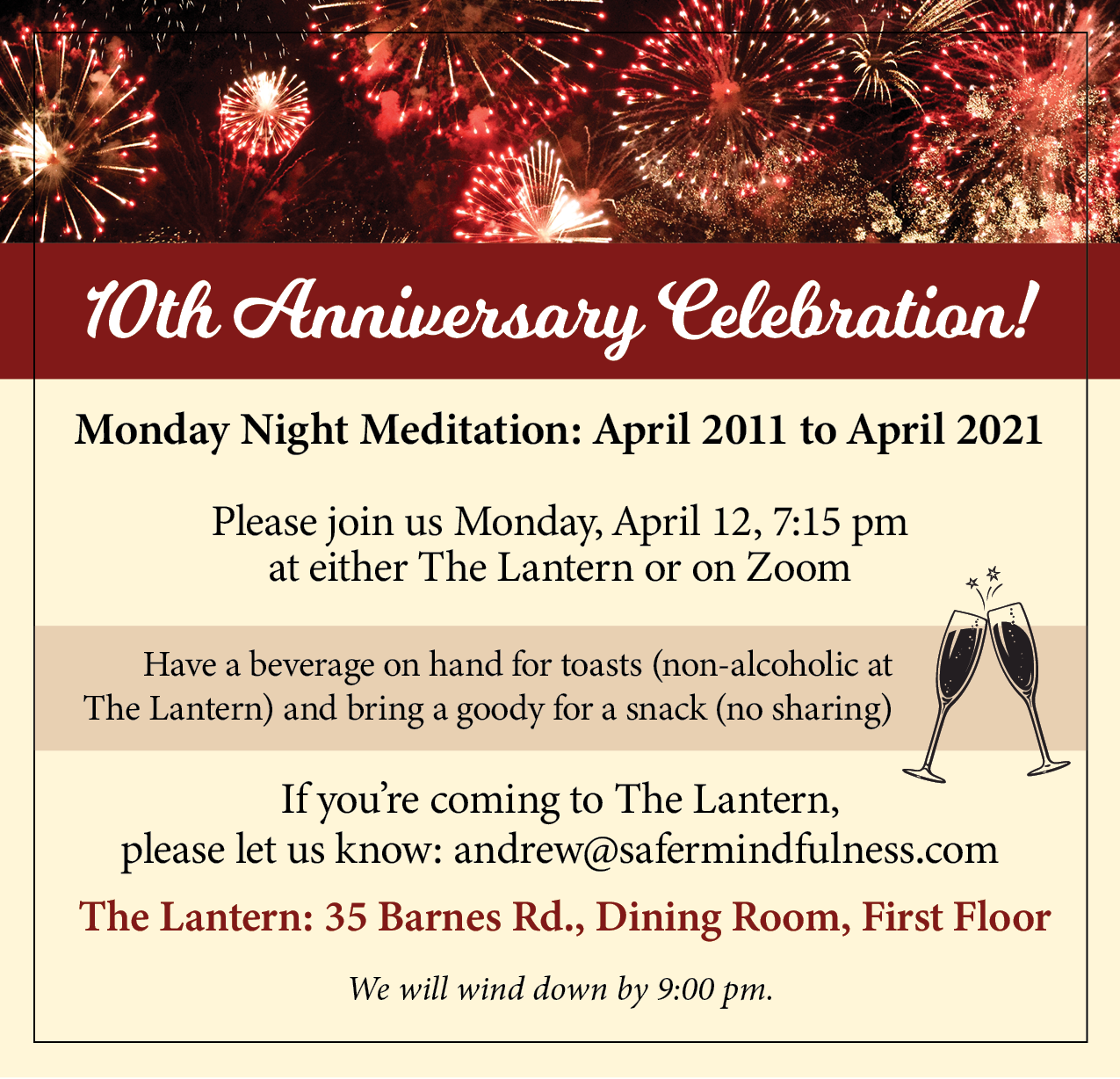 Anxiety, Stress & Mindfulness Course
Starts March 9th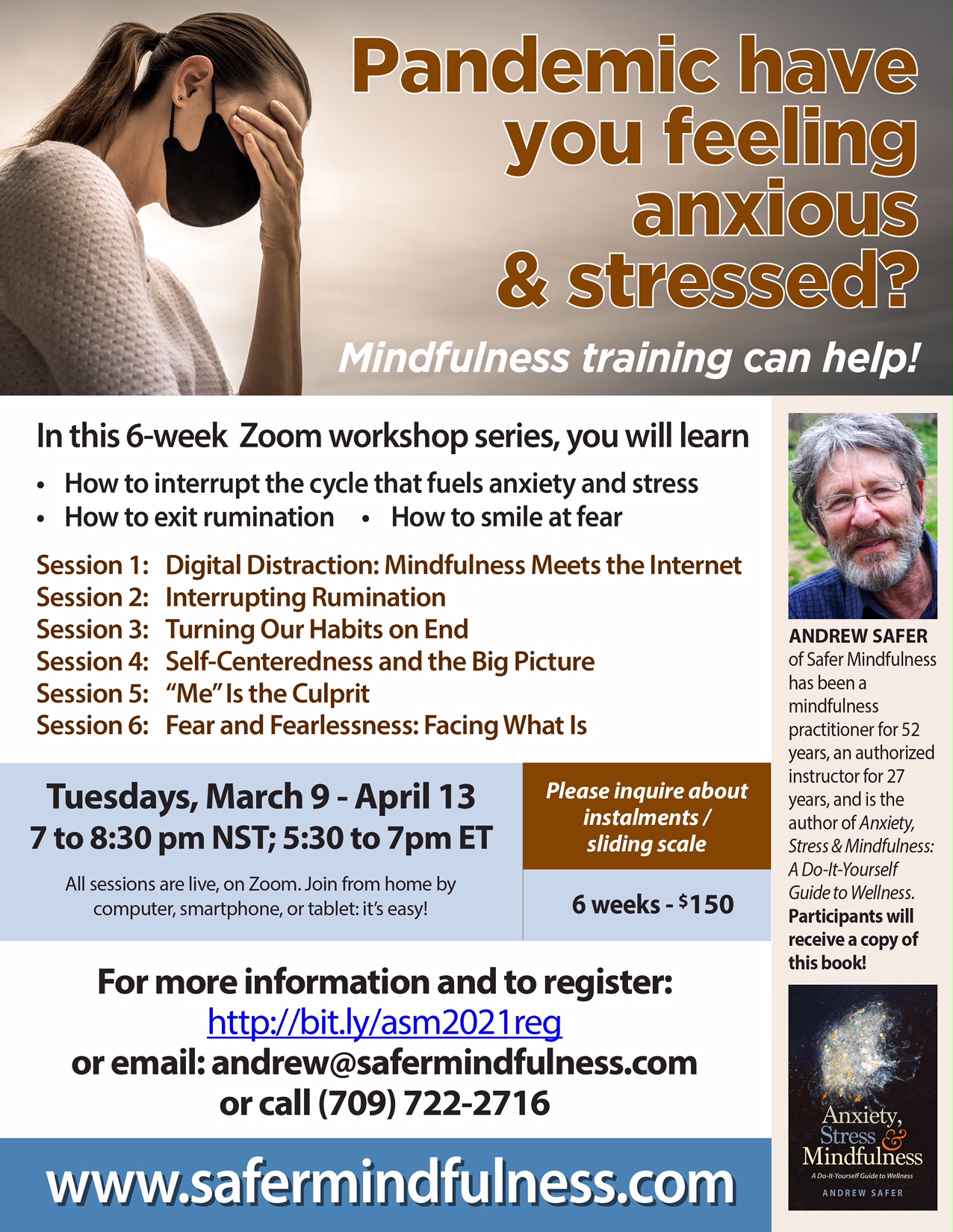 Mindfulness for Physicians
Andrew Safer presented a 1.5-hour workshop to (physician) residents on Resident Awareness Day, Memorial University, on February 12th, for the Professional Residents Association of Newfoundland and Labrador.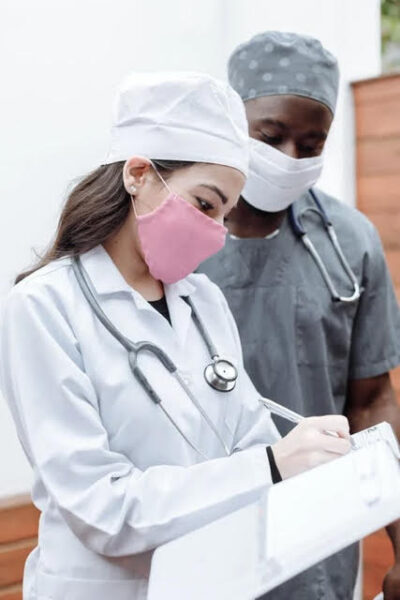 Article Published in Mindful
February 22nd
"Meditation" on CBC Radio--Cross Talk
On January 25th, Andrew Safer appeared with Dr. Karen Bulmer, Music Department, Memorial University, on Cross Talk with Ramona Dearing. The topic? Meditation and Mindfulness. Have a listen: https://www.cbc.ca/listen/live-radio/1-89-cross-talk/clip/15820678-meditation
Winter Mindfulness Meditation Retreat
Saturday, February 27 & Sunday, February 28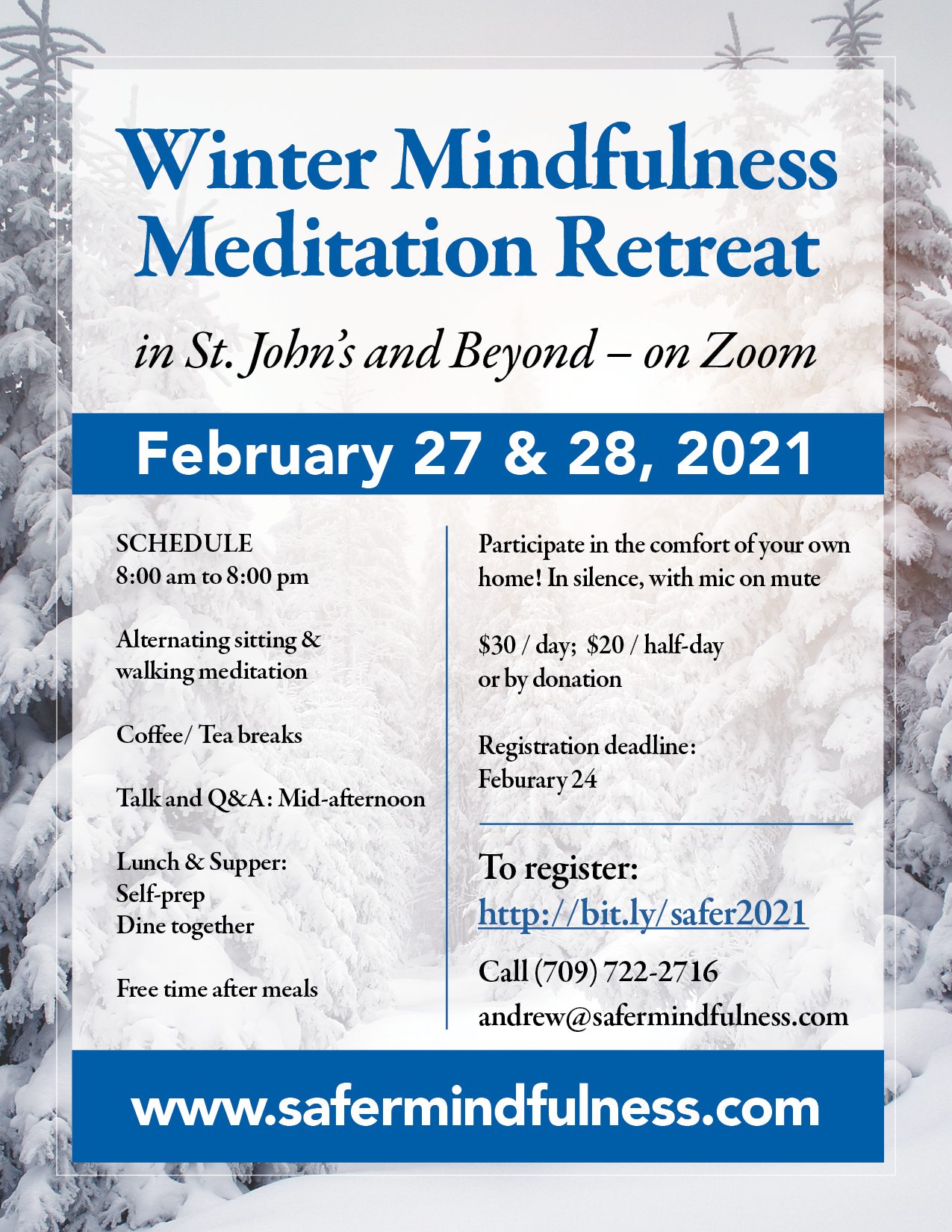 Pandemic Anxiety & Stress--Mindfulness Workshop Series
Registration Form: https://bit.ly/asmwinter2021reg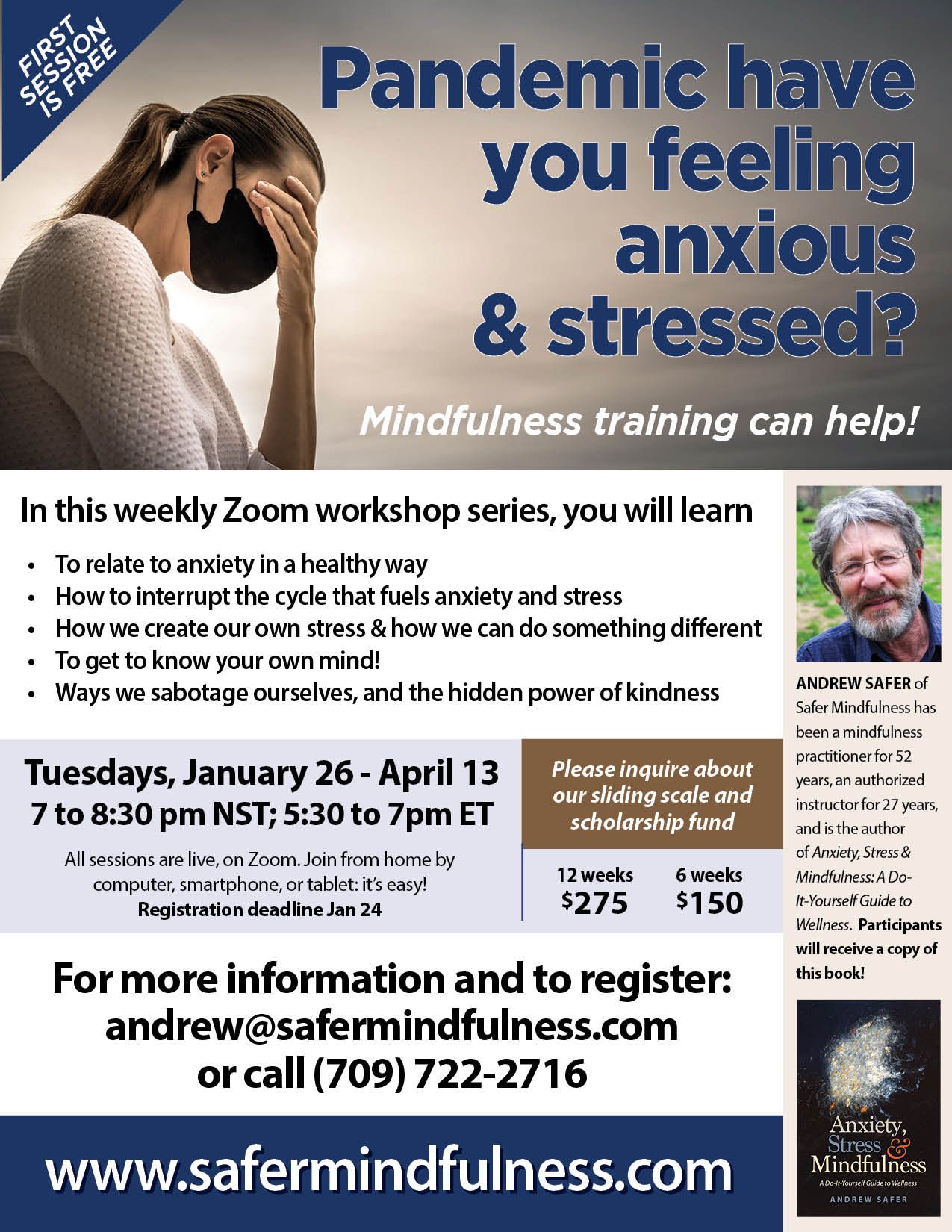 "Staggering Under the Weight of Anxious Thoughts"--Andrew Safer
Mindful magazine  Winter 2020
https://www.mindful.org/staggering-under-the-weight-of-anxious-thoughts/?fbclid=IwAR3PbglRLL7h3QqbuBDBMiXZHBCs_s0bqfID8DEGLvSH2h5lWcZHVRr8BdE
Fall Retreat--Starting October 24th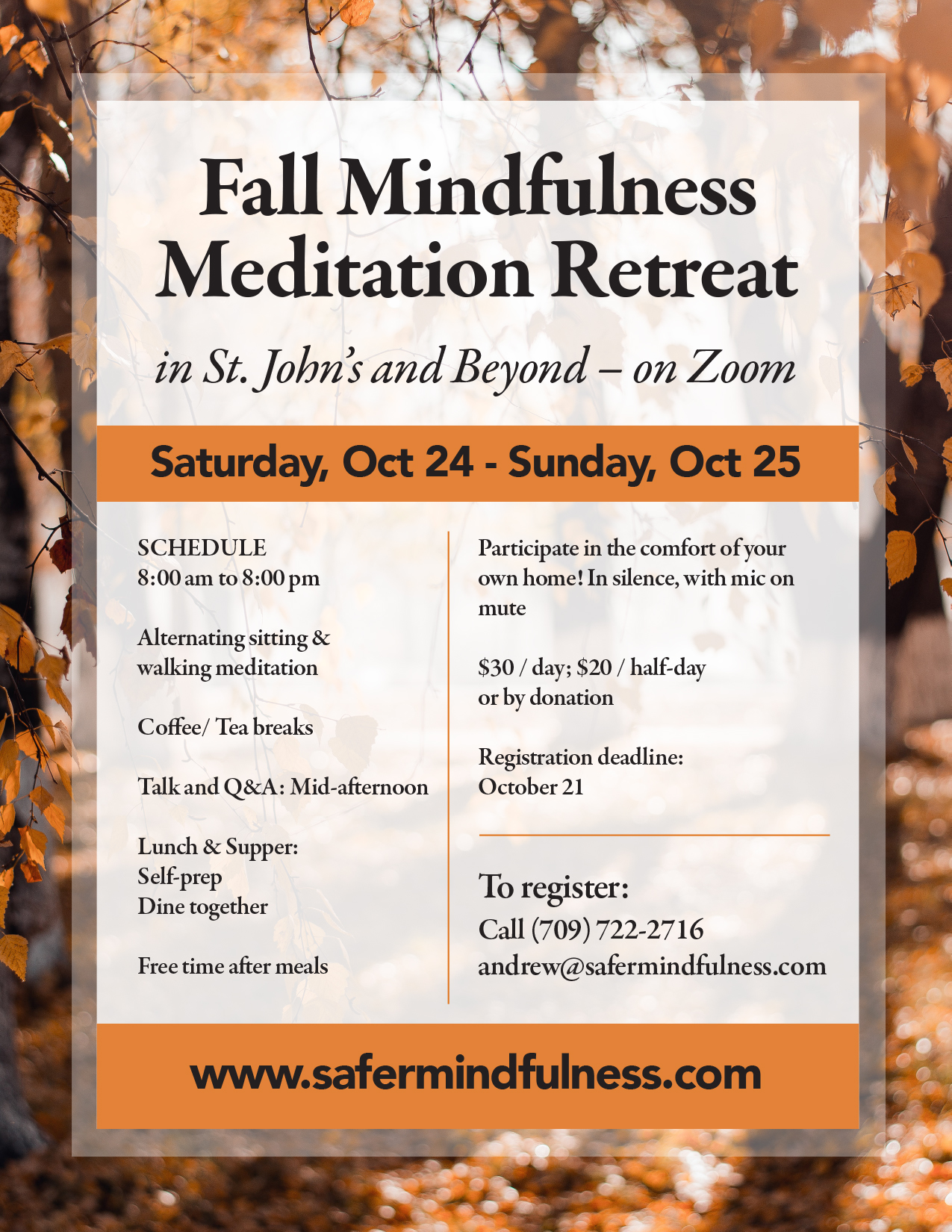 Engineers and Geoscientists Learn Mindfulness for the Workplace During Pandemic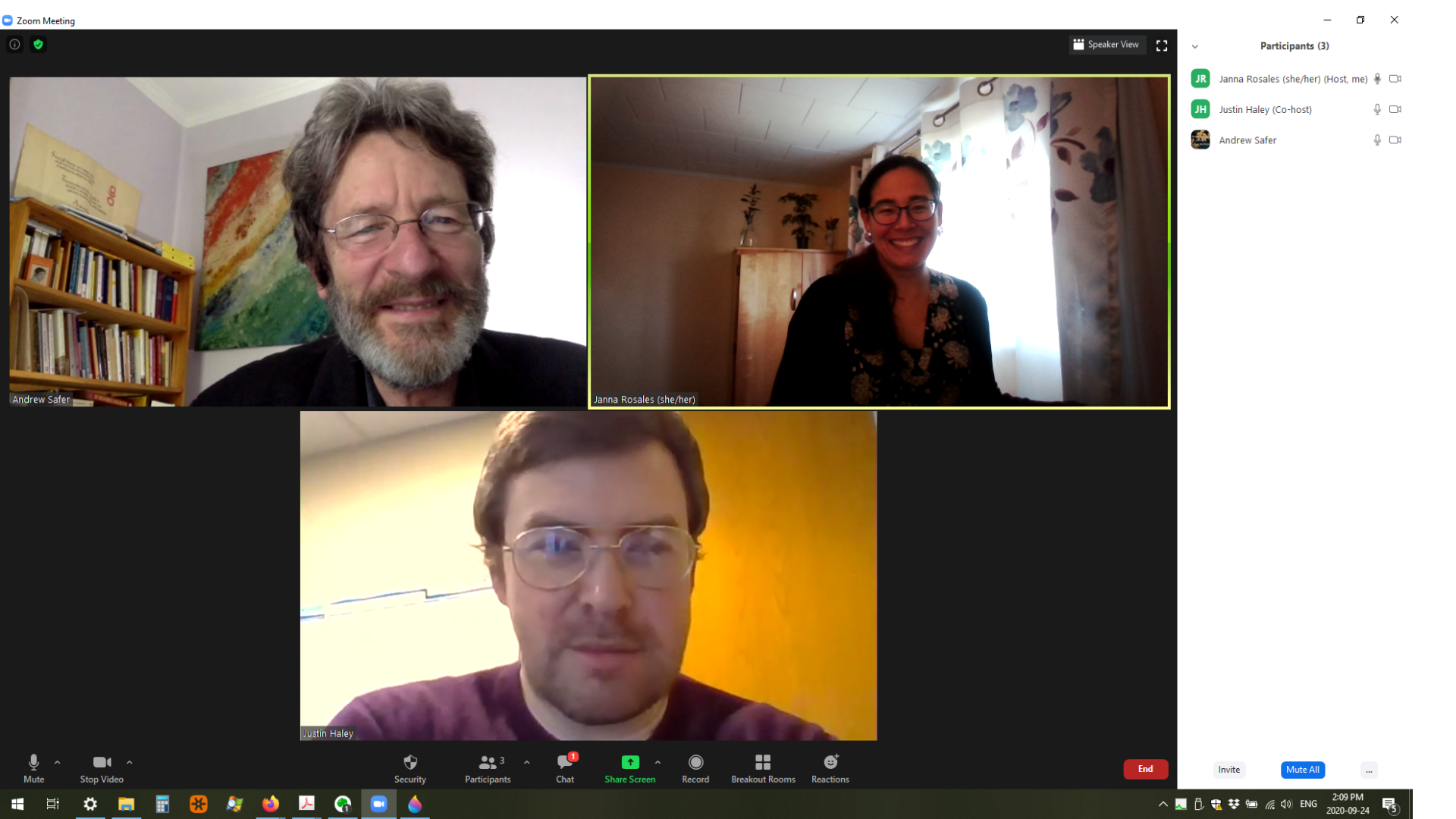 October 7, 2020
Eighty-four certificates of completion were awarded to professional engineers, geoscientists, and engineering students who attended the workshop series "How to build professional resilience through mindfulness training: A four-part PEGNL professional development series for engineering & geoscience professionals and students."...(Click here)
Safer Mindfulness Press Release
September 3, 2020
People with Depression Find Relief in Mindfulness Training During Pandemic
ST JOHN'S, NL September 3, 2020 - Women and men with depression who participated in a pilot mindfulness training program based in St. John's completed it with significantly lower levels of anxiety and depression symptoms, and significantly higher levels of mindfulness and psychological well-being...(Click here)
To read the Evaluation Report, click here.
Upcoming Mindfulness Training Program - Starts 9/24


[For information about the upcoming workshop series, "Mindfulness and Awareness!", please scroll down.]
Safer Mindfulness instruction and training: For dealing with the narrator in our heads, relentless parade of thoughts and preoccupations, our reactivity, bewildering emotions, habitual ways we do things, and our perpetual busyness.
Through mindfulness-awareness meditation and related practices--which can be done anywhere, anytime--we begin to develop a way of being that is rooted in sanity and simplicity. We begin to discover insight, intelligence, and compassion, which, as it turns out, have been with us all along!
(For "Mindfulness for Depression", and Online Mindfulness Practice Sessions, please scroll down.)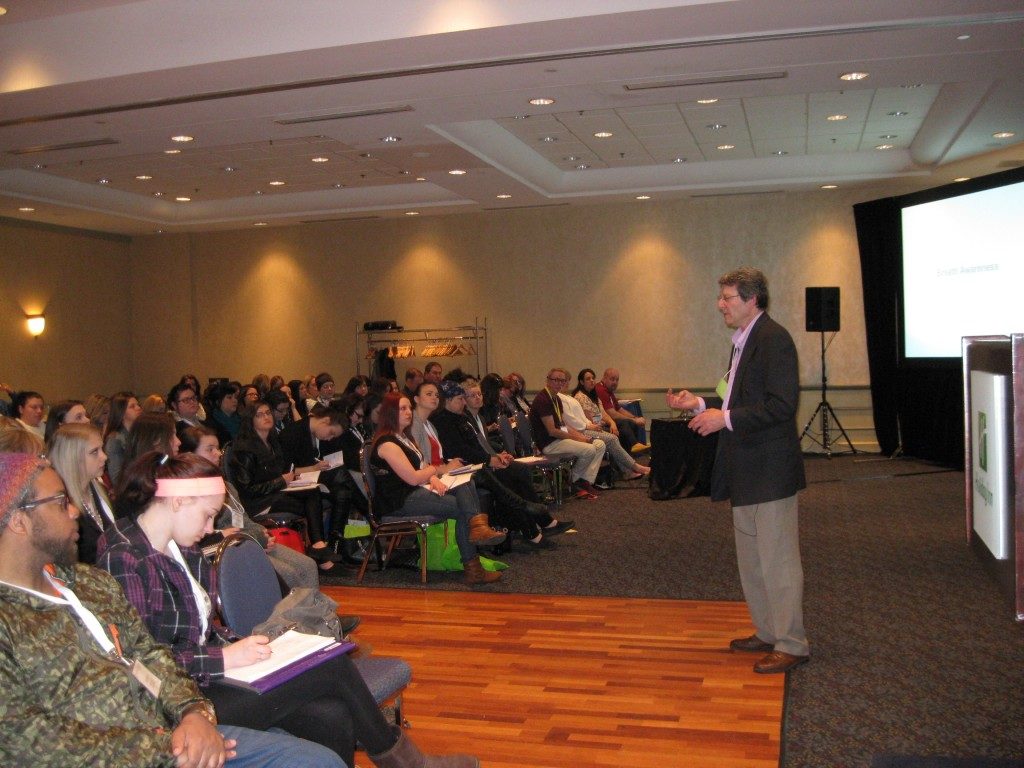 Safer Mindfulness Specializes in Multi-Week Applied Mindfulness Training Programs
Typically 1.5-hr. weekly sessions (5 to 12 weeks)
We introduce mindfulness in the context of addictions, anxiety and stress, depression, and the workplace.
Presentations, discussions in pairs and in the group, and Q&A
"Homework": Mindfulness practice and readings
Meet via Zoom video conferencing—join from any location--or in person
Click here for Program descriptions and evaluation outcomes. 
_____________________________________________________________________________________________
Navigate Anxiety & Stress: The Mindful Way!
July 9 - August 20
For individual session themes, see Sessions 1-6, below poster.
For Evaluation Outcomes from the Winter/Spring "Anxiety, Stress & Mindfulness" series, click here.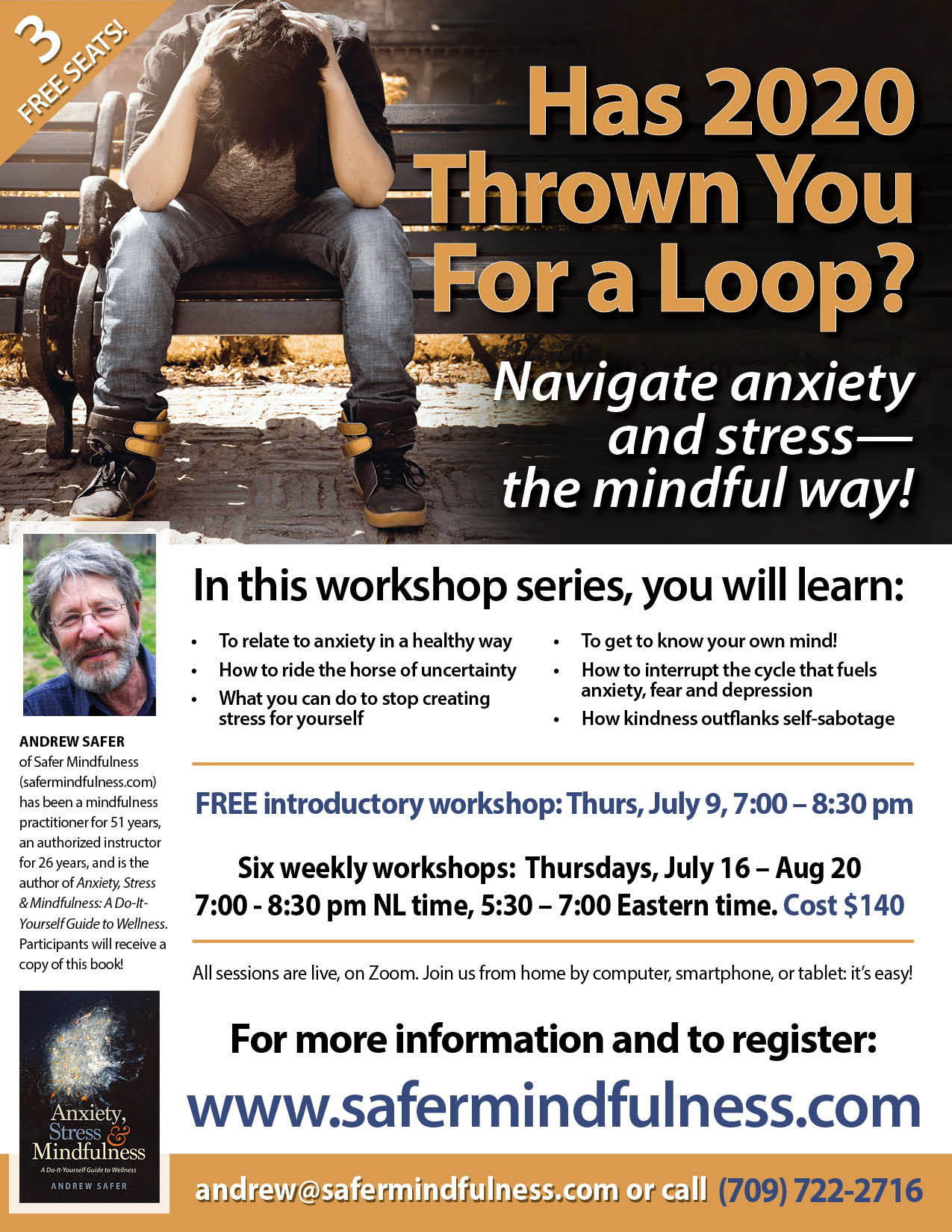 Summer Mindfulness Retreat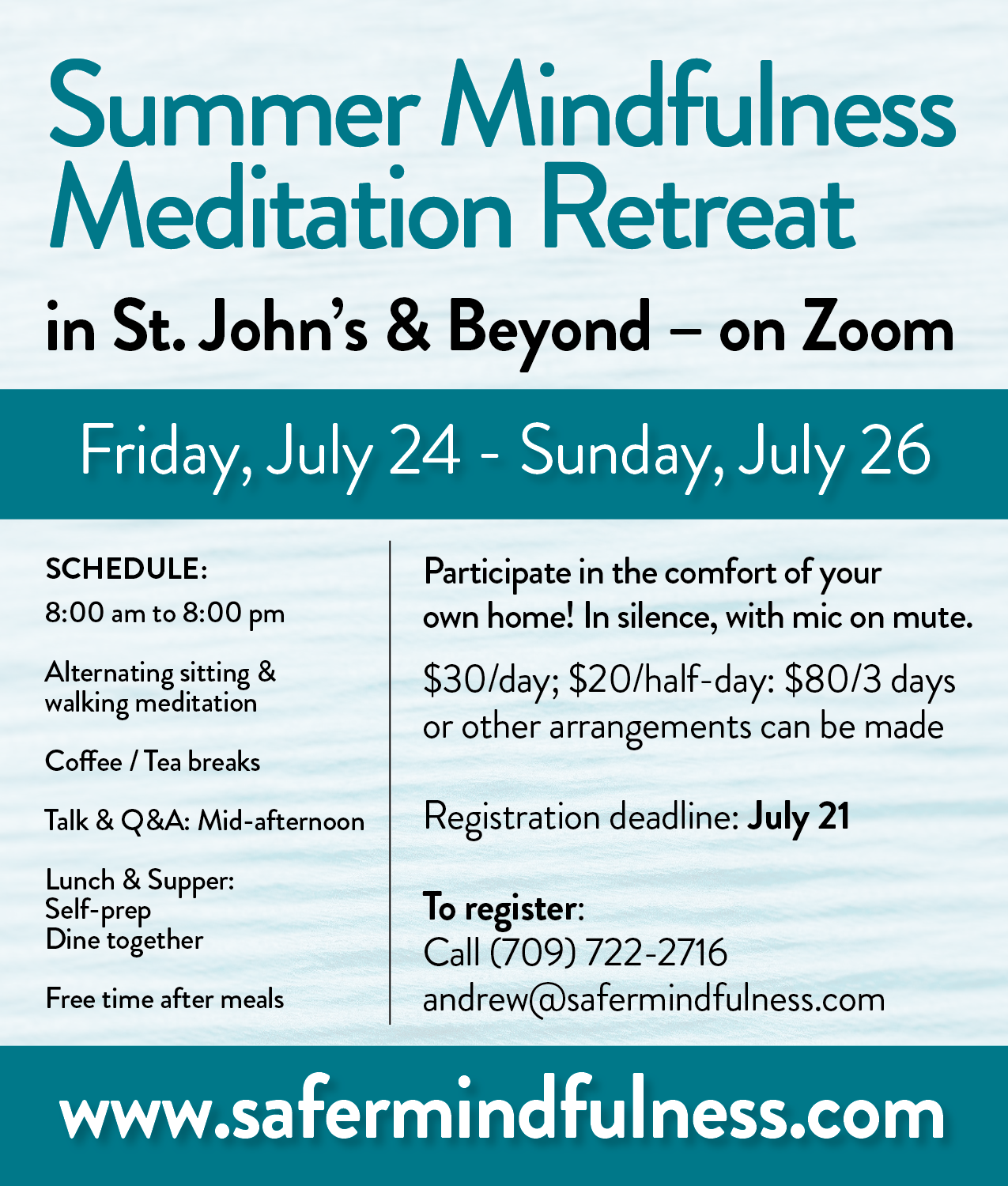 A partnership between the Professional Engineers and Geoscientists of Newfoundland and Labrador (PEGNL); Dr. Janna Rosales, Faculty of Engineering and Applied Science, Memorial University; and Andrew Safer / Safer Mindfulness. Funded through an Accelerator grant, Memorial University.
June 16 - July 17, 1:00 - 2:00 pm via Zoom
"Professional Resilience Through Mindfulness Training"
Session #1: Stress, Uncertainty & Mindfulness
Session #2: How Mindfulness Can Support Innovation & Problem-Solving
Session #3: Building Respectful Relationships with Mindfulness
Session #4: Upending Digital Distraction
___________________________________________________________________________________________________
Article about Mindfulness based on interview with Andrew Safer
__________________________________________________________________________________
Mindfulness for Depression
To register: cmhanl.info/mfd2020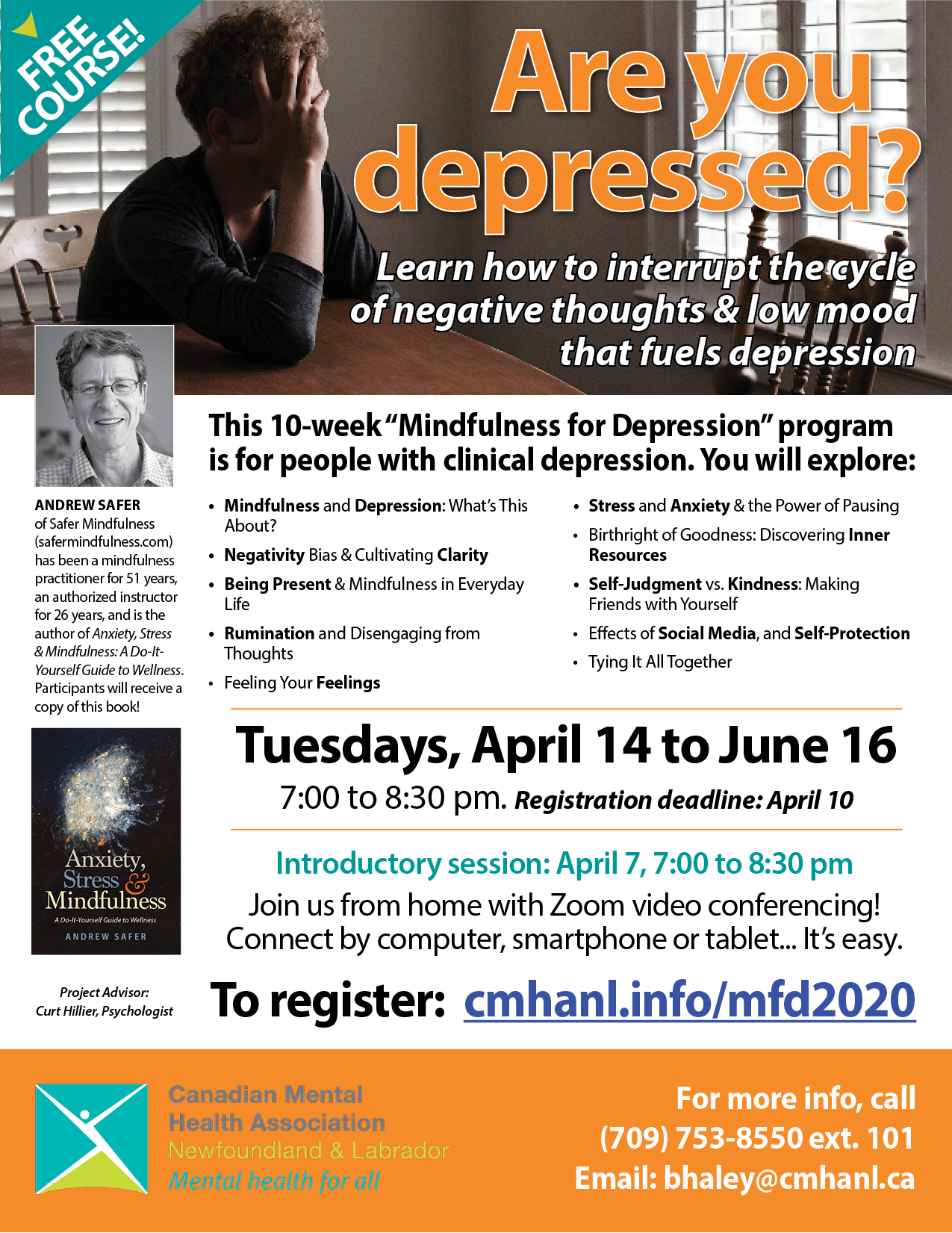 Online Mindfulness Practice Sessions
Mindfulness practice introduces a touch of sanity into our otherwise uncertain, topsy-turvy lives, particularly in the era of COVID-19.
Please consider joining one of our free practice sessions on Zoom, in the comfort of your own home, when you can.
A note about Zoom: You can connect via laptop/desktop/notebook as long as they have microphone and camera, or through your smartphone.
The Zoom app downloads when you click the link, but if you would like to be 100% sure you have the app, download Zoom Client for Meetings ahead of time. If you're asked whether to join with video, select "Yes".
Join us for any of these ongoing sessions...
Monday Nights: 7:15 to 8:45 pm (Newfoundland time) Sitting, Walking, and Discussion
If you are new to Zoom, plan on connecting at 7:05 pm.
Wednesdays: 12:00 to 12:30 pm, and 7:00 to 8:00 pm: Sitting, Walking, Sitting
Fridays: 12:00 to 12:45 pm Sitting, Walking, and Sitting
If you are new to Mindfulness practice, there will be instructions at the beginning of the session.
Winter Retreat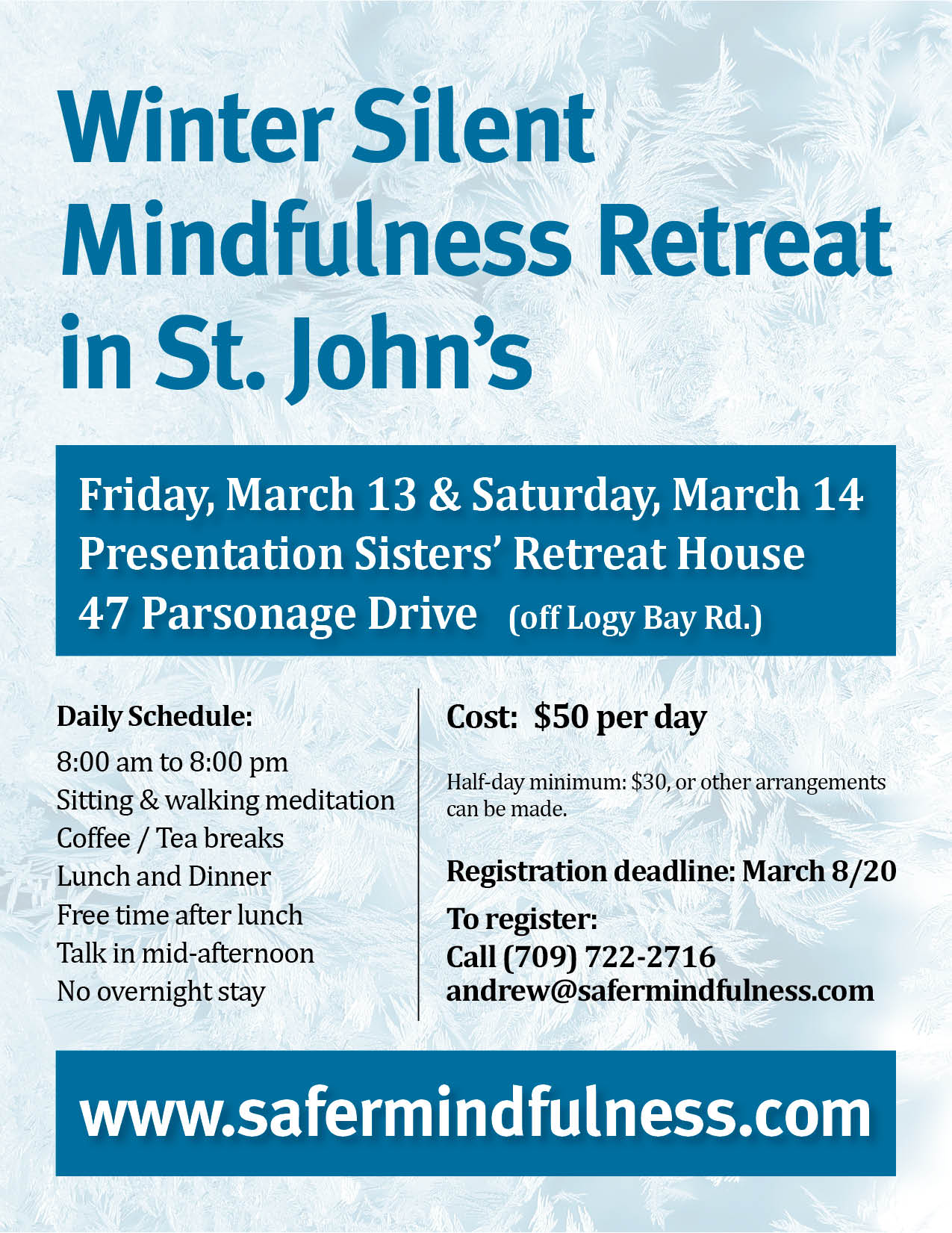 Next "Anxiety, Stress & Mindfulness" Workshop Series...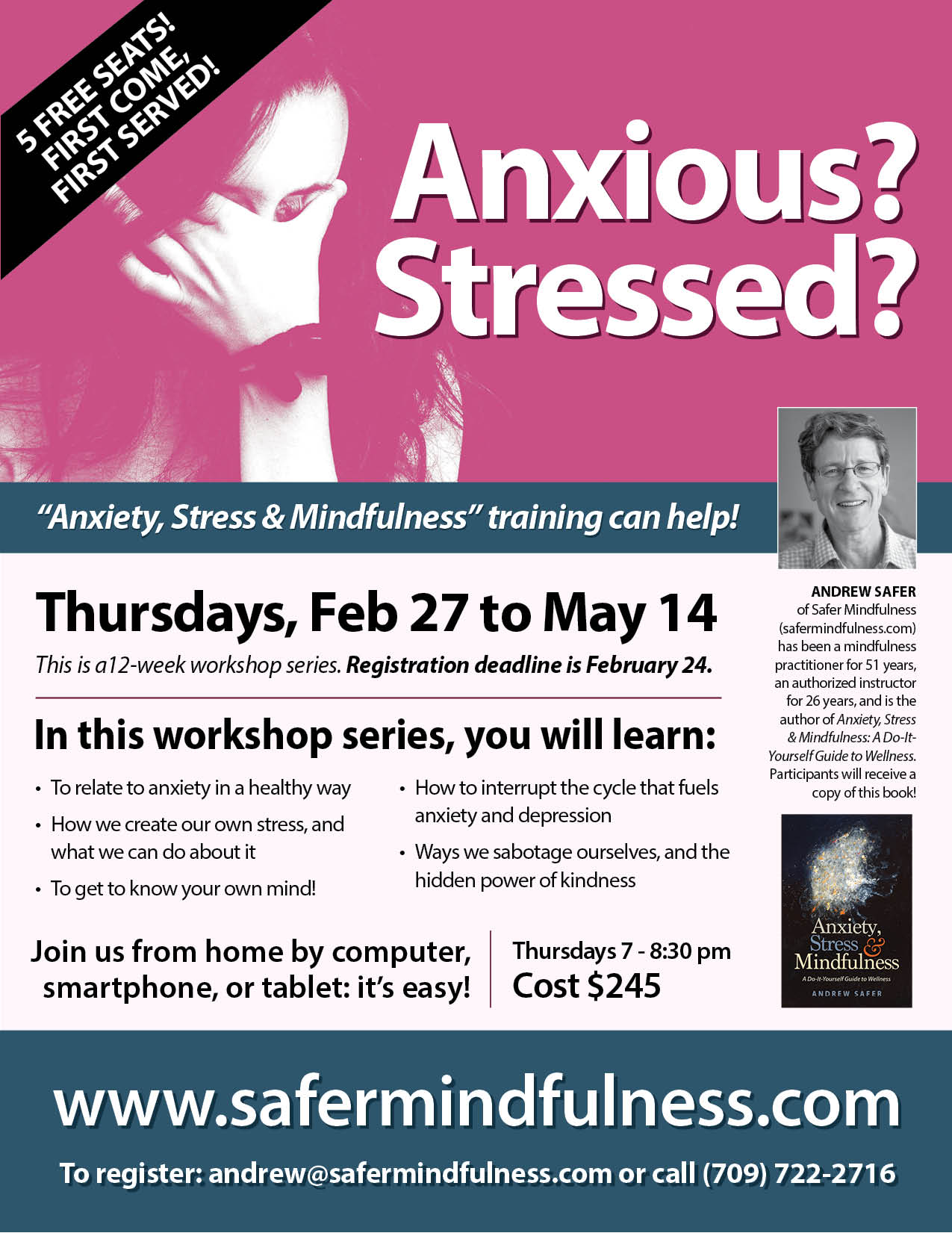 Program Outline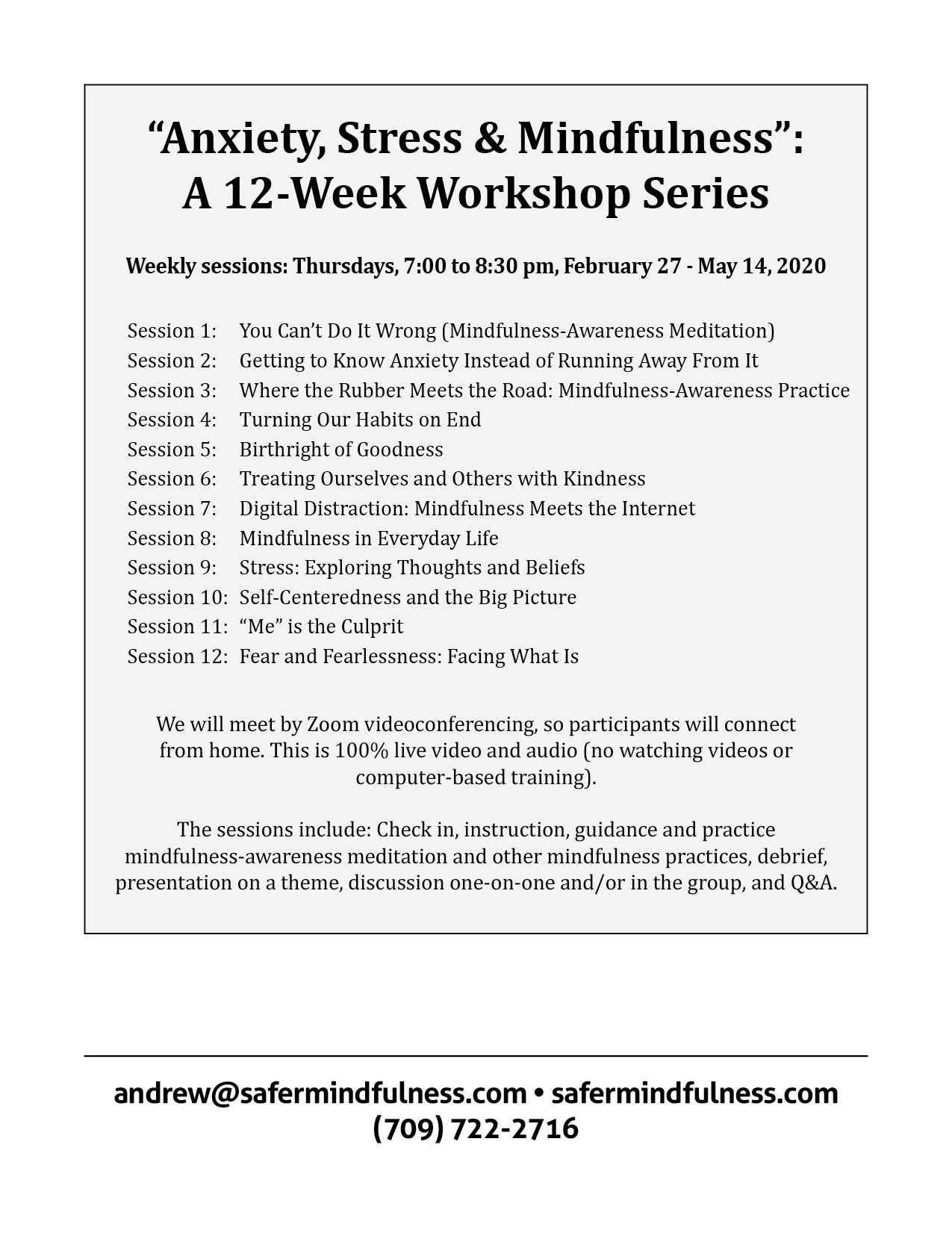 Book Signing at Chapters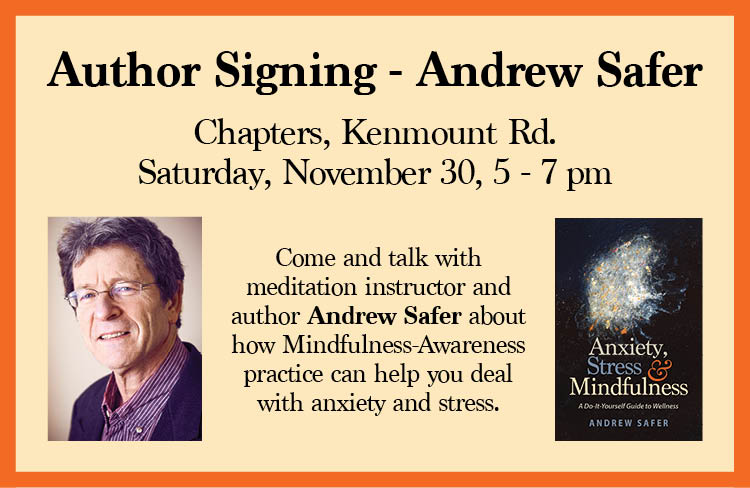 https://safermindfulness.com/product/anxiety-stress-mindfulness-a-do-it-yourself-guide-to-wellness/
Anxiety Relief Project Facebook-Live Talk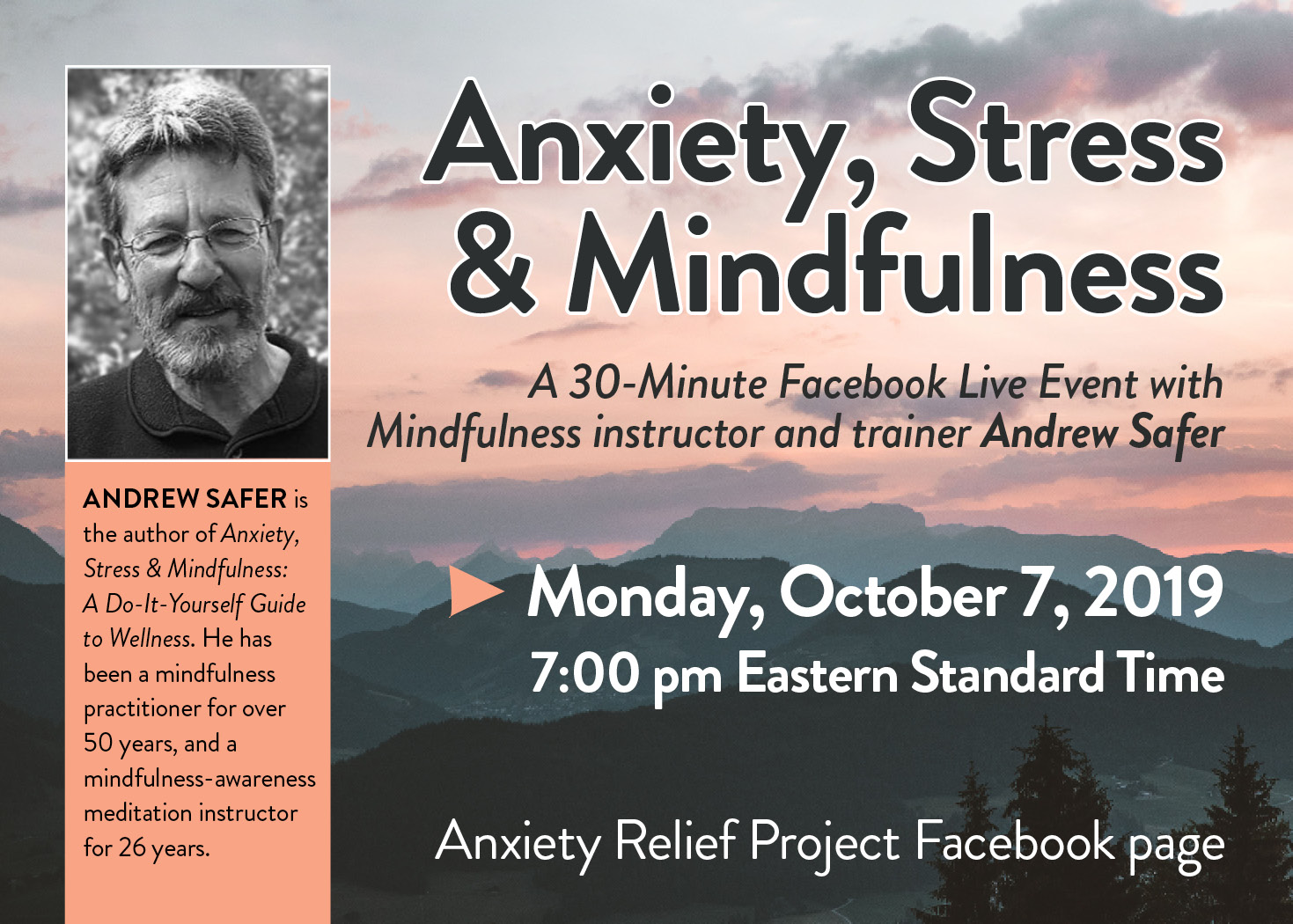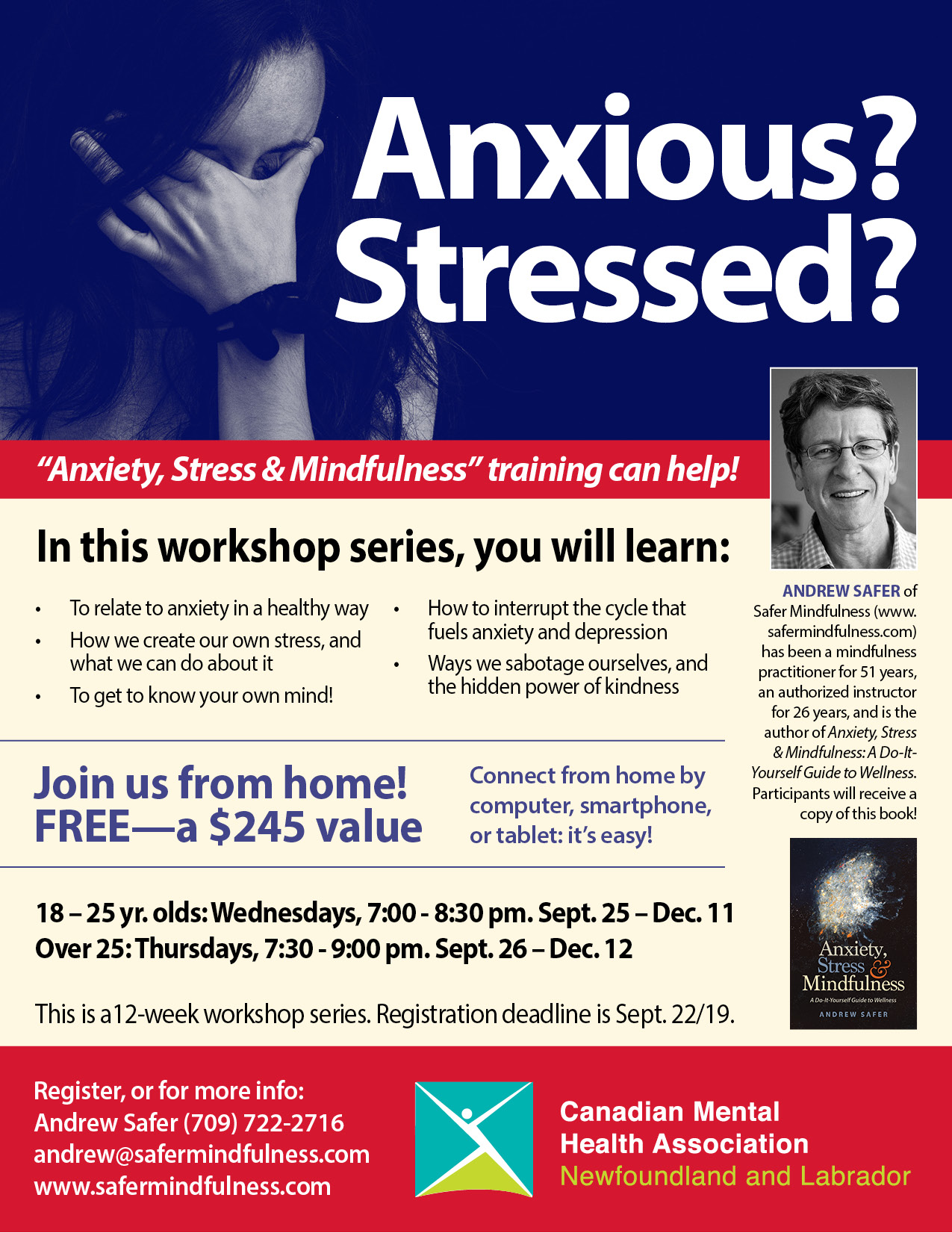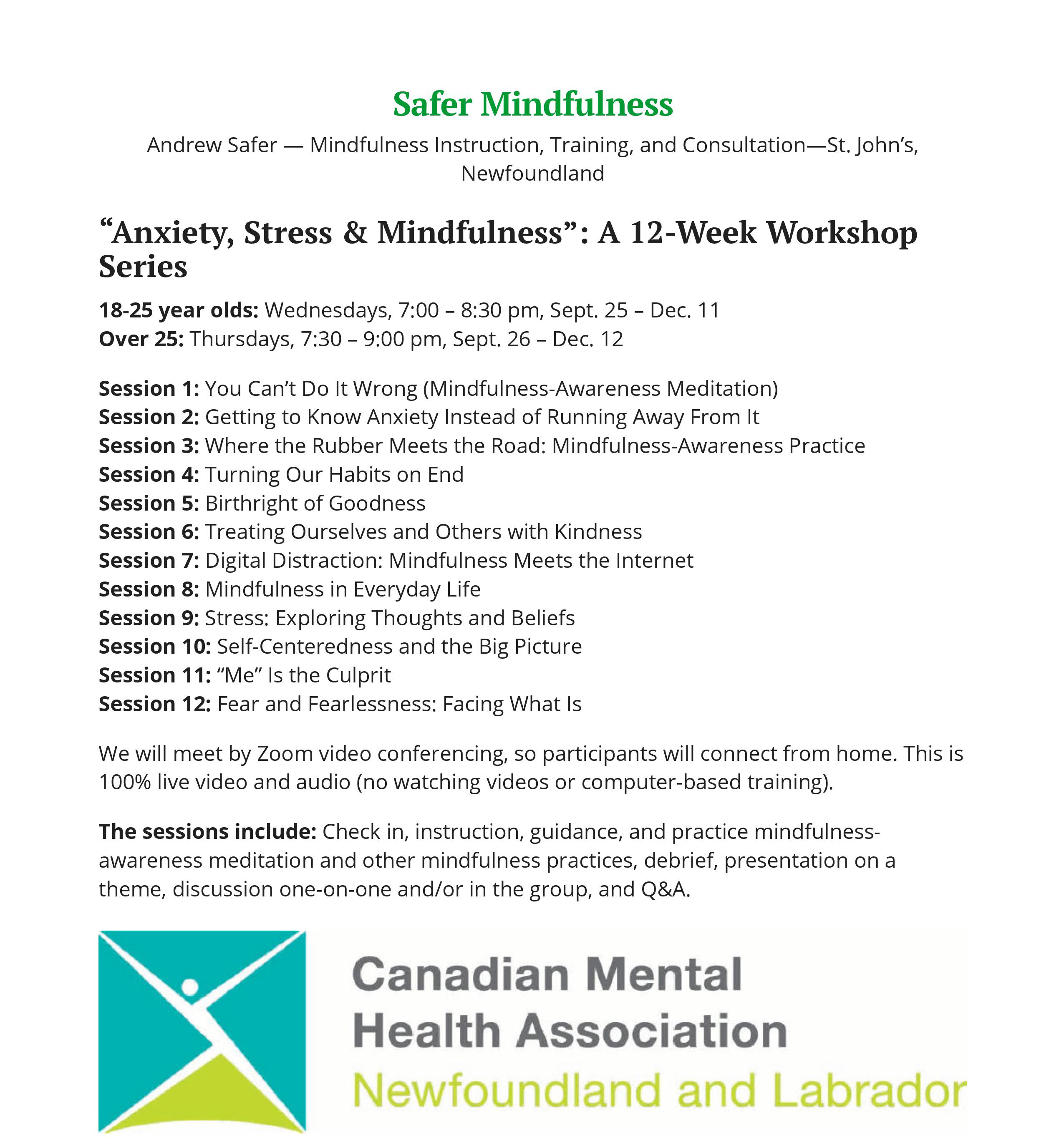 Anxiety, Stress & Mindfulness: Workshops Starting Sept. 25th
(Click links below...)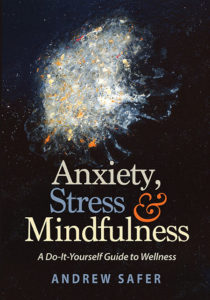 Mindfulness Practice Sessions Throughout the Week

Since the start of Covid, we have four practice sessions per week that are open to the public, at no charge. Sitting and walking meditation alternate.
We meet on Zoom at the following times: MONDAY 7:15 TO 8:45 pm (includes readings and discussion)*;   and FRIDAY Noon to 12:45 pm.
The Monday night practice is also in-person at The Lantern, 35 Barnes Rd. (Cape Spear Room, 2nd Floor).
If you have not practiced mindfulness before, we will talk you through the instructions.
There is no fee. Contributions towards seats in mindfulness programs are gratefully accepted.
---
Safer Mindfulness workshops and training combine 52 years of experience in mindfulness practice with 27 years in mindfulness instruction, program development, and workshop facilitation.
Providing instruction and training in applying ancient wisdom and methods to address everyday challenges with clarity and resourcefulness