Recent news can be found here.
Summer Meditation Retreat 2019
A good time was had by all!  Day 3 of a 7-day retreat at the Conception Bay Renewal Centre, Conception Harbour, NL: July 19-26                                                                              Photo: Courtesy, Dan Walker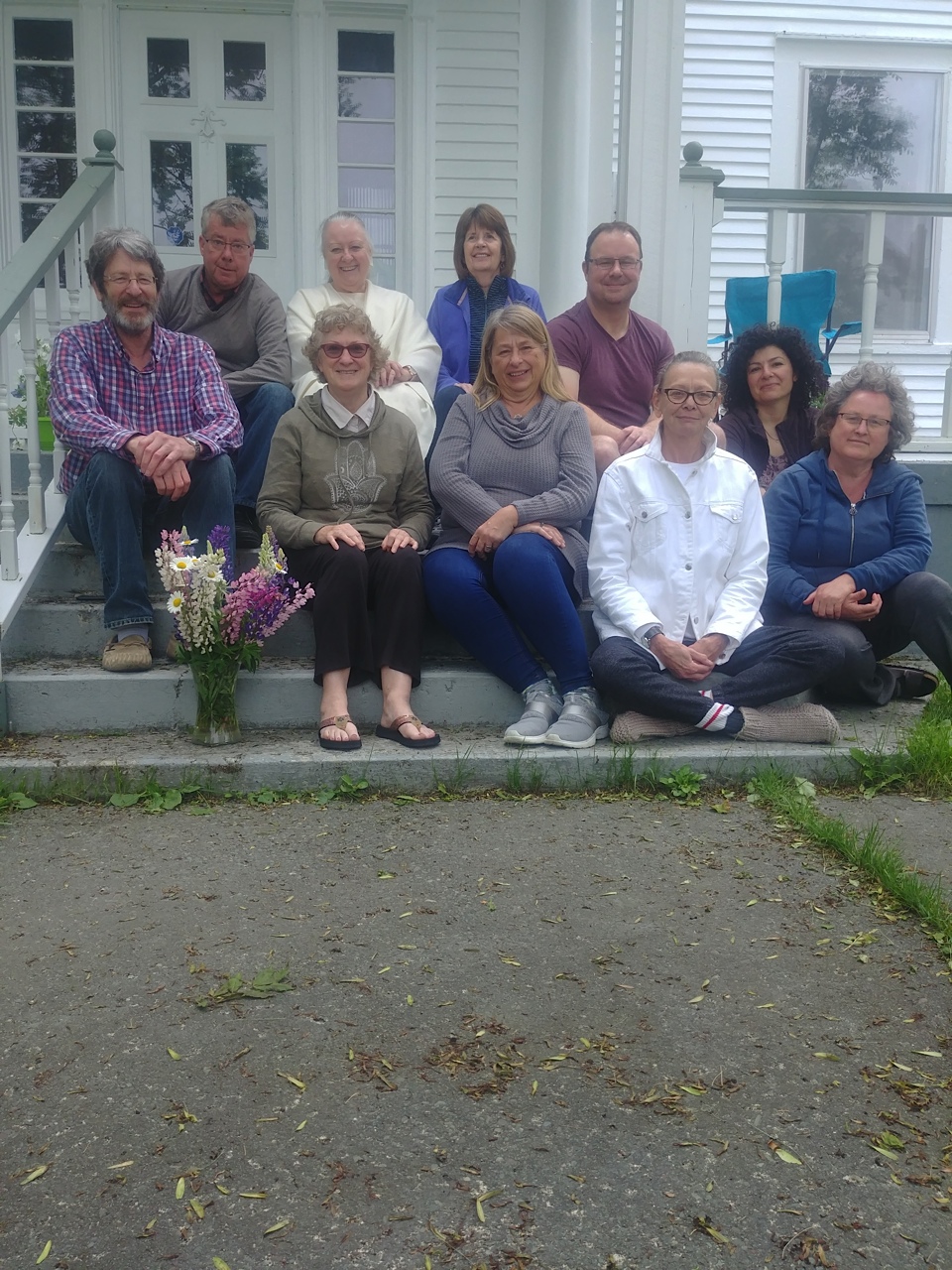 At the end of the retreat…
Photo: Courtesy, Sarah Hansen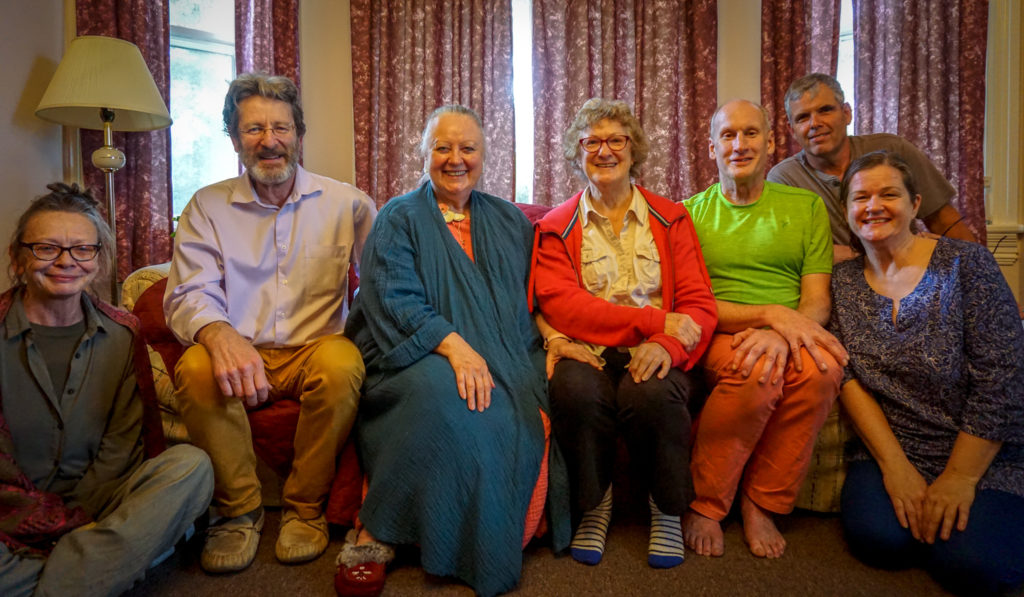 Mindfulness Training Helps People in Addictions Recovery
The "Mindfulness in Recovery" 7-week workshop series completed on June 25th. Rob Wadman-Scanlan (below left) is the clinical social worker who attended our online sessions and provided support to folks, as needed. Andrew Safer (below right) gave mindfulness instruction and guidance, presented on the weekly topics, and facilitated the sessions.
Participants found the program especially helpful in learning how to deal with stress, urges and cravings, and troubling emotions, and relating to thoughts and feelings in a new way.
This "Mindfulness in Recovery" series was a partnership between Canadian Mental Health Association-Newfoundland and Labrador, Safer Mindfulness, and the Department of Children, Seniors and Social Development, with funding support from the Department of Health and Community Services.
The next workshop series is "Anxiety, Stress & Mindfulness", a free 12-week online workshop series beginning in late September.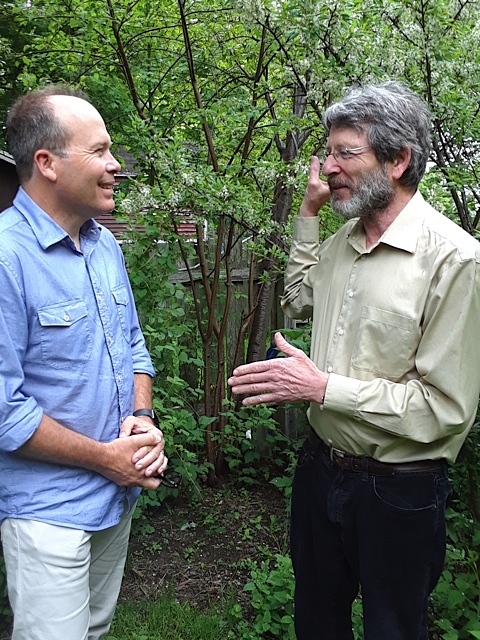 Mindfulness Workshop for Engineers
"How Engineers Can Enhance Professional Development with Mindfulness Practice", a 2-hour workshop, was co-presented by Andrew Safer and Dr. Janna Rosales, Faculty of Engineering and Applied Science, Memorial University, with Renato Rodrigues, graduate student in Humanities and Social Sciences, in the Boardroom of the Engineering Building at Memorial on June 20th. Present were engineers from companies and organizations in St. John's and graduate engineering students.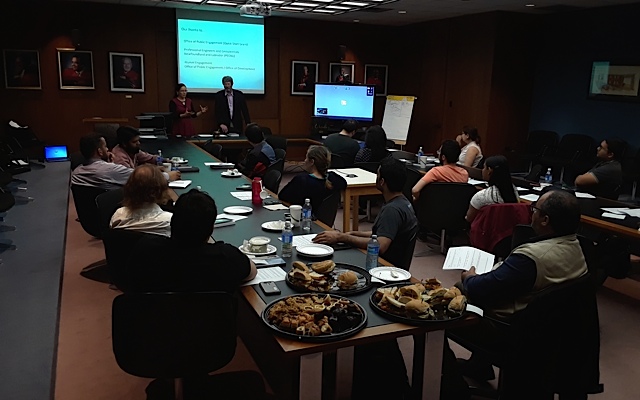 Summer Retreat 2019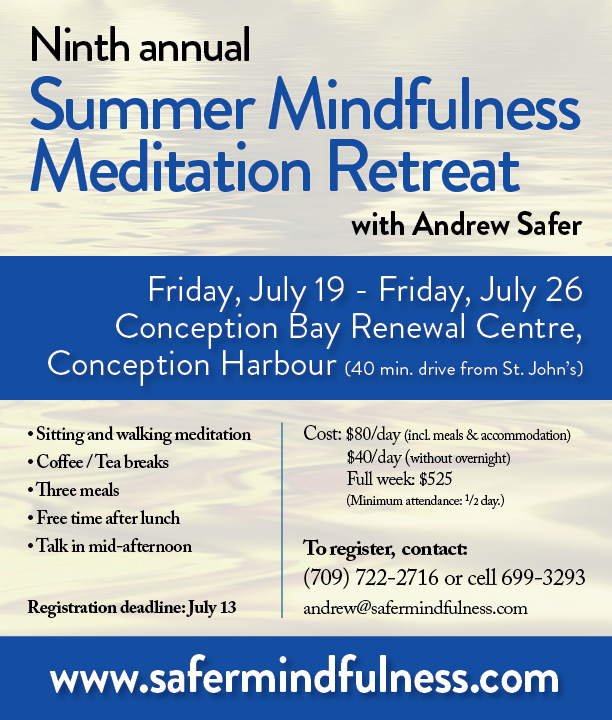 How Engineers Can Enhance Professional Development
with Mindfulness Practice
Join mindfulness instructor Andrew Safer and facilitator Dr. Janna Rosales (Faculty of Engineering and Applied Science, Memorial University) who will guide you through a basic mindfulness practice with discussion and reflection on the ways that mindfulness can support your professional growth and development.
Thursday, June 20. For details, click here.
W.I.S.E. Mindfulness
Dr. Janna Rosales, Renato Rodriguez, and Andrew Safer presented "How Mindfulness Can Support Your Work and Study" to Women in Science and Engineering graduate students in process, electrical, and civil engineering, and science at Memorial University on May 22nd.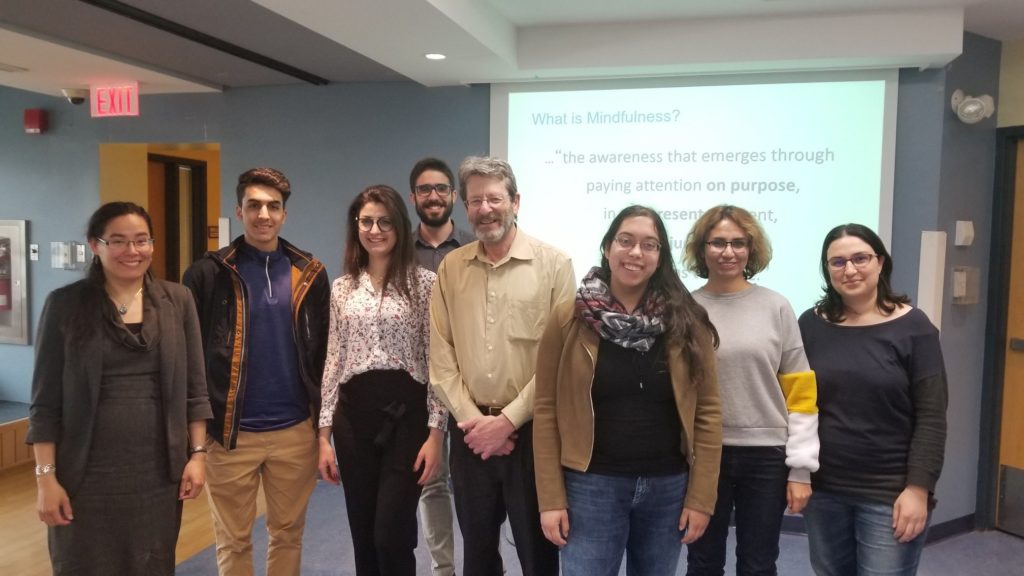 Presenting on Workplace Mindfulness at Memorial
We had just presented on "Working Mindfully: Helping Work Placement Students Hone Attention and Reflection", May 1st at Memorial University's Teaching and Learning Conference 2019.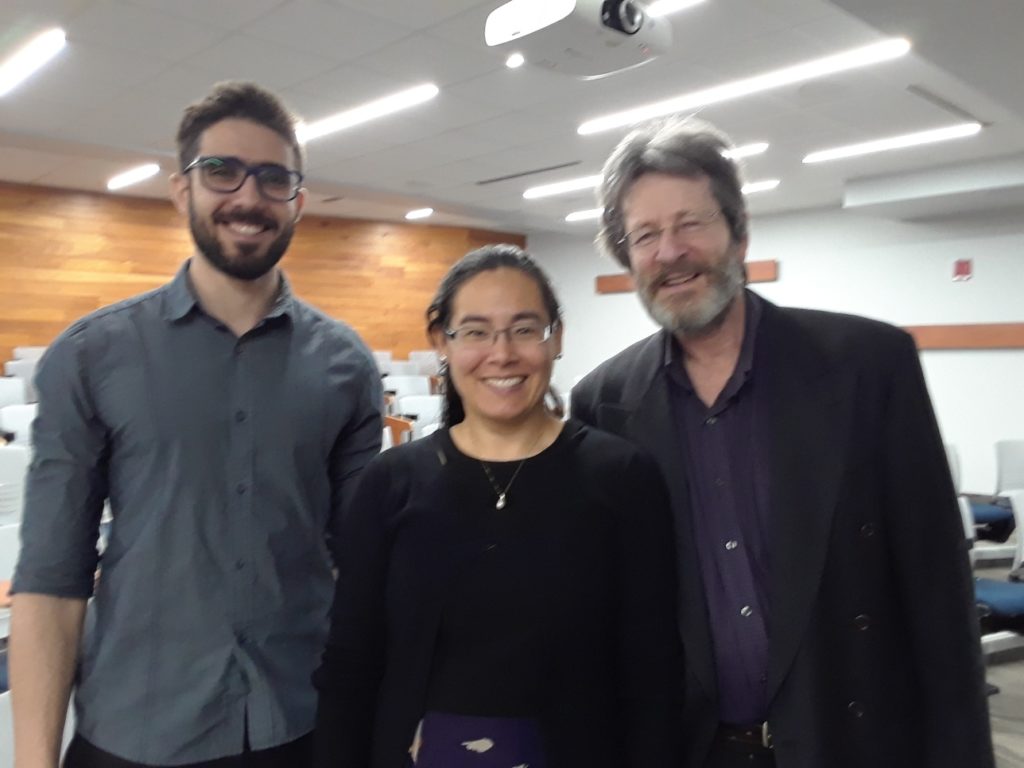 Left to Right: Renato Rodriguez, graduate student in Philosophy who attended our 10-week Workplace Mindfulness program; Dr. Janna Rosales, Faculty of Engineering and Applied Science; and Andrew Safer, Mindfulness instructor and workshop facilitator.
In Recovery from an Addiction?
Mindfulness Training Can Help!!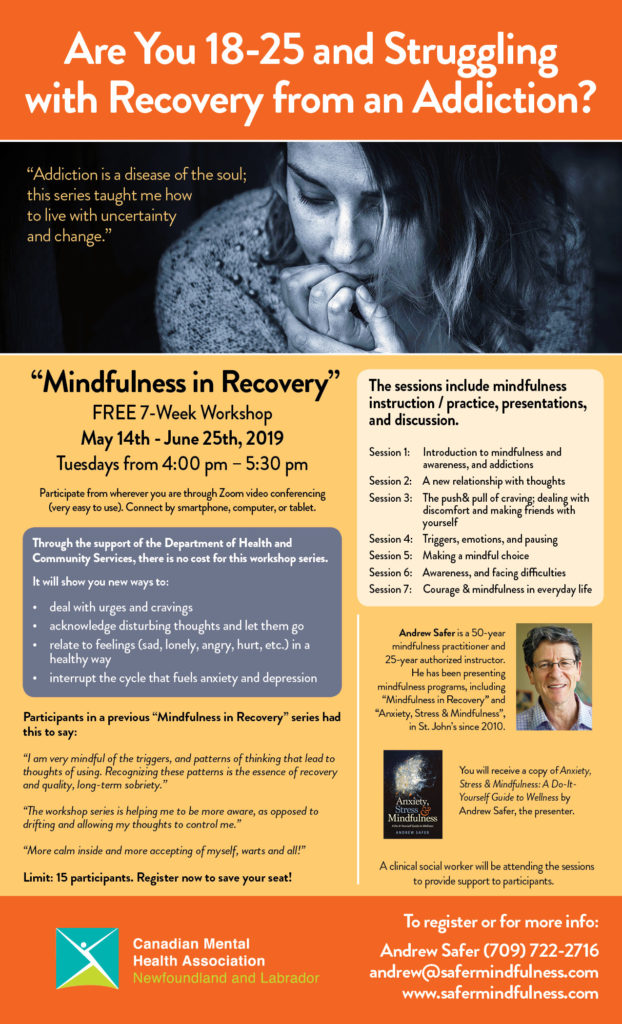 Anxiety, Stress & Mindfulness: Spring Workshop Series
Begins April 23rd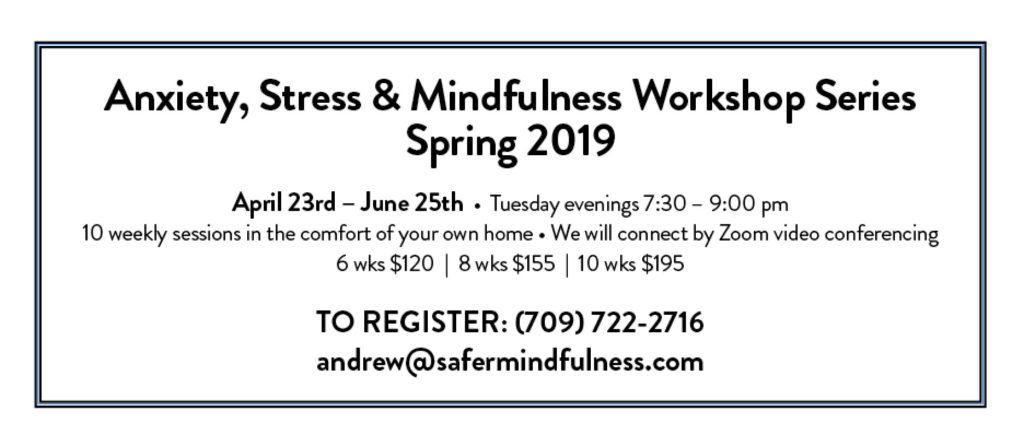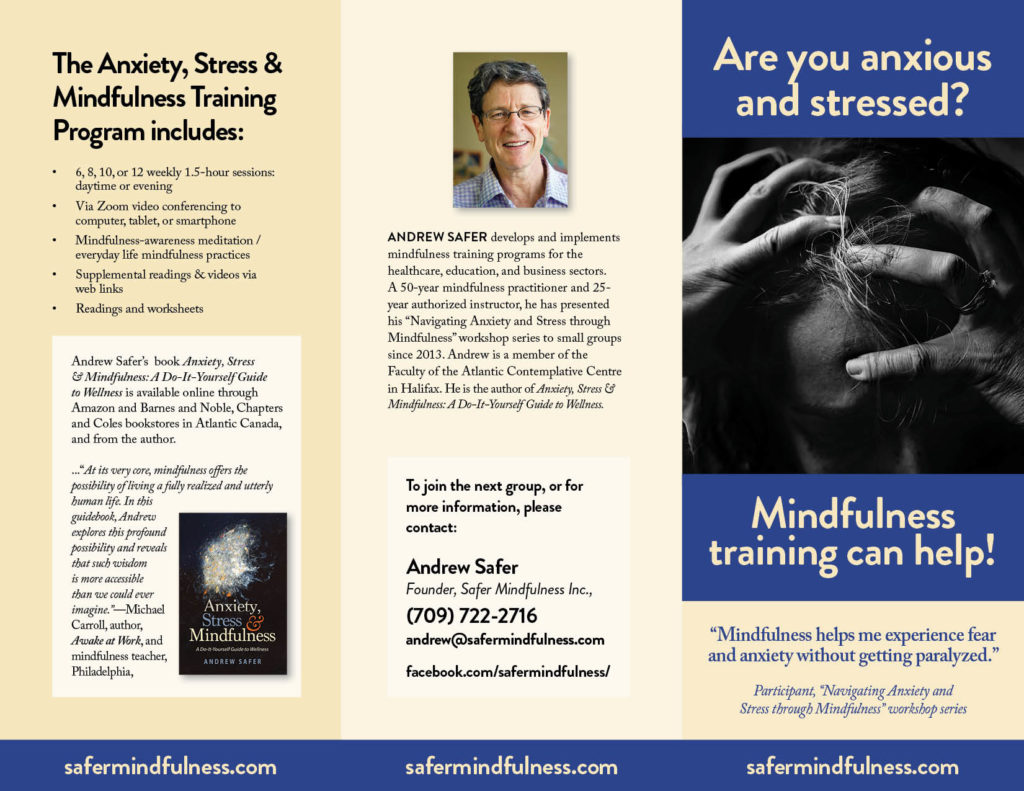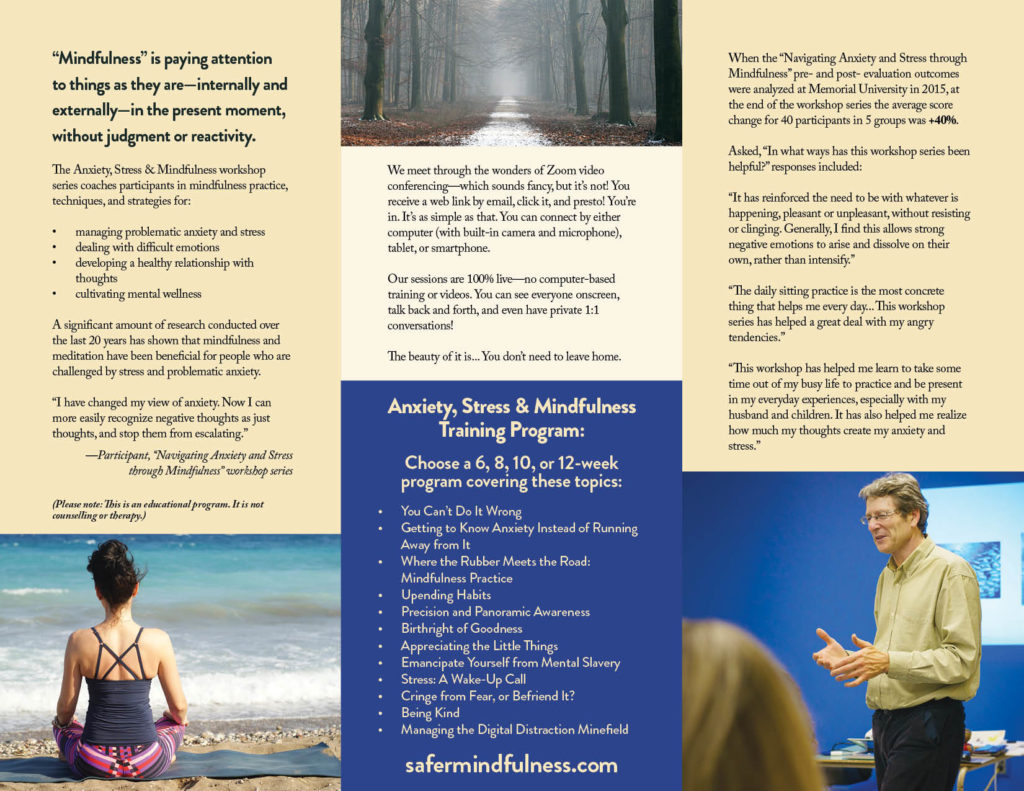 Click each image to enlarge.
Mindfulness for Engineering Students
This program for Engineering students at Memorial University (mostly graduate, and from around the world–from Kenya to El Salvador) completed April 2nd.
Podcast: Sandy Joy Weston and Andrew Safer
When Philadelphia-based fitness coach extraordinaire Sandy Joy Weston conducts an interview, her enthusiasm knows no bounds. Sandy's mission is to spread joy wherever she goes, and she succeeded here! (And there are lots of other places we could send her.)
Andrew Safer speaks with Sandy Weston about mindfulness, meditation, young people's anxiety, and being kind to ourselves on her show, "Let's Keep It Real". It was an honour. Enjoy!
http://www.sandyjoyweston.com/podcast/2019/3/27/lets-keep-it-real-episode-39
BOOK REVIEWED IN MINDFUL MAGAZINE
Anxiety, Stress & Mindfulness: A Do-It-Yourself Guide to Wellness was reviewed in the April issue of Mindful magazine!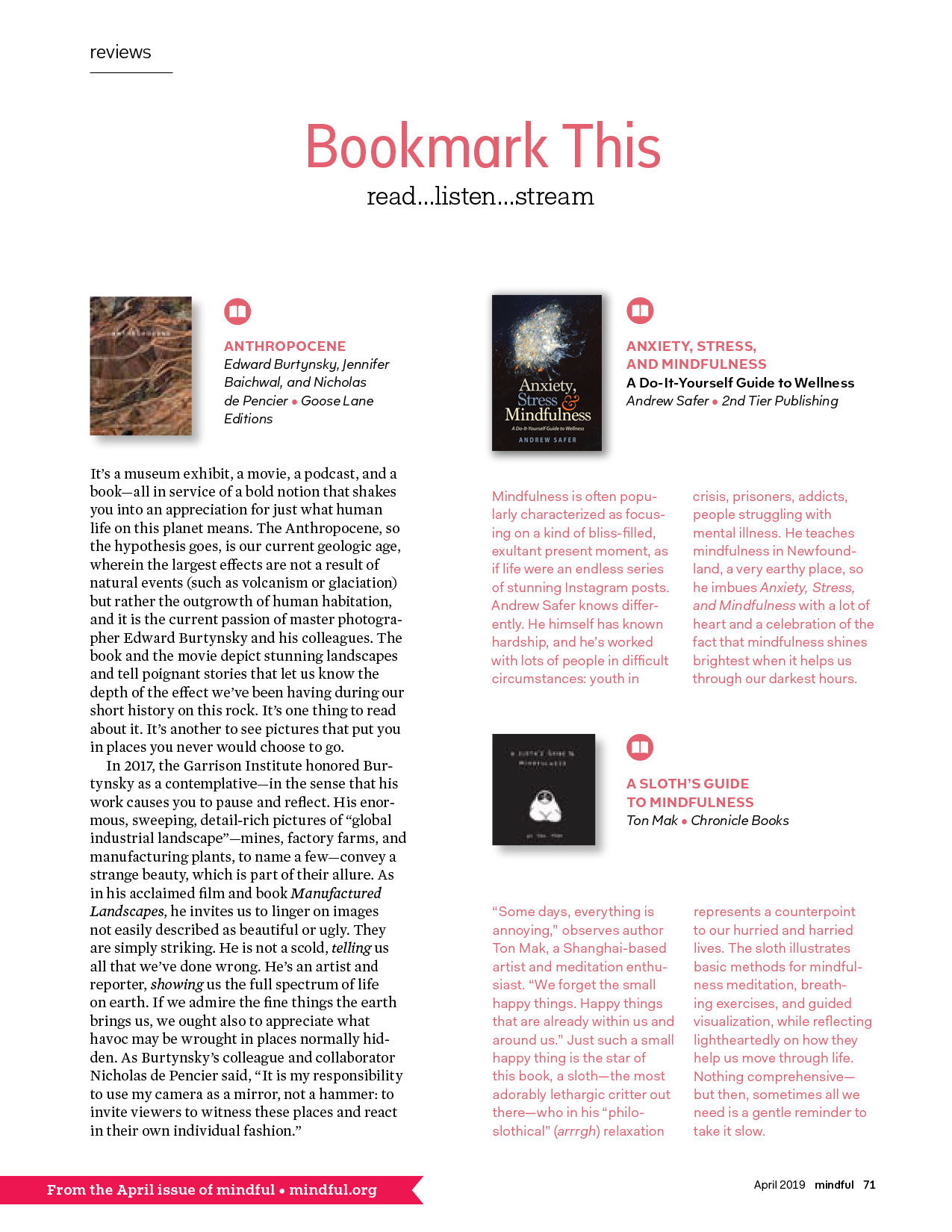 "SLIPPING ON THE ICE OF THOUGHTS"
On February 19th, Andrew's article, "Slipping on the Ice of Thoughts" was published on the Anxiety Relief Project web site.
WINTER MINDFULNESS RETREAT
This hardy bunch gathered for a photo on February 16th!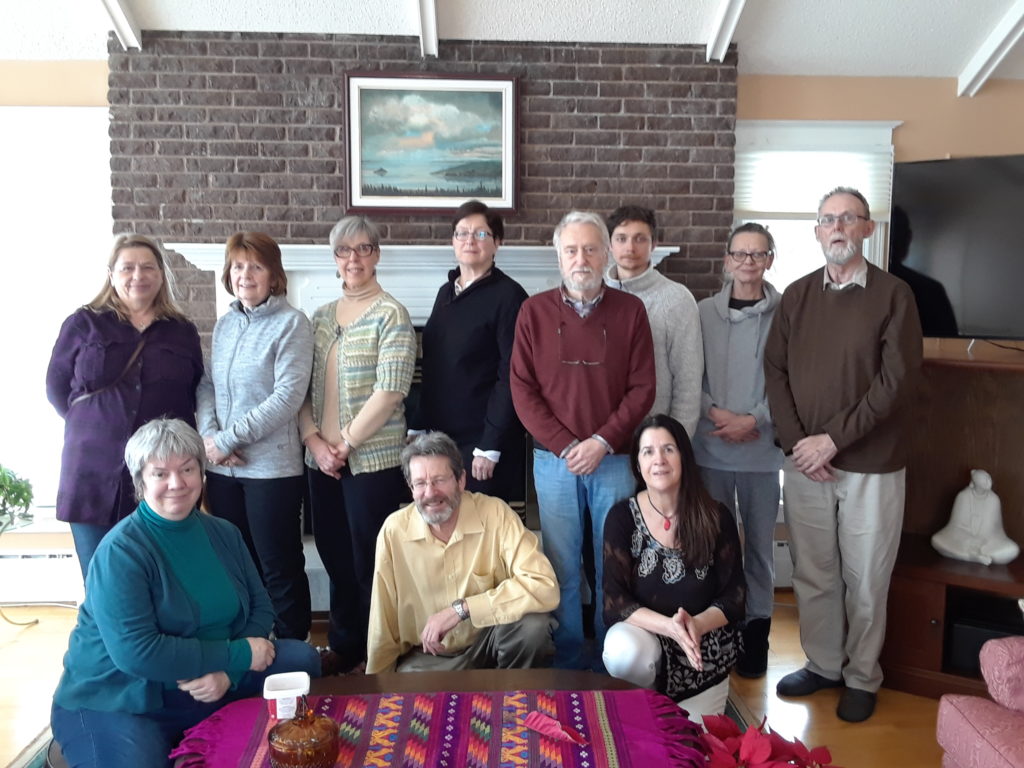 STUDENTS AT MEMORIAL UNIVERSITY FIND

WORKPLACE MINDFULNESS TRAINING PROGRAM BENEFICIAL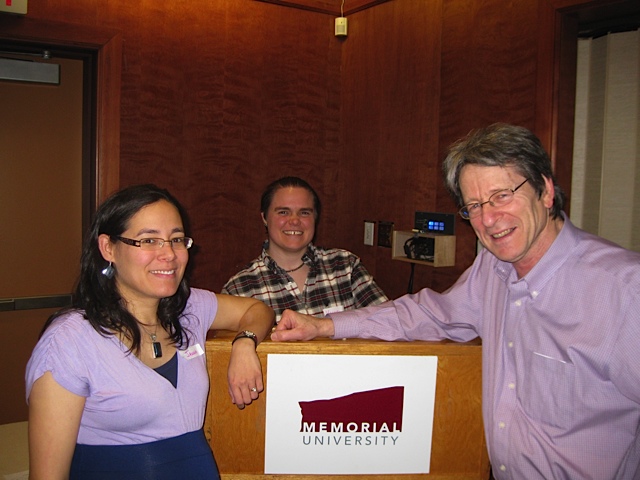 (L to R) Dr. Janna Rosales, Faculty of Engineering and Applied Science, Memorial University;Vashti Campbell, PhD Candidate, Faculty of Medicine; and Andrew Safer of Safer Mindfulness, Mindfulness Instructor and Trainer
To read the article "Being Present" by Jackey Locke published in the Gazette on January 23rd, click here.
Three groups of undergraduate and graduate students from seven disciplines received mindfulness training in a workplace context in 2017 and 2018 through a project funded by Memorial's Teaching and Learning Framework. Each group met for one-and-a-half-hour weekly sessions for 10 weeks. The project was led by Dr. Janna Rosales, Faculty of Engineering and Applied Science. Andrew Safer of Safer Mindfulness developed and presented the Workplace Mindfulness program.
Two sets of evaluations were conducted: Safer Mindfulness' which was tailored to the program, and three questionnaires administered by the Memorial University research team. To view a one-page summary of the Safer Mindfulness evaluation, click here.
To view the full evaluation report including evaluation form, click here.
LIFE SCHOOL 101 TV INTERVIEW
"Anxiety, Stress & Mindfulness" LIFE SCHOOL 101 TV  
An interview with Andrew Safer by CATV co-hosts Mary Adams and Linda Carbino
ANXIETY, STRESS & MINDFULNESS WORKSHOP SERIES STARTS IN JANUARY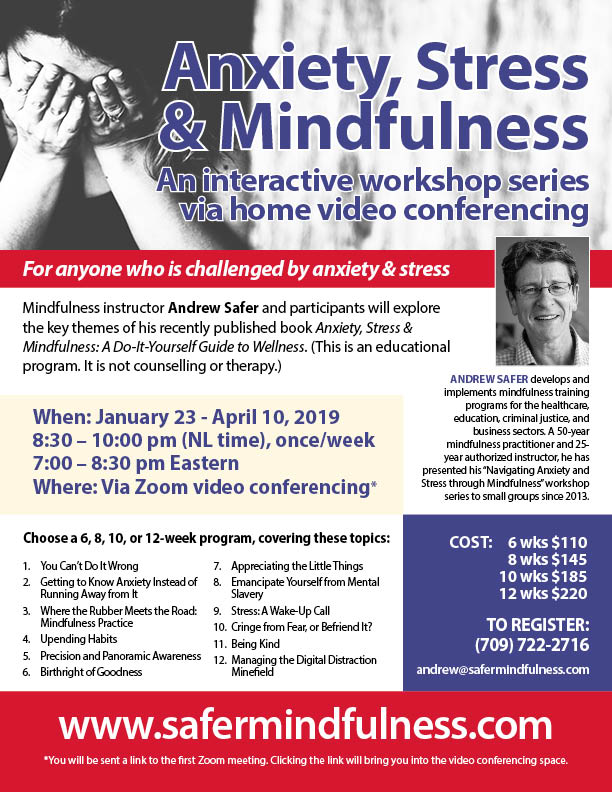 ANXIETY AND STRESS WORKSHOP SERIES AT CHANNAL
This six-session workshop series will meet in person at CHANNAL…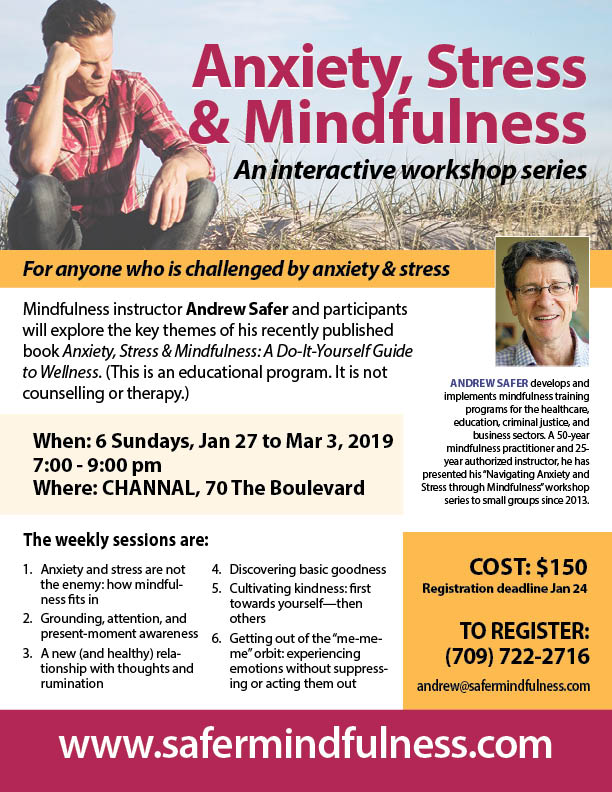 FALL MINDFULNESS-AWARENESS MEDITATION RETREAT
There's nothing like two and a half days of sitting and walking meditation! (of course, with coffee breaks, meals, etc.) There was a lot of heart. The Presentation Sisters Retreat House, in a secluded spot in St. John's, is the perfect venue. The retreat took place November 23rd through 25th.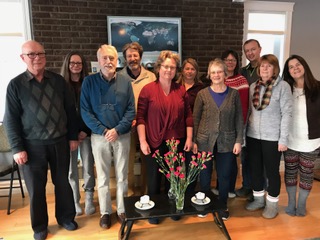 MINDFULNESS TRAINING AT DEPARTMENT OF EDUCATION
On October 31, Andrew Safer conducted a two-hour mindfulness workshop for Child Care Services staff in the Department of Education building on Strawberry Marsh Road in St. John's. The training was focused on "Mindfulness—Personal Practices for Managing Workplace Pressure and Stress". Afterwards, participants purchased copies of Anxiety, Stress & Mindfulness: A Do-It-Yourself Guide to Wellness. Below: Andrew Safer with Kelly Piercey, Social Worker, Child Care Services, Department of Education.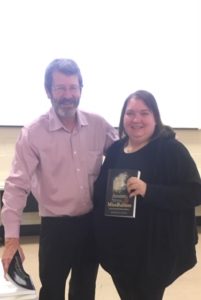 ANXIETY, STRESS & MINDFULNESS WORKSHOP SERIES
STARTING SEPTEMBER 26
(For detailed information, including the session themes, click here.)